Reviews
Cinderella Review: Amazon's Adaptation Isn't Afraid to Be Absurd
Camila Cabello's Cinderella is a more ensemble-driven adaptation that may win you over with its commitment to ridiculousness.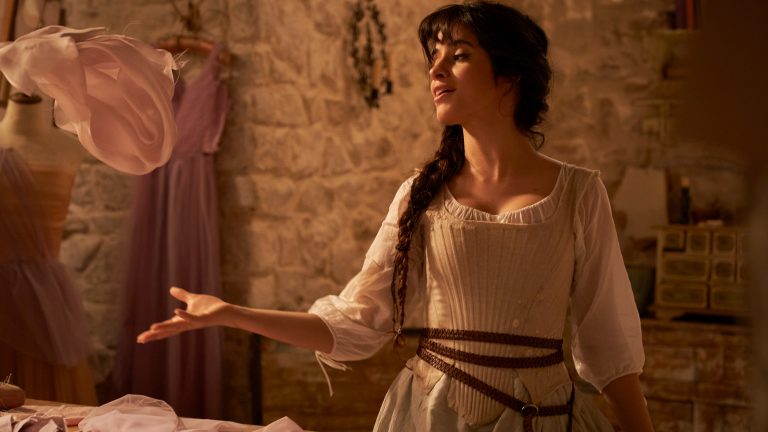 Camila Cabello's Cinderella is the most ridiculous movie of 2021, but that isn't necessarily a bad thing. Entering this movie, with its cast of triple (or at least double) threats, it can be easy to let assumptions get the best of you. Cabello is an extremely talented singer, so you can assume there's going to be some tunes. Billy Porter is fabulous, so you can assume he will continue to be so as this adaptation's incarnation of the fairy godparent. Idina Menzel, who plays the tale's stepmother, is a goddess amongst us all, so you can assume she will continue to wow the world over. Wrap that up in a classic tale of a parentless child who lives with her stepmother and stepsisters, and you've got a story that has been told before, with some singing on the side. Yet, somehow, in no small part because of the charismatic cast—and against every expectation—this movie works and stands apart from other versions of the classic fairy tale.
Cinderella walks a fine line between heartfelt and ridiculous, and mostly gets it right. Ella's (Cabello) dreams to open her own dress shop are real. She wants to create and charter her own life, to not be dependent on others. It's a relatable and modern character motivation and grounds the film from start to finish. She's also incredibly sweet, awkward, and optimistic despite the circumstances she finds herself in; a combination that works and makes you cheer for her from start to finish.
But Ella isn't the only character whose dreams are respected. Cinderella is a story that usually doesn't have anything nice to say about most of its supporting characters. Here, however, stepmother Vivian (Menzel), Queen Beatrice's (Minnie Driver), and even Princess Gwen (Tallulah Greive) and the stepsisters have dreams that defy expectations and are real at heart. And it's easy to connect to any of these characters because, as women, we face challenges on the daily based on the bodies we were born in. By giving viewers multiple female characters with different dreams, this modern adaptation avoids some of the pitfalls of the original story.
While the dreams may keep viewers hoping, it's the ridiculous nature of the adaptation that keeps you watching. In many respects, this movie is reminiscent of classic Mel Brooks. In movies like Robin Hood: Men in Tights and Spaceballs, Brooks elevates plot and character to the point of intentional nonsensicality. Dark Helmet's helmet didn't have to be that big, but it was, and it worked. Prince John's mole didn't have to keep moving, but it did, and it worked. That same spirit and energy is in Amazon's Cinderella. It adds honest, sometimes awkward humor that isn't afraid to poke fun at its own actors, and the circumstances of their characters. This movie knows that you've heard this story before. So to elevate things, they add music. Queen's "Somebody to Love" playing while the Prince bemoans about how hard he works on a daily basis—something we know isn't true, and the the film knows too. The production has a self-awareness, as if its characters know they're in a movie so they throw the antics up a notch to the point where you can't help but cover your face and laugh.
A key to Cinderella, besides the heart and ridiculousness of it all, is the romance between Ella and Prince Robert (Nicholas Galitzine). Independently, the characters work—they're both funny, kind, dorky, and sassy. But when they come together, they shine and complement each other in ways that are often missing from Cinderella adaptations. Prince Robert isn't here to take away Ella's spotlight, and she isn't here to be a prop on his arm. They are their own people and choose each other—not because they're being rebellious, but because they see a potential partner in one another. In this ensemble-minded adaptation, every character matters in a way other adaptations have failed to depict, making for a more well-rounded story. In this new Cinderella, they break the box, rebuild it, and show you there's another way.
Bring that all together and Cinderella is a movie worth watching. It has the feel-good elements of a romance, the timing of a comedy, the noteworthy singing of a musical, and the kind of dream that feels inspiring—the kind of message that viewers may particularly be searching for in 2021.