News
One Night in Miami Trailer, Cast, Release Date and Everything You Need to Know
One Night in Miami puts four seminal Black voices in the same room… and asks you to be a fly on the wall.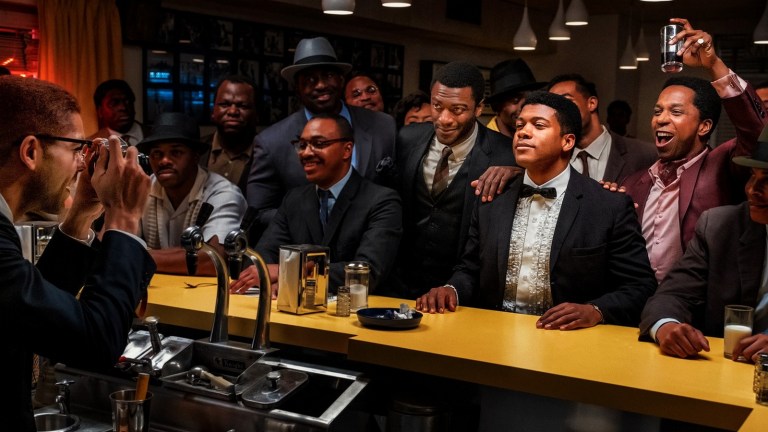 Malcolm X, Sam Cooke, Jim Brown, and Muhammad Ali walk into a motel room. No really, this isn't a put-on. It's an event that actually happened (more or less) on the night that Ali won the heavyweight championship of the world in 1964, and right before he changed his name from Cassius Clay. Now what these four historic figures at the intersection of Black male celebrity and wider American pop culture said to each other that evening is unknown… but it makes the mind wander; it also makes for a hell of a good story in One Night in Miami.
The new film from director Regina King (Watchmen, If Beale Street Could Talk) marks the Oscar and Emmy winning actor's first foray into feature-length directing intended for the big screen—even as most audiences will only see One Night in Miami on Amazon when it premieres on the streaming service later this year—and already it's generating more deserved award buzz. As a film written by Kemp Powers, who is adapting from his own play of the same name, One Night in Miami is a chance to interrogate the challenges of celebrity for Black men in America, and the larger responsibility one feels toward the Black community. These dueling pressures can pull in different directions, and they can elicit fascinating conversations.
Here's how they inform One Night in Miami.
One Night in Miami Trailer
Here is the trailer that gives you an idea of the film's unique approach…
One Night in Miami Cast
Kingsley Ben-Adir – Ben-Adir plays Malcolm X, a seminal leader of the Civil Rights era. Malcolm was an American Muslim minister and human rights activist who grew national attention for his blunt advocacy for Black empowerment and an end to segregation, as well as Black separation from whites and a possible return to Africa. In the white mainstream (and among some Black leaders), he was a controversial figure due to his support for the Nation of Islam, but One Night in Miami is set about a month out from Malcolm's exit from NOI due to the sexual predations of Elijah Muhammad.
One Night in Miami is a breakout role for Ben-Adir who is a revelation as Malcolm X. He's previously enjoyed small roles in King Arthur: Legend of the Sword, The Commuter, and Noelle. On Showtime's The Comey Rule, he played President Barack Obama.
Eli Goree – Goree plays Cassius Clay on the last night he would go by that name. The film pivots on the evening Clay shocked the world when he defeated Sonny Liston by TKO in February 1964. Only age 22, Clay became the youngest heavyweight champ to claim the belt by knockout (a record Ali still holds). The day after the victory, Clay would announce he's joined the Nation of Islam (at Malcolm X's urging) and would go by the name of Cassius X (later changed to Muhammad Ali). He would also soon become a figure of controversy when he refused to be drafted in the Vietnam War due to being a conscientious objector. The resulting harassment by the U.S. government would see Ali banned from the ring for four years.
One Night in Miami is a breakout role for Goree, whose few other film credits include an unnamed character in 2014's Godzilla. He's previously had recurring roles on Ballers and Riverdale, and appeared in GLOW.
Leslie Odom Jr. – Odom portrays Sam Cooke, the pioneering singer, songwriter, composer, producer, and entrepreneur who became one of the first Black musicians to found his own record label and publishing company. Also known as the King of Soul, Cooke contributed to the rise of Aretha Franklin, Al Green, Stevie Wonder, and Marvin Gaye (among others), and recorded a string of mid-20th century hits that include "You Send Me," "Cupid," "Chain Gang," and "Bring It On Home to Me." One Night in Miami is set, significantly, before Cooke recorded his first song demanding political change, "A Change is Going to Come" … and before Cooke was shot to death by a motel manager later that same year.
Odom is best known for playing the morally ambiguous Aaron Burr in Lin-Manuel Miranda's Broadway musical, and pop culture sensation, Hamilton. He won a Tony and Grammy for his portrayal. He's appeared in a variety of Broadway productions, including Rent, Dreamgirls, and Leap of Faith. On screen, his credits include Harriet, Red Tails, and Murder on the Orient Express. He's also released four solo albums.
Aldis Hodge – Hodge depicts Jim Brown, one of the greatest running backs of all time in the National Football League. After earning unanimous all-American honors playing college football at Syracuse University (as well as basketball, track and field, and lacrosse), Brown went on to play for the Cleveland Browns between 1957 and 1965, earning the AP NFL Most Valuable Player for three years, and leading the browns to an NFL championship in 1964. He'd go on to be a major sports analyst and appearing in films and television series like Slaughter (1972), The A-Team, and Mars Attacks! (1996).
Prior to depicting Brown, Hodge might be best known for playing MC Ren in Straight Outta Compton. He also memorably appeared in a supporting role in The Invisible Man last year. Other credits include Hidden Figures, Clemency, and al lead role on City on a Hill.
One Night in Miami Release Date
One Night in Miami opened in limited theatrical release on Dec. 25 after premiering at the Toronto International Film Festival and Venice Film Festival. It premieres on Amazon on Jan. 15, 2021.
One Night in Miami Story
The film is loosely inspired by real events. On the night Cassius Clay knocked out Sonny Liston, Malcolm X was sitting ringside. Afterward Clay agreed to meet Ali at the Hampton House, a motel that Black celebrities frequented at the time in Miami's Brownsville neighborhood. The two were later met by Sam Cooke and Jim Brown. However, Kemp Powers as first a playwright and then a screenwriter, took literary license to imagine what that evening was like before Cassius Clay announced the next morning he was now Cassius X.
Regarding the appeal of the project, director Regina King recently told The New York Times, "We don't get the opportunity to see [on screen] our men, Black men, shown the way we see them so often in our family members and friends. Like every other human being they're layered. They are vulnerable, they are strong, they are providers, they are sometimes putting on a mask. They are not unbreakable. They are flawed. They are beautiful. And just Kemp captured all of that in, you know, less than 110 pages…. I told him I felt like you've written a love letter to Black men."
The official synopsis reads: "One Night in Miami is a fictional account of one incredible night where icons Muhammad Ali, Malcolm X, Sam Cooke, and Jim Brown gathered discussing their roles in the civil rights movement and cultural upheaval of the 60s."
One Night in Miami Review
Here is an excerpt to our review out of the Toronto International Film Festival.
Each of the four key performances recreate the well-known tics of their historical personages. And in this arena, Goree is a delight. With wind in his sail after winning the heavyweight belt, his Cassius is so nimble in his dancing and prancing that it's a wonder his feet ever touch the ground. Yet whereas most biopics, particularly in the last few years, have leaned into the legend of its subjects, One Night in Miami seeks to imagine a psychological truth that's far slipperier, and far more rewarding.

In this context, Ben-Adir's Brother Malcolm may be the most revelatory. In contrast with Spike Lee and Denzel Washington's electric depiction of the civil and human rights activist, there is something slightly subversive about King and Ben-Adir's interpretation. Here is the firebrand who preached African American separation and just several months before the film's February '64 setting referred to JFK's assassination as "chickens coming home to roost"—a statement that gets him no shortage of grief from his friends in One Night in Miami—yet beyond his moral disgust at Elijah Muhammad's affairs with young secretaries in the NOI, this version of Malcolm is full of second-guessing anxiety and a pained inner-life just bubbling behind the horn-rimmed glasses.