News
Nightwing Director Still Hopes Movie Will Get Made
Exclusive: The Tomorrow War director Chris McKay discusses the Nightwing movie he's been developing at Warner Bros. and why he hopes it is about to become a priority for the studio.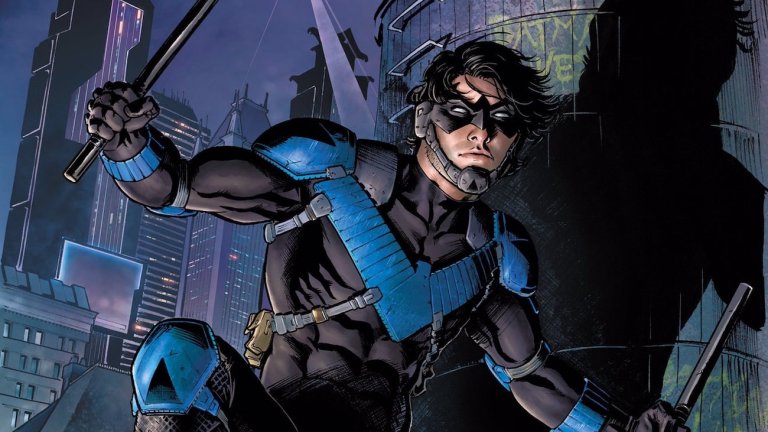 Back in 2017, Warner Brothers announced a Nightwing feature film was on its way. The project would serve as an origin story for the masked identity adopted by Dick Grayson after relinquishing his role as Batman's wisecracking sidekick, Robin. The studio tapped The Lego Batman Movie's Chris McKay to helm the superhero caper, with a script by Ozark creator Bill Dubuque. Audiences eagerly awaited the beloved addition to the DCEU and the Bat Family, but then… nothing.
It appeared as if Nightwing joined the ranks of other shelved movies—most notably the Aquaman spinoff, The Trench, David Ayer's Gotham City Sirens, Ava DuVernay's The New Gods, Greg Berlanti's Booster Gold, and the Joe Manganiello-starring Deathstroke—in developmental or cancellation hell. But with McKay's live-action directorial debut, the sci-fi blockbuster The Tomorrow War, landing on Amazon next month, he's hoping the powers that be will sit up, take notice, and get Nightwing off the ground.
"What I hope is that Warner Brothers and DC watch The Tomorrow War and get really excited again about the Nightwing movie that we've been talking about," McKay tells Den of Geek. "I hope that we get a chance to go out and make that Dick Grayson and Nightwing film. That particular part of Robin, growing from being under Batman to becoming Nightwing, and Bludhaven and all that stuff… It's a really personal story to me."
To assert his independence, Dick Grayson retired his Robin persona and assumed the Nightwing moniker in 1984's comic book, Tales of the Teen Titans #44. Although he would continue to lead the Titans, Nightwing's solo adventures usually took place in Gotham City or the neighboring Bludhaven. And from the sounds of it, Dick's rich history, evolution, and escapades would have provided the blueprint for the Nightwing film adaptation.
"The take we have been working on is a fun, solid take on that character, and also really emotional and action-packed," McKay says. "I hesitate to even bring up comparisons [to other action movies] because it might even give too much away. To me, it's an action, thrill ride movie that's got an emotional story at its heart. It's a little bit about growing up under the shadow of somebody and coming into your own. I'm super-excited about that and I hope that we are in a place after Tomorrow War comes out that Warner Bros. wants to make that Nightwing movie."
McKay politely refuses to tease a villain, "I could have at one point, but there are other things happening now, so I can't," he says. But he's more than happy to weigh in on one Nightwing costume that may or may not make it to the big screen.
Indeed, there are plenty of options to choose from. Nightwing's outfits tend to be sleek and modern, complementing Dick's acrobatic skills, and often incorporate his signature "blue V" emblem. However, it's the original George Perez designed, high-collared version that traditionalists keep holding out for.
"Your disco Nightwing?" McKay concludes with a chuckle. "Great. Maybe there will be a piece of that in the movie."
The Tomorrow War premieres July 2 on Amazon Prime. Come back in the coming days for our full interview.