News
Nicolas Cage Wants to Join the Star Trek Universe
Nicolas Cage may seem like he comes from a galaxy far, far away, but his heart is with Star Trek and not Star Wars.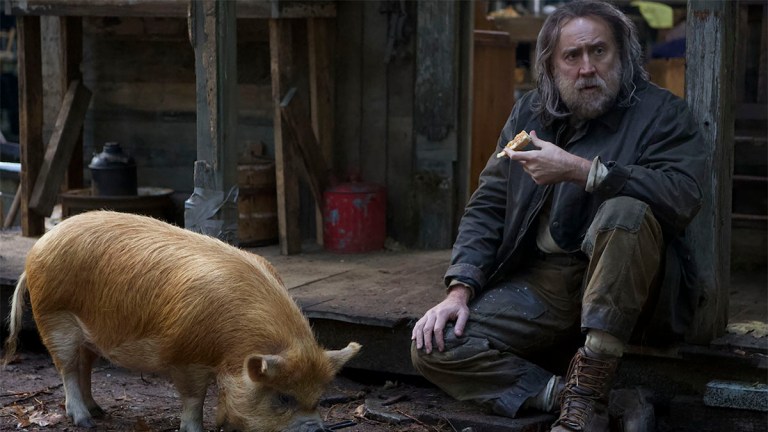 Ever since Star Wars became a massive hit in 1977, sci-fi fans have been divided by the most fundamental question: Star Wars or Star Trek. Yes, the cult following that continued to build after Star Trek's Original Series' three-season run ended in 1969 made audiences hungry for more sci-fi adventure. And yes, it was the success of Star Wars that made Paramount release Star Trek: The Motion Picture in 1979.
And yet, fans of the two camps love to pick at each other, praising their own side's strengths (ur-myths transposed to epic space battles or intellectual curiosity) and mocking the other side's weaknesses ("I don't like sand" or "What does God need with a starship?"). With Star Trek: Strange New Worlds and Andor offering some of the best storytelling that the series have to offer, the rivalry between the two has only grown more intense.
But Kirk's Crew has scored a powerful new ally against the Skywalker Family: one Nicolas Cage. In a conversation with Kevin Polowy, Cage learned that his The Unbearable Weight of Massive Talent co-star had plans for him. Pedro Pascal, who plays Din Djarin on The Mandalorian, wants to recruit Cage to join him in a galaxy far, far away.
"I'm really not down," a shocked and stumbling Cage answered. But it was Cage's explanation that made millions of voices suddenly cry out in terror. "I'm a Trekkie, man," continued Cage. "I'm on the Star Trek, I'm on the Enterprise." This love for Trek started at a young age and continues today. "I grew up watching Shatner, I thought Pine was terrific in the movies, I think the movies are outstanding," he admitted, praising the franchise for its "political" and "sociological" explorations.
"To me, what science fiction is really all about, and why it's such an important genre, is that is really where you can say whatever you want, however you feel," Cage opined. "You put it on a different planet, you put it in a different time.. and you can, without people just jumping on you." Lest any Star Wars fans find themselves in agreement, Cage clarified, "Star Trek really embraced that, they got into some serious stuff."
Painful as this revelation may be to Star Wars fans, Trekkers surely cheer at Cage's words, and not just because he's repeating their major arguments for the franchise's strengths. The mind boggles just thinking about who Cage could be in the Trek Universe. The famously expressive actor would make a great Klingon, but Cage's wonderfully understated performance in Pig reminds viewers that he can play against type, perhaps as a Vulcan.
But honestly, why cast Cage to be one of the obvious species? Following some of the great Trek cameos, including Mick Fleetwood as a fish-headed Antedian or Iggy Pop as a Vorta, Cage would be best at playing a lesser-known alien. Can you imagine what he could do as a theatrical Andorian, a la Jeffrey Combs's Shran on Enterprise? How about a room full of Doppler Cages, as seen on Lower Decks? Maybe Cage could find a way to make the Kazon interesting?
As he has not yet been attached to any Trek project, we have plenty of time to consider the possibilities. At least until Pascal finally leads his friend in a Star Wars rebellion.