News
Netflix's The Devil All The Time Review Round-Up: What the Critics Are Saying
The critics weigh in on The Devil All The Time, Netflix's dark, star-studded new Southern Gothic.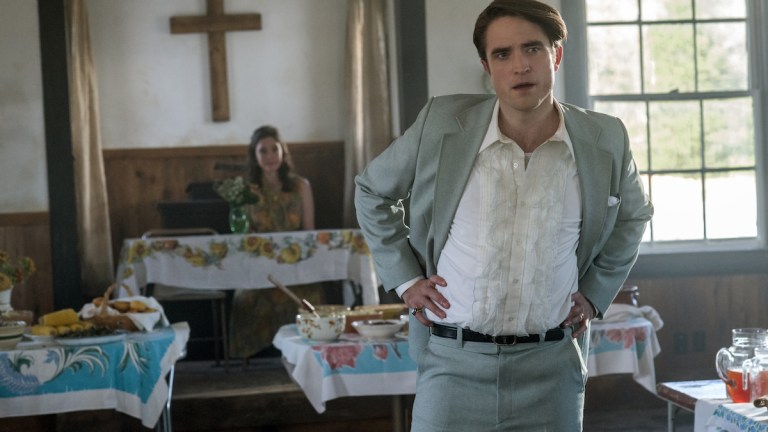 The Devil All The Time hit Netflix on Wednesday (September 16), with Antonio Campos (2016's Christine) directing a cast crammed with stars like Tom Holland, Bill Skarsgård, Riley Keough, Jason Clarke, Sebastian Stan, Haley Bennett, Eliza Scanlen, Mia Wasikowska and Robert Pattinson.
Based on a novel by Donald Ray Pollock, The Devil All The Time is a Southern Gothic, a mix of murder mystery and psychological thriller — with a touch of horror — that focuses on the inhabitants of a town called Knockemstiff, Ohio and their intertwined post-World War II history of murder, adultery, madness, depravity and religious fanaticism.
The 2011 novel was praised by outlets such as the New York Times, the Los Angeles Times and Publishers Weekly, with French literary journal Lire even naming it the best novel of the year. That made it a natural to be turned into the kind of adult-oriented melodrama that the major studios have largely abandoned, while streaming outlets like Netflix, Hulu and Amazon scoop these kinds of properties up.
However, just because those outlets are making a honorable attempt to bring a number of acclaimed literary titles to the screen on a regular basis, it doesn't mean they always get it right. The Devil All The Time currently has a right-on-the-border 68% rating on Rotten Tomatoes with 58 fresh reviews and 27 negative, while its score on Metacritic sits at an even more troubling 57% based on 25 reviews.
Our own Rosie Fletcher called the movie "a sprawling tale of violence and misery," adding that the film is "bleak, relentlessly so, but the incredible performances across the board make The Devil All the Time fascinating in a way that becomes almost addictive."
Plenty of other critics were pleased with the film, such as the Chicago Sun-Times' Richard Roeper, who wrote: "At first, the jigsaw puzzle seems needlessly difficult to solve, but once all the pieces are in place and we see the big picture, we're left with admiration for director/co-writer Antonio Campos' ability to weave a memorably brooding film…"
The A.V. Club's Noel Murray stated: "What's haunting about The Devil All The Time — and, ultimately even a little hopeful — is this idea that there's a world beyond this world, where perhaps not everyone is so cruel or intense. It may not be the biblical Heaven; but that's okay."
Randy Myers of the San Jose Mercury News wrote, "Campos has made a shattering portrait of religion and violence, a knotty, expressive work that bores deep into the soul of America," while Film Inquiry's Stephanie Archer opined, "There is a lot to take in, but let the film take you along on this examination of opportunity, villainy, family, loneliness, religion and small-town living — one that will have you sorting out your emotions long after the film has ended."
Some of the reviews that were more in the middle cited the overall excellence of the cast while bemoaning a thin storyline and lack of substance. The Hollywood Reporter's John DeFore wrote, "Though its structure doesn't always work to maximum effect, the grim picture gets more involving as it goes and benefits from a hell of a cast."
Joe Friar of the Victoria Advocate was among several critics who cited an "exceptional cast" and both current Spider-Man Tom Holland and soon-to-be-Batman Robert Pattinson for their work, noting, "Tom Holland sheds his boyish charm for the darker role as he becomes a different type of Avenger. Pattinson steals scenes as a silver-tongue preacher."
But not every critic found the cast enough to make the film enjoyable or even passable. Ryan Lattanzio of Indiewire stated, "There is no reason to care about anyone in Antonio Campos' The Devil All the Time, a sweaty, bloated mess of a movie that flushes a knockout ensemble down the drain."
A number of critics seemed to think that the film's overall darkness and extreme violence were part of the problem, without a solid or meaningful story to back those elements up. Vanity Fair's Richard Lawson said, "Intricately crafted as it is, Campos's film is downright simple. It's sloppy pulp packaged as prestige, which makes the meanness of its condescending gaze that much meaner."
Manohla Dargis of the New York Times slammed the movie for its lack of depth, saying, "There is little sense that the people in this world do anything but suffer or cause others to suffer in between working, church going and occasionally popping out babies."
Perhaps this remark from Brian Tallerico of RogerEbert.com sums up the responses to the movie best: "Give me a movie that bites off more than it can chew any time over one that doesn't bite at all." The Devil All The Time seems like it may be ambitious in its casting and in the way it adapts the source material. But the critics seem divided on whether it's a scathing commentary on post-war, small-town America or a pointless wallow in misery and violence.
The Devil All The Time is available to stream now on Netflix.