Features
The Netflix Fear Street Part 2: 1978 Easter Egg You Might Not Have Spotted
The second part of Netflix's Fear Street trilogy has lots of nods to Fear Street Part 1: 1994 but there's one connection you might have missed.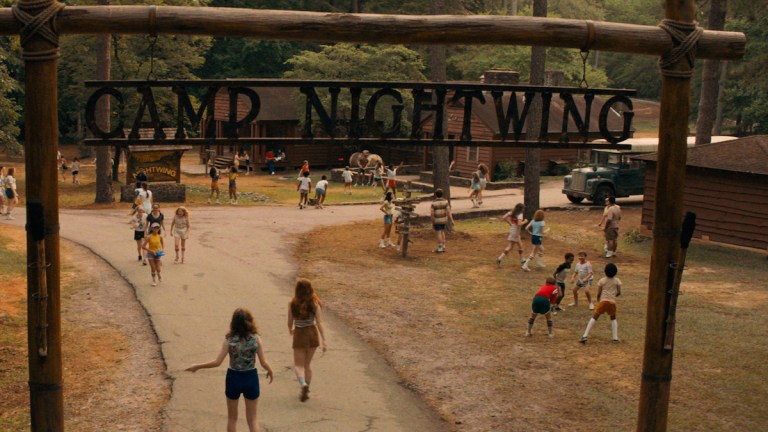 Sitting somewhere between film and TV, Netflix's Fear Street trilogy, based on the books by R.L. Stine, tells one interconnected story over three different eras, each leaning into a different subgenre of horror. While the first two mostly work as standalones, the connective tissue is what makes these movies a bit more special and interesting and lends them to repeat viewings.
In Fear Street Part 2: 1978, we learn more about the past – bits about the history of Sarah Fier and how she might have managed to curse Shadyside and similarly how she might be stopped – by reuniting her remains with her severed hand.
But there are also lots of moments in Fear Street '78 that reference and enhance Fear Street 1994.
"There's a lot across the three movies where we tried to recreate moments," trilogy director Leigh Janiak tells Den of Geek.
"Obviously, there are songs that we revisit. If you're listening closely, we have the Cowboy Junkies version of 'Sweet Jane' in the '90s, and then when you get to the '70s, The Velvet Underground version is playing with Nick and Ziggy, when they are having their romantic moments.
"Then, there are other nods. The mix tape that Deena makes for Sam references the Pixies song, 'Hey,' that plays. And she writes on it, "Must be a devil between us," which is obviously a nod to the greater thing that's happening in the world of Shadyside. There are other little moments like Sheriff Nick Goode is limping in the first movie. And then when you reach the second movie, you realize what happened to him in the '70s that gave him that limp."
One of our favorite blink-and-you'll miss it nods though comes from a throwaway line spoken by Kate (Julia Rehwald). In Fear Street Part 1: 1994, Kate mentions that her mum's sister was at the camp the year of the massacre. But which character was she? We asked Janiak for clarity.
"The idea here is that it's possibly that girl that dies in the Arts and Crafts cabin when Tommy comes in, and we kind of have the match go out," she says. That'll be the young character played by Lana Spraley and listed in the credits only as Shadyside Prisoner #1. Her death, along with two other younger kids, happens off screen but is shocking nonetheless in subverting Friday the 13th's rules of only offing the counselors, and not the little kid campers. It's a cute Easter egg, though Janiak says she didn't want to make too big a deal about the connection.
"We didn't go into it much further because, ultimately, it was kind of like, we don't want to make the moment bigger than it needs to be," she says. "But that was the conversation that I had with Julia and then the young actress who played that part in the '70s. Maybe that was the idea there for discerning audience members, to be like, 'Wait, is that the person that Kate's related to?'"
Any favorite connections between Fear Street Part 1: 1994 and Fear Street Part 2: 1978? Let us know in the comments!
Fear Street Part 1: 1994 and Fear Street Part 2: 1978 are out now on Netflix. Fear Street Part 3: arrives on Friday July 16.