Features
Mortal Kombat: The Challenges of Making the Movie Reboot
Director Simon McQuoid and Producer Todd Garner gave Den of Geek a peek into the Mortal Kombat movie reboot.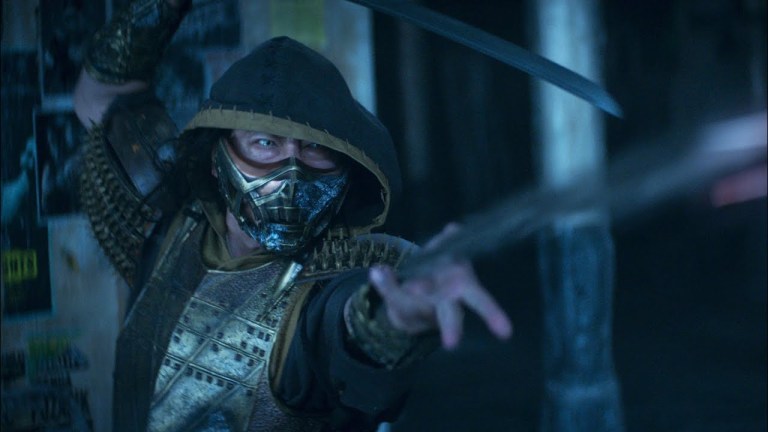 "Respect is the word I just kept using over and over," says Simon McQuoid about his directorial debut, the Mortal Kombat movie reboot. "Elevate and respect the material. So it was all just born out of respect for the characters."
For McQuoid, it's a challenging beginning to take on such a long-running and venerated franchise. Since 1992, there have been 14 editions of the video game, two animated films, two live action films, an animated series, live actions series for TV and the web, a novelization, and even a live stage show. McQuoid and 30+ year industry veteran, producer Todd Garner (xXx, Paul Blart: Mall Cop 2), sat down with Den of Geek and other members of the press for a virtual roundtable to discuss making a movie based on one of the most successful fighting games ever.
Cole Young's Place in Mortal Kombat Lore
This version of Mortal Kombat is completely new, not beholden to stories told in the previous films. McQuoid had several discussions with Ed Boon, one of the creators of the original video game, but says that NetherRealm Studios weren't involved with the film the whole time.
"There was conversations back and forth at key moments," McQuoid recalls, "and they were really helpful and great guys."
But overall, the reboot does its own thing, as the gargantuan continuity of the Mortal Kombat franchise would be too daunting for newcomers, Garner explains: "How are you able to have somebody come in, sit down in the theater, and watch this movie and not be completely confused by the unbelievable lore that Ed and John [Tobias, the other creator] have created over 30 years?"
Garner compares trying to grasp franchise's deep lore as a newcomer to showing up for Avengers: Endgame without seeing any of the previous MCU films. Audiences would have no idea what was happening. Every installment in the game series also introduced new characters so there are dozens of them, plus there were outrageous cameos from characters from other franchises like Rambo, the Joker, Freddy Kruger, Spawn, and the Terminator.
"If I could spend nine hours, like they did in WandaVision, just with two characters falling in love, I'm in," Garner says. However, the project was only greenlit as a lone feature film. "Would I love to make the Snyder Cut of this movie and have it be four hours? Sure. But my goal is to tell every story and tell it well and tell it honestly."
To solve all this, Mortal Kombat adds a new character who discovers this universe along with the audience: Cole Young (Lewis Tan). With so many popular characters already on the roster, a new one may seem superfluous, but Garner says the difference here is that players are invested in all the previous characters because they played them. He knows that longtime fans would feel that their favorites were poorly represented, especially if they weren't in the lead role.
"Cole is the audience surrogate because he doesn't know anything," Garner explains. "He has no backstory in the game…We just needed a character that was a cipher that came in and went, 'Okay, I'm going to connect the dots between the fans and the non-fans, so that by the end of the movie, we're all in the same place.'"
Tan is an up-and-coming martial arts star and second-generation stuntman. His father, Philip Tan, has been in the stunt business since 1987. Tan had major roles in AMC's Into the Badlands and Netflix's Wu Assassins, but this is his first lead role in a feature film. "Lewis is an incredibly gifted martial arts fighter," McQuoid says. "He also has a great presence on camera that connected." That combination sealed the deal for Tan.
However, Tan isn't the only cast member with a strong martial arts background. The film is packed with many of the top martial actors in cinema today. After all, Mortal Kombat is based on a fighting game, a brutal one at that, so it is critical that the fight scenes be next level.
A Martial Arts Film, Not a Video Game Movie
One of the foremost priorities for the filmmakers was to cast actors who can fight well on screen. For martial arts fans, the Mortal Kombat cast list is impressive: Max Huang (Chinese Zodiac, Dragon Blade) as Kung Lao, Ludi Lin (Power Rangers, Black Mirror) as Liu Kang, Hiroyuki Sanada (The Twilight Samurai, The Last Samurai) as Scorpion, Tadanobu Sato (Zatoichi, 47 Ronin) as Raiden, Joe Taslim (The Raid, Warrior) as Sub-Zero, plus Elissa Cadwell (Nitara) and Daniel Nelson (Kabal) are formidable stunt people. There hasn't been a major Hollywood picture with a fight card this stacked in forever.
It made casting more challenging because finding this level of martial talent dramatically narrowed the field, but Garner claims it was a non-negotiable term. "The first thing we said out of the gate was: I've got bad news for you, Warner Brothers. Not only is this going to be diverse, they got to know how to fight." McQuoid concurs that they wanted real martial artists. "We needed people who had the ability to fight when they needed to fight and have that martial arts skill that not everyone has. That's something that comes from having years of training."
Garner says everyone is saying this is a video game movie, but he insists that it is a martial arts movie. The filmmakers didn't want to overuse stunt doubles because they felt it would detract from the authenticity of the action. "I watched Max and Lewis go at it. I watched Ludi and Lewis go at it. I mean, these guys are phenomenal artists, and that's what we wanted."
Garner shared a production anecdote about working with martial actors: "When you have somebody like Max Huang come on set and go, 'By the way, guys, for the last six months, I've been practicing doing a 540 with no wire. Watch this.' And he does it. You go, 'Oh, you bet your ass we're putting that in the movie.' Because I don't care, Tom Cruise can't do a 540 with no wire, right?"
Garner claims that Mortal Kombat has one of the most beautiful fights he's ever seen, one of the coolest fights he's ever seen, and one of the most brutal fights he's ever seen. That's three separate fight scenes and there's more. The video game was notorious for gratuitous violence. Characters get their spines ripped out, their heads blasted through their bodies, their bodies torn asunder, and so much more. The original was so over the top that it was censored and banned in many countries.
"Compared to the game, we're like Bambi, right?" confesses Garner. "We're like a G-rated movie compared to the game. The game is just incredibly operatic in terms of the violence."
Mortal Kombat's Diverse Cast
The cast of Mortal Kombat is not only well trained, but also conspicuously diverse. No whitewashing here. According to McQuoid, from day one it never crossed anyone's mind at any point to do it any other way. "Perhaps the guys at New Line are just braver than most." With racial tension on the rise, particularly anti-Asian hate, a diverse cast without an A-list actor is a bold gamble for a Hollywood production. "The thing about Mortal Kombat is it's a rich, textural mixture of really great things. Many different cultures."
Garner hopes that by the end of the movie audiences aren't stuck on the cast being predominantly Asian, or Mehcad Brooks (Jax) being African American, or Sisi Stringer (Mileena) being Black Australian. Racial issues need not interfere with their escapist film. "You're just going to go, 'I just love them. It was great.' And the color will just wash over you."
McQuoid understands the diversity issue. "It's important because it's just the right thing to do, right? It's that simple."
Easter Eggs
When it comes to easter eggs, Mortal Kombat wrote the book. The video games are packed with hidden codes, references to previous games, and the legendary "Toasty!" taunt which dates all the way back to Mortal Kombat II from 1993. The game was ahead of its time in that respect.
Reboots today are judged by their easter eggs, and Garner says Mortal Kombat will make for good hunting with long time fans. "What's awesome is that every single person on this movie, I'm telling you down to the set painters, loves Mortal Kombat." When the production began, he sat down with fellow producers Richard Brener and Victoria Palmeri, Dave Neustadter from New Line, and screenwriter Greg Russo and discussed what easter eggs they could put in. "And James Wan came on, and he's like, 'I got some easter eggs for ya.' And then every person from the set painters to the prop to the costumers to Simon to Ludi to everybody said, 'Well, what about this? What about this?'"
According to Garner, there's even an easter egg in the trailer when Sub-Zero grabs the barrel of the gun and fires. "If you look behind him, it's the cheat code for that exact move that Sub-Zero does: in, down, left, right."
"The intent was to respect the material," McQuoid says. "That had to be first and foremost."
Mortal Kombat premieres in theaters and on HBO Max on April 16, 2021.