News
Morbius First Reactions Suggest This Vampire Movie Sucks
Some fans got to see Morbius ahead of its April 1 release. They did not enjoy it.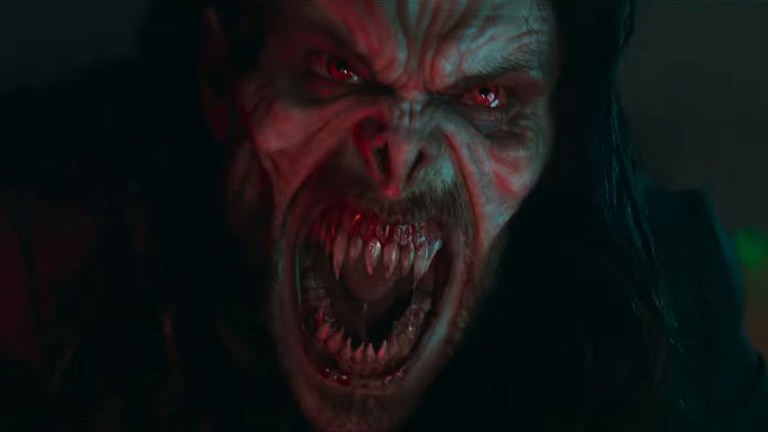 After years' worth of delays, Sony's Morbius will finally premiere on April 1. But with a new blockbuster movie also comes reactions from fans who got to see an early screening. And for the most part, the reactions are not good. Chief complaints include dodgy CGI, poor storytelling, and an uneven tone. Of particular note are the post-credit scenes, which one tweeter called "some of the WORST you've ever seen." Not too much praise for lead Jared Leto, but the response to Matt Smith's over-the-top villain seems to be positive.
Directed by Daniel Espinosa, Morbius is the latest in Sony's Spiderverse (which, as of yet, does not feature Spider-Man Tom Holland, save for the Venom: Let There Be Carnage's post-credits scene). Leto plays Dr. Michael Morbius, a brilliant scientist who suffers from a rare blood disease. After he performs a transfusion on himself, Morbius becomes a living vampire, cursed with a thirst for blood but given enhanced senses and strength. Morbius goes up against Smith's Milo, a rich man who undergoes the same treatment and uses his powers for evil.
While not quite as popular as the Green Goblin or Venom, Morbius is one of Spider-Man's most notable villains. Given the name "the Living Vampire" to avoid censure from the Comics Code Authority, Morbius first appeared in 1971's Amazing Spider-Man #101, written by Roy Thomas and penciled by Gil Kane. Morbius menaced Spider-Man over the years, even sinking his teeth into the wall-crawler a few times (or, in the case of the '90s animated series, attached his suction cups to Spidey). But Morbius became more of an anti-hero during the "Rise of the Midnight Sons" crossover with Ghost Rider and Blade, even headlining a solo series that ran for 32 issues.
Is that pedigree enough to carry a feature film? While Sony has received plenty of skepticism for trying to launch a cinematic universe based on Spider-Man villains, the enterprise has been surprisingly successful so far. Despite mixed to low reviews from critics, 2018's Venom earned $856.1 million at the box office, and the 2021 sequel Venom: Let There Be Carnage made 502.1 million, despite releasing during the pandemic. So encouraging have been the results for Sony that they've put into production a Kraven the Hunter film starring Aaron Taylor-Johnson.
Of course, the Venom movies had at their core an absolutely gonzo performance by Tom Hardy. Can Morbius hope for similar success? Early reports suggest no.
As dire as these reactions are, the news isn't all bad.
And there were a few completely positive reactions, which praised Leto's performance and the movie's themes.
Do these tweets mean that the Living Vampire is dead on arrival? Not necessarily, as the hammy elements of the film may catch on with larger audiences. And with a possible cameo from Spider-Man: Homecoming standout Michael Keaton as Adrian Toomes, the movie will at least attract some continuity hounds. Regardless, you can make up your own mind when Morbius hits theaters on April 1, and stay glued to Den of Geek for our own review.