Features
Morbius Box Office Leaves Sequel in Scary Place
Morbius' box office is no nightmare for Sony Pictures, but is it enough to warrant a sequel?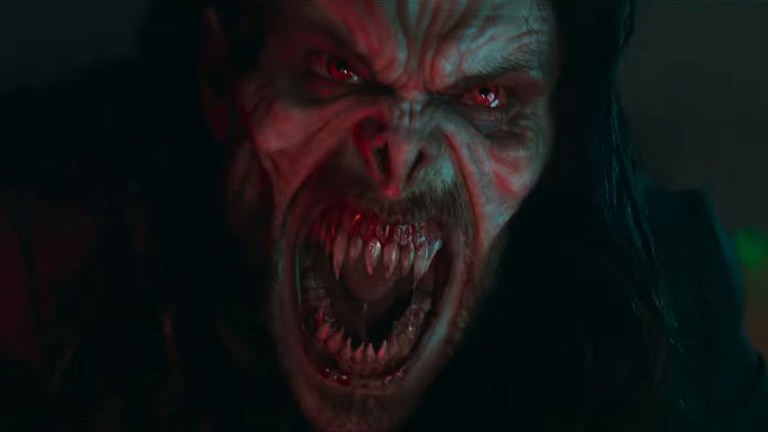 This article contains some Morbius spoilers.
In case you didn't hear, Morbius was not quite the disaster Film Twitter and the critics (including this one) thought it might be going into the weekend. At least in terms of box office, the vampire and superhero movie mash-up did okay when it opened to not quite $40 million over the weekend.
According to Sony Pictures, the film finished its three-day debut with $39.1 million, which while not the numbers posted by its shared universe stablemates, Venom and Venom: Let There Be Carnage—those opened at $80 million and $90 million, respectively—it's also not the disaster of, say, 2015's Fantastic Four. Additionally, as Sony only spent a reported $75 million on the film, Morbius earned more than half its production budget in its opening weekend. In a different era that would be considered a great debut for a new release.
However, in the modern world of superhero franchises and endless shared universes, the question becomes whether this is actually great—or even just good enough for a Morbius sequel to be greenlit? The Jared Leto-starring action movie certainly sets up for multiple continuations, including with plot threads left dangling among its direct supporting cast. The movie also further established that Leto's Living Vampire will have a role in some sort of supervillain team-up squad, which all but guarantees Sony still has a Sinister Six movie in mind.
And yet, if one drills down on the numbers and the larger perception of Morbius, the box office might look less like a franchise born as a potential disaster mitigated.
Beyond the overall gross of this weekend, it's notable that Morbius' box office went down from Friday to Saturday . On its first full day of playing in theaters, the movie earned $17.3 million, but by Saturday it was grossing only $13.2 million. Conventional wisdom (and practice) shows new wide releases should go up from their first Friday to Saturday by virtue of more people having free time to go to theaters on Saturday, particularly during matinees. The fact that Morbius instead went down indicates poor word of mouth, with the diehard audience who did show up on Friday or Thursday night previews not being impressed enough to recommend the movie or see it a second time.
More than anecdotal social media chatter, the actual industry pollsters at CinemaScore bear this out with Morbius being slapped with the toxic grade of a "C+." This is the same putrid word-of-mouth score awarded to the aforementioned Fantastic Four as well as other franchise killers like Batman & Robin.
Given its allegedly relatively low production costs for a studio tentpole, Morbius is still on track to earn a profit. It has already globally accumulated $84 million. But it is also almost guaranteed to not cross $100 million domestically if its word of mouth proves as bad for its box office legs going forward as the Friday-to-Saturday drop suggests. So any profit squeaked out by the film's final global cume and home release markets may, in fact, look more like a boon for Sony's cost-cutting strategy for when things go wrong (as opposed to right, a la the first Venom as well as the new Jumanji movies).
Without totally knowing the internal strategies and goals of Sony, it is probable the studio will look at Morbius as a small victory given the circumstances, but hardly one to directly double down on. Keep in mind that Batman v Superman: Dawn of Justice earned an anemic, but far higher, CinemaScore of a "B" when it debuted to $166 million, but that movie's studio scrambled to rework its direct follow-up, Justice League, in an attempt to mitigate similarly bad word of mouth. It didn't work and that sequel opened at less than $94 million, a disastrous figure considering that tentpole's budget and expectations.
For this reason, we suspect a direct follow-up to Morbius is unlikely. But even if that comes to pass, it doesn't mean we've seen the last of Leto's bloodsucker. He's still the star of a movie poised to make some money and a character who is now established to live in the same franchise real estate space as Tom Hardy's Venom and Michael Keaton's Vulture. It seems probable that whatever plans Sony has for putting together a "team"—as Keaton's Vulture muses—would still have room for Morbius. And the studio may wish to build the character's profile by putting him opposite the far more audience-beloved Venom character in a potential Venom 3 or some type of other spin-off.
So, as a piece of pure speculation, we doubt we've seen the last of our dear Dr. Michael Morbius. But we may have seen his one and only solo adventure.