Reviews
Men Review: Alex Garland and A24 Horror Goes Primal
Alex Garland is at his most surreal when tackling the unnatural dynamics between men and women.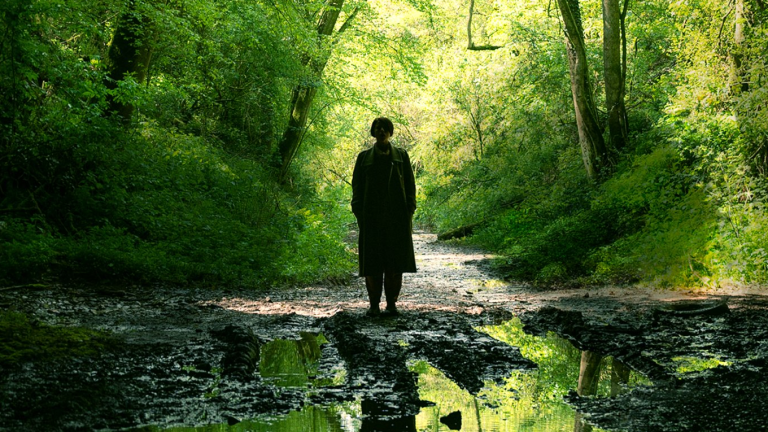 Filmmaker Alex Garland has been open about the fact that Men, his first outright horror movie as a director, began with a fascination for the Green Man, an ancient and mysterious figure who's been carved into stone edifices across Europe and the Middle East for millennia. This is apt, because despite some credible and educated guesses, no one is entirely sure what exactly the Green Man represents, or how he was worshiped (if at all).
Garland's film, which is about the implacable nature of man—and his grossly imbalanced relationship with woman—is similarly opaque. The film is swimming with ideas and imagery, pagan and Christian alike, yet perhaps more so than any genre picture in recent memory, even from A24, the exact meaning of the film's final movements remains elusive. Baffling, even. Nevertheless, it is when Men is at its most primal and esoteric, and when the filmmaker indulges his most surrealist tendencies, that the work is at its most alive.
Otherwise, one might think Men is hitting a single, oppressive note for much of its running time. But then, women have been aware of the menacing monotony of a world rigged against them for literal ages. And as a moody evocation of that repression, the more Garland's film and its two powerhouse lead performances, courtesy of Jessie Buckley and Rory Kinnear, dig into that idea, the more they find something inexpressible, ancient, and haunting.
Among those devastating turns, Buckley portrays Harper, a recent widow and Londoner who's gone out into the country to heal from a recent loss. Kinnear, meanwhile, plays just about everyone else. This is not an exaggeration either. He is Jeffrey, the too-convivial groundskeeper who is renting Buckley his bucolic country estate for the week; he is also the vicar in the nearby parish who will hear Harper's lamentations while keeping his hand on her knee; and he is even the naked man in the woods who watches her from a distance.
All of these feed into Harper's own realizations about why her marriage ended so bleakly on the day her husband (Papa Essiedu, the only other male actor in the film) died. But they also speak to something else when the local copper (Kinnear, again) hardly sees the harm in a nudist in the woods, or when things start getting stranger still as Harper confronts the fact that all these blokes seem to look—and more disturbingly look at her—the same.
Buckley and Kinnear are two of the most interesting thespians to breakout in recent years (admittedly closer to a decade in Kinnear's case). Buckley made recent in-roads with the mainstream via Netflix's Charlie Kaufman film, I'm Thinking of Ending Things. But like Kinnear who's won two Olivier Awards—including for playing Shakespeare's personification of covetousness, Iago—Buckley seems a natural theater actor who savors the work. Perhaps that's why she and Kinnear bring such a theatrical charge to all their interactions, each feeding off a generosity from the other talent just as much as they do from Garland's anxious screenplay.
As Harper, Buckley is a woman who is too modern for this patriarchal bullshit when the soft-spoken vicar asks if she feels responsible for how her marriage ended. And yet, the unspoken despair in her eyes testifies to the fact that while she can rationally understand the fixed nature of this game, she still feels cornered by inexplicable doubt, which soon takes on physical manifestations.
Conversely, Kinnear is able to feast on an actor's showcase that lets him dabble in every shade of lasciviousness. As a performer somewhat underrated for his screen work—to date, I'd argue he's still the best Frankenstein's Monster since Karloff—Kinnear is allowed to be both subtle and operatic, to chew scenes and portray the insidiousness of the male gaze at its most puerile and simultaneously violent. Through it all, he brings a vulnerability that is almost pitiful if it wasn't so grotesque.
The general setup, in which a woman is surrounded by a dozen variations of the seemingly same dude, is where the movie does run into larger narrative issues. The initial implication is not subtle or as necessarily profound as Men (right down to its title) seems to suggest. Closer to the airs of Garland's fascinating but similarly flawed Devs than the masterful highs of Ex Machina and Annihilation, Men spends too much time underlining and circling a thematic exclamation point that was already well-dotted in the movie's first act.
Even so, it's in the telling of those elements—with a sumptuous and Arcadian visual scheme wherein cinematographer Rob Hardy takes advantage of the natural wonder of rural England—that Men adds artful splendor to its narrative simplicity. And as the film (very gradually) embraces a natural, primordial state, the more enriching the experience becomes.
The film eventually takes a hard turn in the third act which will challenge and even infuriate some viewers. But that is where Men transcends its narrative trappings and becomes something far more enthralling. It reframes an already askew picture into something else, disputing our understanding of this film, yes, but also ours and Harper's understanding of the central marriage… and the world that condemned it.
To see such a demanding work receive a wide release in this day and age is almost startling. It will not be for all audiences, even all of A24's genre audiences who may take issue with some of its uneven qualities. However, a week later, this movie still tussles around in my head. That's the mark of successful art, or at least commentary on an eternal dynamic between men and women, green or otherwise.
Men opens only in theaters on May 20 in the U.S. and June 1 in the UK.