News
Masters of the Universe Reboot Movie Loses Release Date
The long-planned He-Man and the Masters of the Universe reboot movie seems to once again be in limbo.
The new Masters of the Universe movie might have just found itself back in development hell. It has been a difficult road for the adaptaion so far. The Masters of the Universe reboot has had a revolving door of directors and writers. At one point, David Goyer had been reported as its writer. There was a script by Alex Litvak and Mike Finch. There had been a draft by Jeff Wadlow that was completed in late 2014 (that itself was a rewrite of a draft by Terry Rossio). Sony then tapped Christopher Yost for another rewrite. And that's only the beginning. Most recently, it was working off a draft by Matt Holloway and Art Marcum. The duo wrote the D.O.A. Men in Black: International, and worked on Transformers: The Last Knight, Punisher: War Zone and even the Marvel Cinematic Universe launcher, Iron Man. 
Then there's the directors, with the film previously pegged to be helmed by McG, whose exit was followed by the auspicious entrance of David Goyer as writer and director. While Goyer's incredible attention to the world-building of Krypton in Man of Steel made us wonder what fun he could have in Eternia, he exited the chair because of scheduling conflicts with his upcoming Foundation TV series for Apple. Currently, Aaron and Adam Nee are set as its directors.
The project seemed to gain a little momentum with Mattel's reveal of its in-house movie studio, Mattel Films, which is set to launch with the now-developing Barbie movie, starring Margot Robbie. Moreover, in addition to Masters of the Universe, Mattel planned to bring another of its signature brands to the screen, teaming with Warner for a live-action Hot Wheels movie. So you'd think that this movie might finally be moving forward. But…
Masters of the Universe Movie Release Date
Masters of the Universe movie had been set for release on March 5, 2021, and a report from THR indicated that the film could go directly to Netflix. It would be a good fit, since Netflix is the home to the excellent She-Ra and the Princesses of Power animated series and an upcoming He-Man animated series from Kevin Smith.
But recent release date shuffles have left Masters of the Universe without one of its own. Sony's long troubled Uncharted adaptation needed a new release date, and has now moved into that March 5th slot. THR reported that the studio then quietly removed MoTU from its schedule, which means that maybe they aren't quite ready to visit Eternia after all. 
We have a lot of positive feelings about the 1987 movie, though, which you can read about here.
Masters of the Universe Movie Cast
Hopefully, the movie's current struggles don't affect the one major piece of casting news there has been so far. To All The Boys I've Loved Before star Noah Centineo seemed set to be step into the fur briefs of Prince Adam of Eternia, the hero known as He-Man. We have more info on his casting right here.
At one point, way back in the McG days of the project, the director met with someone who at least has the muscles and blond hair one would expect from a potential He-Man, The Legend of Hercules star, Kellan Lutz. "I like Kellan very much," McG told IGN at the time. "Obviously, we need a talented entertainer, but we also need a certain physicality, which he embodies. He'll be considered very, very closely…we had a great meeting, and he's passionate about He-Man, he's passionate about the Adam story."
For context, around the same time, Mr. Lutz dropped this little gem on social media…
That Wind Raider has sailed, though.
Masters of the Universe Movie Story
Under McG, the plan was to make this an origin story. "It's the genesis of He-Man, it's the becoming of He-Man." He also confirmed that in addition to He-Man and Skeletor we'll see characters like Battle Cat and Evil-Lyn in the movie, and that it will be set primarily on Eternia. Although he did nod to a rather obscure piece of He-Man mythology by saying "Earth is mentioned, as Earth is a part of the lore." This would seem to be a reference to a deleted scene from a draft in the first Masters of The Universe movie that revealed Eternia had been colonized by astronauts from Earth in the distant past.
Again, whether any of this remains with the new team on board remains to be seen.
Masters of the Universe Movie Poster
Ahead of last year's Licensing Expo, a teaser poster of sorts for the upcoming Masters of the Universe movie has surfaced. While there's not much substance-wise to the black-and-white one-sheet, fans might take to heart that it brandishes the vintage 1980s logo, along with the tagline, "The Power Returns."
Masters of the Universe Movie Concept Art
Back when he had a more active role in the project, David Goyer had been subtly indicating that Masters of the Universe was moving along smoothly in development. At one point, he posted a photo of himself looking over some (hard to discern) concept art samples, his latest post gives us a little more insight into the potential aesthetics of the film. Unfortunately, they were deleted, but they appeared to be a piece of concept art of an extremely high-tech-looking – very sci-fi-ish – piece labelled "Teela Battle Suit." It appears that this "Battle Suit" could be part of her arsenal at some point in the film.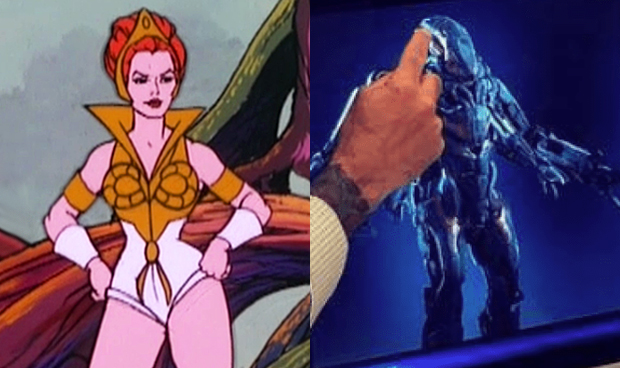 While the image appears the be a major aesthetic departure from Masters of the Universe's swords, loincloths and stone castles, it should be noted that its mythology has always showcased the anachronistic clash of a magic and mysticism-filled quasi-feudal otherworld in which extremely advanced technology from outer space also happens to exist.
Back in 2015, after being told by a fan on Twitter that if Guardians of the Galaxy could hit $700 million at the worldwide box-office, then a new He-Man movie should have no problem raking in the bucks, co-producer Devon Franklin responded in the affirmative, and then dropped some Battle Cat concept art.
He previously revealed an official looking title card for the movie, too (IndieRevolver tipped us off to this)
As ridiculous as this might sound, hopefully the new Masters of the Universe movie takes a somewhat serious approach to the source material. Justin Marks' now discarded Grayskull: The Masters of the Universe script was a fairly logical reimagining of the He-Man mythology, and done properly, with the right amount of world-building, the realm of Eternia could do well as a franchise. They just have to get around some of those names!
Mike Cecchini has the power…but only on the internet Follow him on Twitter.
Joseph Baxter is a contributor for Den of Geek and Syfy Wire. You can find his work here. Follow him on Twitter @josbaxter.