News
The He-Man Movie You Never Saw Would Have Been Like a Buddy Comedy
The nixed Masters of the Universe live-action movie would have centered on the rough relationship between He-Man and Battle Cat.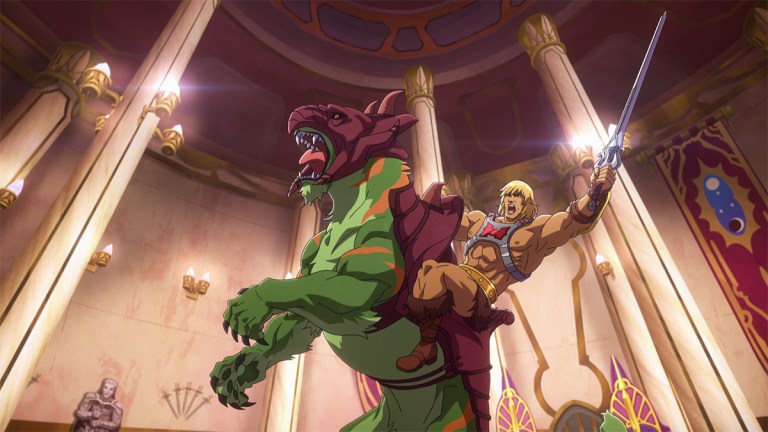 While Masters of the Universe: Revelation reignites Mattel's toy-spawning fantasy franchise, Kevin Smith's Netflix animated series arrives in the recent wake of an ill-fated film project. Indeed, Sony/Columbia settled on up-and-coming directors Aaron Nee and Adam Nee to conjure new live-action exploits of He-Man in the land of Eternia, which progressed to pre-production and cast Noah Centineo in the starring role before the pandemic put an end to the endeavor. Interestingly, David S. Goyer, who wrote an early draft of the Masters of the Universe screenplay, reveals what would have been a rather unique dynamic at its center.
Contrasting with the potentially-controversial protagonist direction hinted in early reviews for Revelation, the driving concept for the long-planned Masters of the Universe live-action movie was to focus on the friendship between He-Man and his loyal giant green, orange-striped tiger steed, Battle Cat, as Goyer reveals to THR. Of course, most of the franchise's various iterations present the narrative notion that Eternia's sleepy slacker royal prince, Adam, secretly transforms into "the most powerful man in the universe" when he imbues himself with mystical energy from the Sword of Power, after which he directs said energy toward his cowardly talking pet tiger, Cringer, transforming him into the hero's ferocious loyal steed, Battle Cat. However, Goyer reveals that—during his tenure with the script—the film would have broken precedence by putting a comically dysfunctional twist on the traditional hero/steed relationship.
"I legitimately liked the script that we did," says Goyer. "We were going to do it as a feature at Sony. What I liked the most about it was that it was mostly about a friendship between He-Man and Battle Cat. The idea was there had always been He-Men and different recipients of the Sword of Power and that Battle Cat had always served at their side. And this was a new He-Man that Battle Cat and many people didn't think was worthy of the sword."
Contextually, while mainstream representations like 1983-1985 animated series He-Man and the Masters of the Universe and the 1987 Dolph Lundgren-starring Masters of the Universe movie mostly stuck to superficial backstories, the franchise's deeper mythos—once canonically-inconsistent across the decades in its multimedia forms—has started to uniformly embrace the idea that Adam himself is merely the latest recipient of the mystical Sword of Power. Several generations earlier, the sword was wielded by his ancestor and ancient castle namesake, King Grayskull, after which the sword—and the sublime power it yields—was passed down to various other "He-Men." Indeed, even Revelation's trailer showcases King Grayskull, implying continued adherence to the hand-me-down dynamic, and the possibility for time-travel-facilitated team-ups with previous versions of Eternia's hero.
The concept was integral to Goyer's screenplay, since Adam's newfound role as He-Man would have come attached with an intimidating, seemingly-unattainable legacy, of which this wryer, more-critical version of Battle Cat seems acutely aware. Thus, Adam's arc as an upstart hero would have hinged on earning the ornery Battle Cat's stamp of approval, yielding buddy comedy style interactions.
"So, it was a story of the character earning the sword, but, more importantly, earning the friendship of Battle Cat, who just thought this guy [Prince Adam] was a lightweight," explains Goyer. "I really liked it. I thought it was a fun story. There was a lot of humor in it and it creeps up on you because Battle Cat sort of grudgingly accepts him, and it's Battle Cat's acceptance of He-Man that gave this version of the story heart."
Goyer's comments shed light on the reasoning behind the eventual casting of Noah Centineo, who—hardly the WWE-level jacked giant one would envision for the role—seemed set to convey Adam's getting-by-on-good-looks slacker personality, having come from the realm of teen comedies, notably from his role as Peter in 2018 Netflix rom-com To All the Boys I've Loved Before and its two sequels. It not only would have been interesting to see how a fully-transformed He-Man himself would have manifested in this live-action attempt, but how Battle Cat could have served as his shade-throwing foil.
Unfortunately, fate would not favor this particular Masters of the Universe live-action reboot project, which saw several attempts—notably the Lord of the Rings/Game of Thrones-influenced version under director Jeff Wadlow. Those years saw several hints about the movie in the form of early versions of its logo and various concept art designs, which revealed a motif that—perhaps in response to Marvel's 2014 success with Guardians of the Galaxy—leaned into the space-esque sci-fi technology side of the franchise's traditional amalgam with savagery and sorcery.
Back in 2015, one of the project's more enthusiastic early proponents, producer DeVon Franklin, tweeted a concept image of what the Battle Cat in question might have looked like—albeit as a CGI creation—in this particular live-action milieu. Yet, despite years of hype and even a projected, never-realized March 2021 release date, the project came to an ignominiously anti-climactic end, notably affirmed this past April after Centineo reportedly exited the COVID-stopped production.
Regardless, Goyer, having made a monumental mark on the industry with The Dark Knight Trilogy, among other heavy hitters, isn't thinking about He-Man and Battle Cat these days, since his hands are currently tied with two lofty tasks as the credited creator of Netflix's developing television adaptation of Neil Gaiman's The Sandman and, more imminently, the Apple TV+ television adaptation of Isaac Asimov's sprawling novel franchise, Foundation.
However, Masters of the Universe, while still generally associated with '80s pop culture, has managed to exist in the periphery across the ensuing decades. Oddly enough, we're living in a time in which the franchise permeates (not even counting Netflix's recent animated series centered on He-Man's estranged twin sister, She-Ra) with two major animated series (one of which is a developing CGI series) and several current toy lines, two of which are sold at retail stores worldwide. Revelation could prove to be the iteration that truly brings it back to the forefront, perhaps leading to another live-action attempt—maybe by Goyer again.
In the meantime, Masters of the Universe: Revelation will release the first part of its inaugural season on Netflix on Friday, July 23.