News
Marvel's Eternals Will Reveal Why The Eternals Didn't Interfere in Infinity War
Why didn't humanity's protectors stop Thanos and his Infinity Gauntlet? According to a new feature, Marvel's Eternals is set to provide an answer.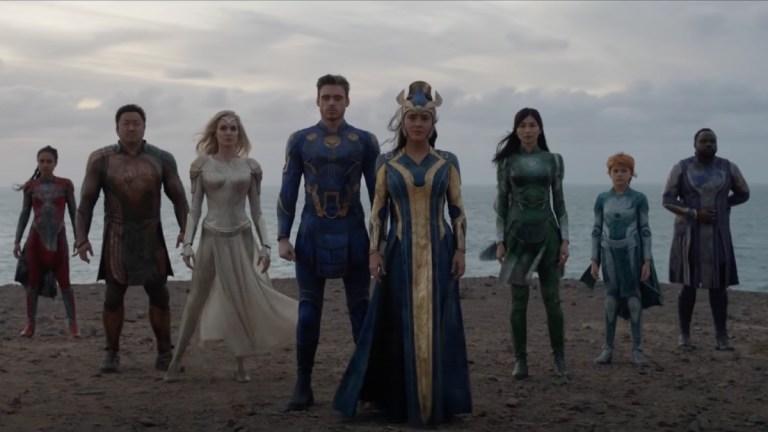 Created in 1976 by Jack Kirby, the Eternals were one of Marvel's biggest cosmic swings. In Marvel canon, these god-like beings were given life by the Celestials and 10 of them were sent to Earth to keep an eye on things and make sure humanity was safe from the monstrous Deviants.
Now that the characters are set to receive their own film in Marvel's Eternals, the 26th installment in the Marvel Cinematic Universe, some fans can't help but wonder: where have these powerful protectors been for the previous 25 movies? The MCU has been a pretty chaotic place thus far. Near the end of the franchise's Infinity Saga, Thanos uses the Infinity Stones to wipe out half of all life in the universe. That seems like it would have been a decent time for the Eternals to intervene. Well according to a sprawling new feature from EW, Marvel's Eternals is fully prepared to answer that question and more. 
Neither the movie's director Chloé Zhao (Nomadland) nor Marvel producer Kevin Feige go on record to say precisely how Eternals will address that conundrum but EW notes on background that the movie definitely will. The article details that the Eternals mission is to focus on their nemeses the Deviants and to never interfere in human affairs. That means that, bizarre as it might seem, intervening in Thanos's genocidal mission was all part of the plan. It's worth noting that the Avengers did just fine in retrieving the lost half of the universe on their own, so who's to say that Eternals weren't right to leave things alone all along? 
Much of EW's piece focuses on the tall task of formally introducing Eternals' titular 10 guardians, each of whom get lovely magazine covers. Salma Hayek plays Ajak, the group's leader and healer. Richard Madden is Ikaris, who can fly and shoot lasers from his eyes. Brian Tyree Henry is Phastos, an inventor. Barry Keoghan plays Druig, a loner who can manipulate others' thoughts. Angelina Jolie plays Thena, who can conjure up weapons out of nothing. Kumail Nanjiani is Bollywood star Kingo. Then there's Lia McHugh as the youthful-appearing illusionist Sprite, Lauren Ridloff as speedy Makkari, and Don Lee as brawler Gilgamesh. 
The film's lead, however, is an MCU veteran. After portraying minor character Minn-Erva in Captain Marvel, Gemma Chan returns to embody the Eternal with the softest spot for humanity, Sersi. Feige defended the decision to cast Chan in a new role to EW.
"It would have been shooting ourselves in the foot," the producer said. "I can go back to Chris Evans being on the list for Captain America, and some people said, 'Oh, well, he played the Human Torch [in 2005's Fantastic Four]. Maybe we shouldn't consider him.' And we said, 'No, that's okay,' and the rest is history."
Sersi is romantically linked with both Richard Madden's Ikaris and Kit Harrington's character, a human named Dane Whitman. That's right: it's a Stark brother reunion.
Though Marvel's Eternals is set to be epic in scope, spanning more than 7,000 years, those interviewed highlight the dynamics between its 10 central characters as the film's main appeal.
"It's a little bit like being on a road trip with nine of your closest friends for 7,000 years," producer Nate Moore says. "In development, we joked that it's like if Tony Stark and Steve Rogers lived together for that long. That friendship will turn into frenemies, and then turn into enemies, and then come back to friendship because you have that common bond. It's like a family."
An intergalactic family in the MCU, huh? Where have we heard that one before? With Fantastic Four officially announced for (fittingly) Phase Four, Eternals and fellow Phase Four member Shang-Chi and the Legend of the Ten Rings might help this era of MCU storytelling get started on the right thematic track.
Marvel's Eternals is set to be released on November 5 in the U.S. It is not currently confirmed whether the release will be exclusively theatrical.