Features
Marvel Movies Doing Badly at the Box Office Shouldn't Be Traumatic
As The Marvels arrives in theaters, some fans are sharing trigger warnings about its box office tracking.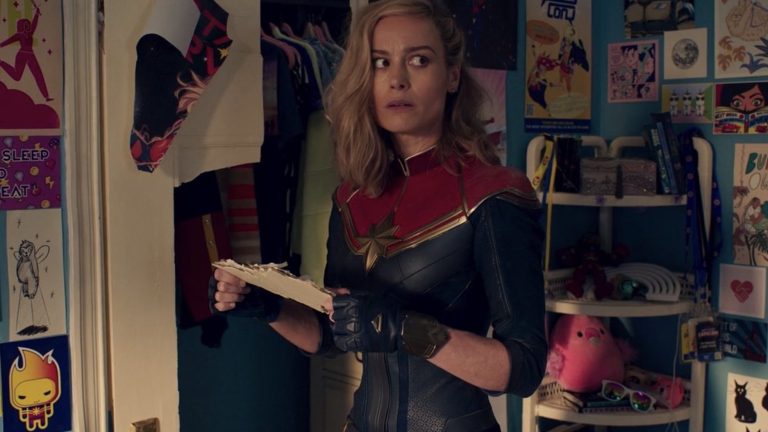 Marvel Studios' long awaited sequel to Captain Marvel, appropriately titled simply The Marvels, will finally be in theaters on Thursday night. Nearly four years after the original Brie Larson-starring superhero movie grossed over $1.1 billion at the box office, the follow-up should be an event. And yet industry prognosticators and analysts have shown the movie to be tracking surprisingly soft going into its first weekend, with early estimates ranging between $70 million and $80 million for its opening weekend—the lower end of which is less than half of Captain Marvel's $153.4 million debut in 2019. Actual ticket pre-sales, however, suggest it could be even lower with the film reportedly tracking behind even Black Adam's tepid $67 million debut.
As of press time, The Marvels looks like it might be the latest film in a spate of 2023 genre flicks that suggest superhero fatigue is real—which also includes now infamous flops like DC's The Flash, Shazam! Fury of the Gods, and Blue Beetle, as well as Marvel's own striking underperformance in February with Ant-Man and the Wasp: Quantumania. For Disney, this is surely to be disappointing news, but what's particularly curious about this moment in fan culture is how some folks seem to be taking the box office loss personally.
One viral tweet from a social media user who posts about the box office warned their followers on X, the website formerly known as Twitter, that the numbers "might not be what one hoped for." As a consequence, the social media analyst suggested, "If you think that it will be too overwhelming for you, out of fairness I'd suggest you to unfollow me so you don't get any updates from that could make you feel angry or sad."
All of which raises an obvious question: Are Marvel fans' relationship with the company's products really so intensely parasocial that they need trigger warnings about box office reports?
If The Marvels indeed underperforms this weekend, it will not be the first time the MCU has endured a financial disappointment at the multiplex, nor even the first year. There is the aforementioned Ant-Man 3, and there was also Eternals only a few years ago. Marvel Studios will not stop making movies because of a second disappointment this year, nor is the superhero genre about to go away.
There is certainly room to consider why the superhero genre is apparently in a state of financial decline, and what is it about the current crop of films that caused audiences to lose demonstrable interest over the last several years. However, the genre still remains wildly popular around the world, with Marvel Studios in particular remaining the most well-known movie franchise across the globe. In other words, it has enough financial stake to take a few hits and adjust.
Yet the more curious aspect of this is why are fans emotionally invested in a company to the point where their financial troubles could inflict personal anxiety or discomfort? Unless you worked directly on the film, at Marvel Studios or Disney, or have a lot of stock in the parent company, the financial fortunes of a single tentpole should not not cause emotional distress. More acutely though, it's disconcerting that fans are creating parasocial connections with the finances of a company. This transcends being a fan of a character, or a performance, or even an overarching story of a shared universe—it is apparently looking for emotional validation based on the ebbs and flows of ticket sales.
News reports as common as box office recaps should not cause that amount of anguish. Even if The Marvels disappoints, the Marvel company isn't going anywhere—the same will apply to Larson's Captain Marvel and the rest of the team.
The Marvels opens in theaters on Friday, Nov. 10.