Features
Malum: A Horror Movie Remake With a Difference
In an extremely rare move for an American director, Anthony DiBlasi has chosen to remake his own feature film. But why?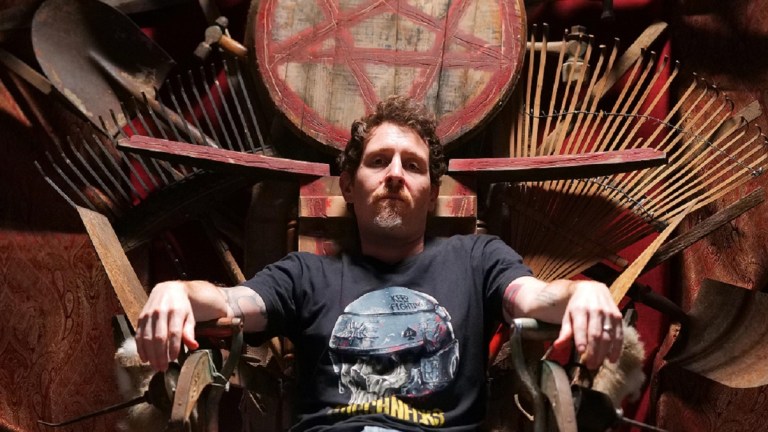 Remakes are nothing new in Hollywood, and horror movie remakes have long been a thriving part of the industry. Directors will turn their creepy, viral short films into larger studio features, like David F. Sandberg did with Lights Out, and surprise foreign genre hits will sometimes get a makeover for U.S. audiences with the original director at the helm. But you'd be hard pressed to find a modern American director who's interested in remaking their own feature film.
Enter Clive Barker protégé Anthony DiBlasi, who was certainly up for the challenge when he was approached by new genre studio Welcome Villain with the possibility of remaking his 2014 low-budget gem, Last Shift. The director believes he's the first American director to take on such a feat since Leo McCarey remade Love Affair into An Affair to Remember in 1957.
This week, Welcome Villain releases DiBlasi's remade version of Last Shift, Malum. The film's story will naturally feel familiar to those who have seen the original. A rookie police officer once again takes a last shift at a police station before it's permanently closed, with strange events linked to a family tragedy and a mysterious cult leading her down a dark path during the fateful night, but Malum is a substantially updated version of Last Shift's events. The story is deeper, the ending more ambitious. All the actors are new except for one: DiBlasi's writing partner and wife, Natalie Victoria, who reprises her role as the story's ominous "harbinger," Marigold.
Den of Geek caught up with DiBlasi a few days after he'd completed Malum to find out why he'd chosen to tackle the project. Though some might imagine that he was unhappy with how Last Shift turned out, and that Malum was his way of having another crack at unleashing his true vision, he insists that's not the case. He says his experience making Last Shift was "excellent," and the old phrase 'art is always abandoned, never finished' doesn't apply here.
"I don't know if I've ever felt that way," DiBlasi explains. "I always feel very holistic at the end. I squeeze it for everything it's worth, and then I'm done. Release it. Take it to the world."
It turns out that DiBlasi's only real regret about Last Shift is that it didn't take off theatrically, as he considered it to be the kind of movie that should be seen with a crowd. "That sound design should be heard in a theater," he says. "We very much created it that way, but it didn't do anything theatrically, at least in the States. I'm sure in other parts of the world it did, but I felt like Last Shift could have had a much wider audience. That was how the Malum conversation began."
Last Shift became a popular horror film on Netflix in 2015, so it did end up reaching a much wider audience than DiBlasi first thought, given its theatrical disappointment, but when Welcome Villain came knocking with their enthusiasm for the movie, he "vomited out" a six-page treatment for Malum that he wanted to be collaborative.
"Welcome Villain had their own favorite things about the first movie, and I was keen to expand on certain things," he explains. "I wanted to make sure we were on the same page from the get-go. Every time we dug back into it, we started to be like, 'Okay, this is getting exciting. Now we know what we want to bring in. We know what we want to do with these characters this time.' After that, when we sat down to write the script, I didn't even think about the first movie."
The director admits he had some worries about remaking his own feature, but that they quickly dissipated once the project really got underway. "I was concerned that it could get tiring, or that I could be on the Malum set thinking 'Oh, I feel like I'm making the same movie again.' But luckily, it never felt that way. It just felt like I was making a completely different movie."
Visually, Malum is much more cinematic than Last Shift. Where Last Shift has a more "first-person shooter video game" quality to it, Malum is a single camera affair that largely dispenses with the original film's reliance on handheld techniques. A sizable part of the budget was also set aside for practical effects that make Malum's end sequences much more terrifying. "We have to triple everything," DiBlasi recalls thinking. "If we're gonna do it, we have to give them more."
DiBlasi's experiences working with Clive Barker on the movie versions of The Midnight Meat Train and Book of Blood also taught him a lot about pulling horror punches.
"In those years of developing those projects with studios, I saw the executive side of things," he says. "They would ask for certain notes. 'You've gotta make this PG-13 so you can sell more tickets.' There are pitfalls that go along with that. People mess it up so much. So by the time you get the keys to the car, you're like, 'I'm not gonna mess this up. I'm going to use the material as my map.' Clive would spend a lot of time crafting a story or a book, and then we would spend a lot of time crafting a screenplay from it. Often, when you get on set, it can be so stressful. You just start tearing it apart, throwing stuff out the window. I think you have to do everything in your power not to do that, and make sure you're holding true to the intentions of that original material."
The director stays true to his own material with Malum, but the disturbing antagonists that haunted Last Shift are fleshed out here, and so is the lead character's connection to them. Last Shift's central cult, their backstory, and their intentions have been completely reworked for the new film, but alongside these additions, some of DiBlasi's favorite moments from Last Shift are replicated in Malum, albeit not precisely shot-for-shot. Certain Last Shift sequences, introductions, and Victoria's Marigold all made the cut in the new version.
"I'm confident that fans of Last Shift will be happy with Malum," DiBlasi says. "But this movie is more of a mystery, whereas the first was more of an experience. We really wanted to develop the flock but also create a mythology that was all our own, not based on anything else, and one that wasn't satanic."
He says he and Victoria have joked about making the movie a third time, but that if he were ever to pursue the story further, it would be in the form of a sequel or prequel. "I think there's a lot to explore with the cult, and where they're headed. Cults are just so fascinating. What causes that kind of psychosis? I think that's such a fascinating topic."
Malum is playing in theaters now.