News
Malignant's "Where Is My Mind" Song Has a Famous Hollywood Legacy
Malignant's main tune will get stuck in your head. And it's probably not the first time you've heard Pixies' "Where Is My Mind," either. Remember Fight Club?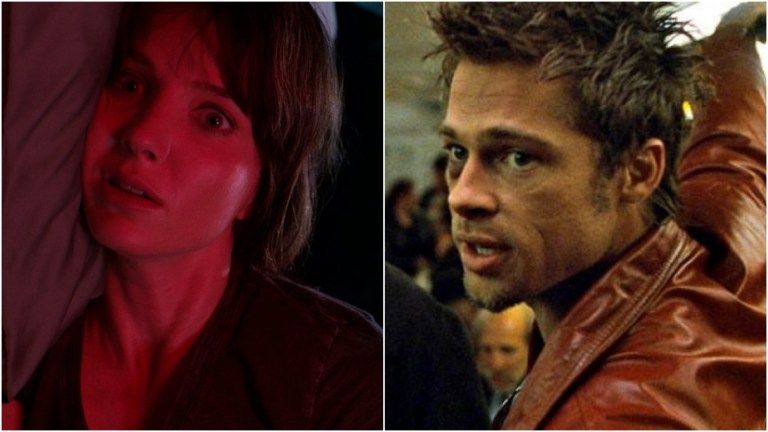 This Malignant article contains spoilers.
Like Gabriel (Ray Chase) inside Madison's head (Annabelle Wallis), once you hear Safari Riot and Grayson Sanders' energetic cover of Pixies song "Where Is My Mind," it'll be very difficult to get that earworm out of your brain. It's a tune that accompanies some of Malignant's most outrageous scenes, like a missing woman suddenly falling through Madison's ceiling in the second act. And director James Wan chose wisely. After all, "Where Is My Mind" is a song that has a history of ushering in shocking moments in Hollywood movies.
If Stephen King fans jumped at the movie's big Gabriel twist and its obvious The Dark Half inspiration, fans of the movie Fight Club likely got a kick from hearing the song that years ago closed out David Fincher's classic film, which, fittingly enough, is also about split personalities. But in 1999, it was the Pixies' original that accompanied the famous final scene of Fight Club, as the Narrator (Edward Norton) and Marla (Helena Bonham Carter) hold hands while watching bombs erase the city's skyline (and hopefully, all that pesky credit card debt). Arguably used more effectively in the Fincher film, "Where Is My Mind" will always be tied to that defining moment in cinema.
Safari Riot and Sanders' version of "Where Is My Mind" actually seems a little out of place when it first blasts through a scene in the movie, an over-the-top accompaniment to what seems like your standard slasher flick, but it's actually incredibly appropriate — not just for the massive tonal shift later on but the plot itself. Pixies' frontman Black Francis originally sings of a mind "way out in the water," a collapsing head with "nothing in it," which could describe Madison's fugue state as Gabriel takes over her body and begins his gruesome killing spree around Seattle, with Gabriel's presence possibly symbolic of a mental disorder taken to the extreme.
You can listen to the cover below:
Pixies originally recorded the song in 1987 and it released as the seventh track on the debut album, Surfer Rosa, in 1988. To this day, it remains one of the iconic alternative rock band's most famous songs. It's appeared in several other movies and TV series over the years, and has been covered many times, including by bands Placebo, Nada Surf, and The Vaccines.
Francis told Select magazine in 1997 that the song "came from me snorkeling in the Caribbean and having this very small fish trying to chase me." Like Francis' fish, Gabriel continues to chase Madison years after she thinks she's suppressed him. And he may never stop.
Malignant is out now in theaters and on HBO Max.