News
The Last Thing He Wanted Trailer: Anne Hathaway and Ben Affleck Star in Netflix Film
Anne Hathaway and Ben Affleck headline a stacked cast in Netflix movie The Last Thing He Wanted.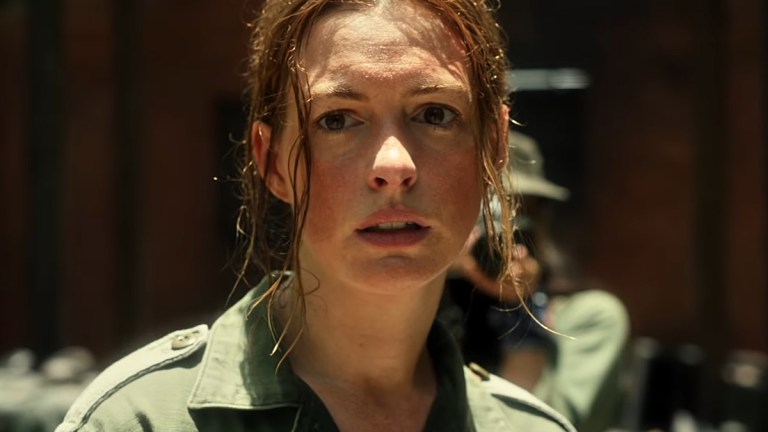 The Last Thing He Wanted is yet another high-profile film nabbed by streaming giant Netflix for exclusive consumption on its platform.
Brandishing a headlining duo of Anne Hathaway and Ben Affleck, The Last Thing He Wanted is a historically-set drama that adapts the 1996 novel of the same name by Joan Didion, which, set in 1984, depicts the ordeal of a reporter (Hathaway) who – during the course of investigating the arming of the Contras – becomes placed in a most perilous position when the guilt-motivated task of visiting for her grieving father (Willem Dafoe) leads her to discover his role as a U.S.-backed arms dealer based in Central America.  
Dee Rees (Mudbound, Pariah) directed the film, working off an adaptation screenplay she co-wrote with Marco Villalobos.
The Last Thing He Wanted Trailer
The trailer for Netflix's The Last Thing He Wanted has arrived.
The Last Thing He Wanted Release Date
The Last Thing He Wanted is set to premiere on Netflix on Friday, February 21.
The Netflix debut will occur by way of a premiere at the Sundance Film Festival on Monday, January 27.
The Last Thing He Wanted Details
As the more-detailed Sundance synopsis for The Last Thing He Wanted reads:
Journalist and single mother Elena McMahon (Anne Hathaway) has rigorously investigated Contra activity in Central America for years. Frustrated when her coverage is censored, relief comes in an unexpected package: her acerbic father (Willem Dafoe) falls ill and leaves her a series of unfinished and unsavory arms deals in that very region. Now a pawn in a risky and unfamiliar game, surrounded by live ammunition in more ways than one, and alongside a U.S. state official (Ben Affleck) with whom she has a checkered past, Elena needs to parse her own story to survive. With her disenchanting life awaiting her back home, she is forced to consider what she really wants.
Anne Hathaway, the 2013 Les Misérables Best Supporting Actress Oscar winner, comes into this film off December 2019 drama Dark Waters, and will soon be seen in director Robert Zemeckis's October-scheduled remake of The Witches as villainess the Grand High Witch.
She co-stars here with Ben Affleck (making the film an odd amalgamation of former Catwoman and Batman actors), who comes off a role reprisal for director Kevin Smith in this past November's Jay and Silent Bob Reboot, and recently appeared in Netflix action film Triple Frontier. He, of course, recently hung-up his cape and cowl as the DCEU's Batman, a mantle that his since gone to Robert Pattinson for the June 2021-scheduled next entry, The Batman.
The headliners are joined by an impressive supporting cast consisting of names like Willem Dafoe, Rosie Perez, Edi Gathegi, Toby Jones and Mel Rodriguez.
Joseph Baxter is a contributor for Den of Geek and Syfy Wire. You can find his work here. Follow him on Twitter @josbaxter.