Reviews
La La Land Review
As far as romantic musical dramedies go, La La Land is sheer perfection.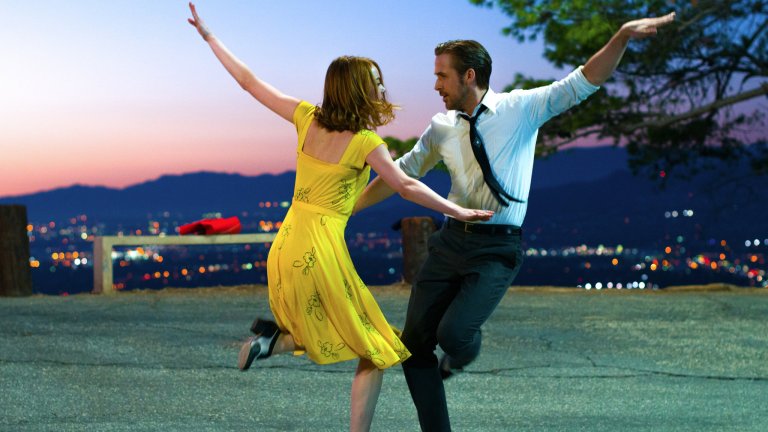 The Hollywood movie musical has had its many ups and downs over the years, and there are always those Broadway diehards hoping their favorite musical will be the next to translate to the screen. Yet, the idea of doing an original movie musical without giving it a try-out on the stage, such as the case with La La Land, is something that's rarely ever attempted anymore; the most recent and successful exception is Baz Luhrmann's Moulin Rouge!, and that film used previously written pop hits.
Even before making Whiplash, filmmaker Damien Chazelle showed an affinity for the genre, writing and directing the black and white indie musical, Guy and Madeline on a Park Bench. It went mostly unnoticed and wasn't even able to get distribution, which is why it was nominated for a Gotham Award in the "Best Film Not Playing in a Theater Near You" category. It lost.
Now, seven years later, Chazelle is getting another chance to break through to audiences with his musical ideas, and in this case, the added experience he's gained has paid off immensely.
Opening on a congested Los Angeles freeway, one driver steps out of her car and starts singing a song, soon joined by a flash mob of other frustrated commuters. It's the type of number that proudly declares, "This is a full-on singing and dancing musical," while also immediately winning its audience over and putting them into the proper head space for a movie where anyone can break out into song.
During this intro, we meet Emma Stone's Mia, a struggling actress working as a barista on the Warner Bros. lot, and Ryan Gosling's jazz pianist Sebastian, whose musical career has also been faltering. Although they have a few brief and unfortunate encounters, they won't actually meet until much later in the film as we're allowed into their lives, seeing their struggles firsthand—Mia with horrendous auditions and Sebastian having to play in awful cover bands or live Christmas carols at a restaurant.
Mia shares the same dreams of being an actress as many Hollywood denizens while Sebastian yearns to have his own jazz club, and once they finally meet cute, things begin to develop until they finally get their much-anticipated first kiss almost an hour into the movie.
Maybe La La Land doesn't offer as original (or basic) an idea as Whiplash—there have been other musicals about relationships, including The Last Five Years and Chazelle's own—but it's the way Damien sets this up as a musical first, a comedy second, and then begins to explore their relationship in a more serious way that keeps you completely riveted to the screen every single second.
Chazelle captures Los Angeles through a glossy sheen, including most of the well-known landmarks, yet this isn't just a love letter to LA; it is a love letter to old-time Hollywood musicals and to jazz, a musical style that's dying. This couldn't be any clearer than when Sebastian gets a gig playing with "The Messengers," a group fronted by John Legend's Keith, who has clearly sold out his jazz roots and wants to drag Sebastian down with him. Watching Gosling grit his teeth during one of the Messengers' live numbers is one of many funny moments.
As the film progresses, we start to see each of them making headway towards success, which in turn creates cumbersome hurdles for their relationship. By the time we get to the last act—appropriately titled "Fall"—musical numbers have almost been excised completely.
If there's any question that Emma Stone can do anything—sing, dance, be funny or be emotionally dramatic—her role in La La Land pulls everything she's done in movies as diverse as Birdman and Easy A to create a new plateau for her as an actor. Stone even gets a "Jennifer Hudson moment"—referring to the big number in Dreamgirls—that is almost guaranteed to clinch her another Oscar nomination next year (and probably even win her the Oscar.)
Ryan Gosling has already proven himself to be the type of Old Hollywood leading man that we just don't see that often anymore. He's so good with the film's dance numbers and the inherent humor, doing a couple effective double takes similar to what we saw him do in the recent The Nice Guys. Unfortunately, Gosling's constantly being overshadowed by the far more spectacular Stone, although Gosling helps to keep things light, which is equally as important as the eventual drama.
It's impossible not to become completely enraptured by the film's songs written by Justin Hurwitz with lyrics by Tony winners Benj Pasek & Justin Paul, but also with its score, consisting of jazz piano weaving in and out of the songs to get everyone in and out of their numbers. It is also little surprise to see the name "Marius De Vries" as the film's "executive music producer," since he was musical director on Luhrmann's Moulin Rouge!
More than anything, La La Land is a movie about following your dreams and learning how to adjust them when they don't seem achievable. But there's also something to be said about fate and being pulled together with the one with whom you belong.
The film's last few minutes—which we won't reveal—feature an absolutely amazing number that encapsulates everything we've seen up until that point. It's absolutely awe-inspiring what Chazelle accomplishes within this sequence, both musically and also with the storytelling.
In fact, it's hard to find any single fault with what Chazelle has done in La La Land, because he has finally accomplished what he set out to do in Guy and Madeline, but with far stronger actors and collaborators to create something absolutely unforgettable. Few people will be able to see this movie only once.