News
Justice League Star Connie Nielsen Voices Support For Snyder Cut
Queen Hippolyta of the Amazons, a.k.a. actor Connie Nielsen, gives her stamp of approval for Zack Snyder's Justice League.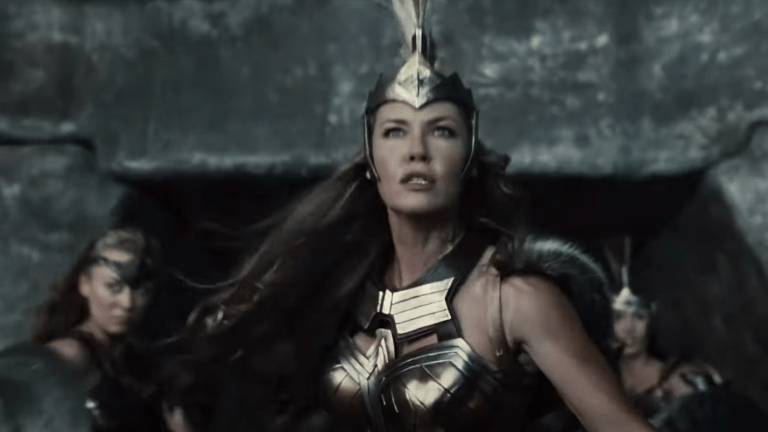 On March 18, Zack Snyder's Justice League will finally see the light of day when the director's previously uncompleted version of the film premieres on HBO Max.
As exhaustively reported over the past couple of years, Snyder stepped away from finishing his version of Justice League in early 2017 following the death of his daughter. Joss Whedon was appointed by Warner Bros. Pictures to complete the movie and ended up doing a fair amount of rewriting and some two months of reshoots, resulting in a film that — whatever one thought of it — was reportedly quite different from the picture Snyder started out to make.
With Snyder fans clamoring over the past few years to see his cut of the movie — a cut which at worst existed in theory only, and at best as a rough assembly of raw footage — Warner Bros. forked over anywhere from $30-70 million so that Snyder could complete the film according to his vision, with the studio using it as a major event to boost the HBO Max streaming service.
One of the actors who worked only with Snyder on the original shoot of the film was Connie Nielsen, who plays Wonder Woman's mother and Queen of the Amazons Hippolyta (Nielsen emphatically notes that she did not work at all with Whedon, whose stint on the project has created a firestorm of controversy). Hippolyta has a fairly brief role in the theatrically released version of the film, battling the villain Steppenwolf in two scenes — one set in the past, one in the present.
"I did my work with Zack on set," Nielsen tells Den of Geek during a recent chat on Zoom to promote her upcoming thriller Nobody. "I did not have to go back for any reshoots. When Zack was going to start the project back up, he had the courtesy and the kindness to call everybody and ask if we were willing to support him in this. And I think every single person immediately just said, 'Of course.'"
While it's not clear how much Hippolyta will appear in any previously unseen footage, Nielsen says that she — and the rest of the cast — are glad to see Snyder's original intentions for the film restored and even expanded (since even if he had finished the movie as initially conceived, there's no way it would have been released in theaters at a length of four hours).
"I know that we're all super excited that he's bringing this vision forward to everybody," says Nielsen. "And I know that he does not consider this as another Justice League, he considers this a standalone movie in its own right."
The Snyder cut of Justice League has been polarizing in its own way, with a certain toxic sector of fans attacking anyone who has criticized Snyder's work in the past or has voiced doubts about whether his version of the film will do anything substantial to improve on the muddled theatrical cut. But with Nielsen and other cast members voicing their support, it only seems reasonable that Snyder's version gets to have its day in court. Whether cinematic justice is served is another matter entirely…
Zack Snyder's Justice League premieres March 18 on HBO Max.