Features
Journey's End and PTSD in films
Professor Edgar Jones writes for us on the portrayal in cinema of post-traumatic stress disorder...
War has served as an enduring theme for the commercial cinema, not least because of the dramatic opportunities it offers for warrior characters. However, since the Vietnam War significant attention has been directed to the ways in which trauma can change people film and cause lasting psychological harm. Both The Deer Hunter (Michael Cimino, 1978) and Apocalypse Now (Francis Ford Coppola, 1979) showed veterans struggling to cope with their wartime experiences. Such movies tapped into growing popular and professional concern about the long-term impact of combat on soldiers' minds.
In 1980, the American Psychiatric Association formally adopted the diagnosis of post-traumatic stress disorder (PTSD) based on clinical evidence largely derived from veterans of the Vietnam conflict. Filmmakers were increasingly drawn to the theme of psychological breakdown as a way of interpreting the war and PTSD became its signature injury of the war in the way that shell shock had symbolised the First World War. A succession of movies explored the traumatised veteran including Rambo: First Blood (Ted Kotcheff, 1982), Platoon (Oliver Stone, 1986), Full Metal Jacket (Stanley Kubrick, 1987), Born On The Fourth Of July (Oliver Stone, 1990) and Jacob's Ladder (Adrian Lyne, 1990). PTSD was not an entirely new discovery. Rather, it was a refinement of existing knowledge about how and why people suffer psychologically after a terrifying or life-threatening experience. The impact of war on soldiers' mental health had been explored in film during the First World War when an epidemic of shell shock combined with a period of intense interest in the cinema. The film, Battle Of The Somme, opened in London on 21 August 1916 at 34 cinemas and was watched by 20 million people in the first six weeks of its release, continuing to be screened until late 1917. Shot by two uniformed cameramen, Geoffrey Malins and J.B. McDowell, it depicted Minden Post, an advanced dressing station immediately behind the front line, where both physically and psychologically wounded men being treated. For the first time, the British public could see the direct effects of battle on family members and friends.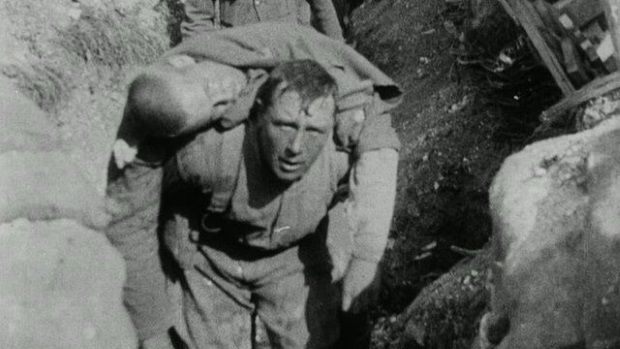 War Neuroses, a film of shell-shocked soldiers in treatment, shot by Pathé cameramen and directed by Arthur Hurst, an army doctor, took a closer look at psychological casualties. Although it was never released for public viewing, it was widely shown to medical audiences in the UK and America and has since been extensively used to illustrate documentaries of the First World War. Although some of the scenes were re-enacted for the camera and presented as authentic in the inter-titles, the film provides insight into the distress experienced by soldiers. Report From Britain No. 1, Neuro Psychiatry 1943, a Ministry of Information film shot on location at Mill Hill Emergency Medical Services Hospital in spring 1943, was directed by Michael Hankinson and produced by Basil Wright. This 68-minute documentary showed the treatment of psychiatric casualties, including civilians traumatised by bombing. Not released to the public, it was shown to medical audiences in Britain and America where it probably served as the inspiration for John Huston's controversial film Let There Be Light (1946). Designed to reassure the American public that psychiatric casualties could be treated for a productive civilian life, it was shot at Mason General Hospital on Long Island in summer-autumn 1945. "Seemingly miraculous" things happened, Huston later wrote, "men who couldn't walk were given back the use of their legs and men who couldn't talk were given back their voices".  Although intended for public release, the movie was banned by the US War Department on the grounds that stigma of mental illness could harm the careers of the soldier patients. The restriction remained in force until December 1980, the year that PTSD was formally recognised. Acknowledged by the Library of Congress as a film of cultural importance, it has been digitally restored.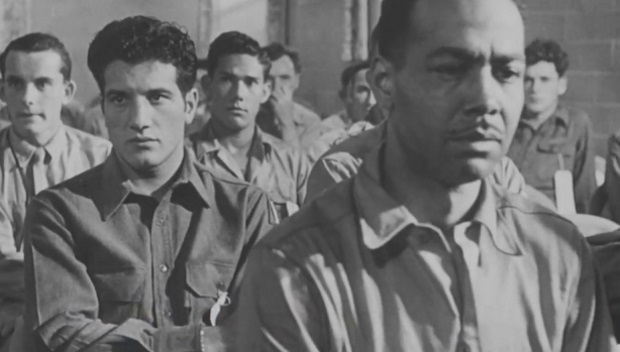 With PTSD established in western culture, the psychological impact of war has been an enduring theme of the commercial cinema, explored in Jarhead (Sam Mendes, 2005), The Hurt Locker (Kathryn Bigelow, 2008), and American Sniper (Clint Eastwood, 2015). The film of R.C. Sherriff's play, Journey's End (Saul Dibb, 2018), offers an authentic view of two soldiers suffering from traumatic stress: Lieutenant Hibbert who has converted his terror into a physical symptom, neuralgia, and Captain Stanhope mentally exhausted by prolonged combat and reliant on alcohol to cope. Although PTSD was not understood at the time the play was written, it captures the timeless pressures of war and their impact on human beings.
Professor Edgar Jones Programme Leader for MSc in War & Psychiatry, King's College London.
Journey's End is in UK cinemas now.