News
John Carpenter Still Open to Making Escape from Earth
Exclusive: John Carpenter reminds us that the idea of Escape from Earth, a sequel to Escape from New York, is still out there and "never say never."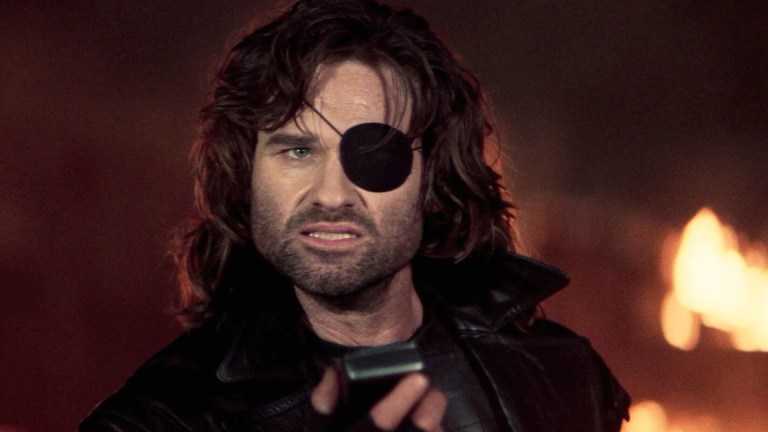 Paramount Home Entertainment just released Escape from L.A. (1996) on 4K Ultra HD and its darkness has never been clearer. In it, former marine commando and all-around badass, Snake Plissken (Kurt Russell), is captured by the New Moral America and dropped into the country's immoral detention center to steal a doomsday device designed to douse all power on the planet. The film marked John Carpenter's first sequel, following up on the iconic dystopian satire, Escape from New York  (1981), with even more nihilistic bite, and an ending darker than a fade to black.
Directed from a screenplay Carpenter co-wrote with Debra Hill and Russell, Escape from L.A. concludes with Snake Plissken pressing the button on the biggest remote control ever made. Every screen, all communications, and total power is cut. It is one of the biggest cliffhangers because, after an apparent off-screen debacle in Cleveland and two urban prison breaks, Snake hits the reset button on humanity, and there seems to be nowhere left to go.
Carpenter and Russell had plans to continue the escapade in a film called Escape from Earth. A third film would be set in a world without electrical power but with plenty of narrative electricity. The planet would be a warzone. The project had all the makings of the conclusion of an epic sci-fi trilogy.
"Well, it's just sitting there," Carpenter told Den of Geek about the legendary preparations for a follow-up project while discussing the 4K HD release of Escape from L.A. Its development lasted into the early 2000s, and for action movie fans of a certain age it still remains one of the great unmade Carpenter projects.
Escape from New York was inspired by the paranoia of Watergate and fueled by the mid-1970s rise in urban crime. Also starring Adrienne Barbeau, Ernest Borgnine, Lee Van Cleef, and Donald Pleasance, and featuring Isaac Hayes as the Duke of New York, it was a critical and box office hit. Escape from L.A., which also had a class act ensemble in Cliff Robertson, Pam Grier, Stacy Keach, Steve Buscemi, and Peter Fonda, did not match it. A satire on the action movie genre itself, the film got poor reviews and lower theatrical attendance.
Carpenter redefined horror and independent film with Halloween (1978), which was, at the time, the most profitable indie film to hit big screens. Escape from L.A. had a budget which rivaled its contemporary Jurassic Park, and both Carpenter and Russell planned to top the first two movies by going even bigger with Escape from Earth. Given the reception of the second Escape, however, Paramount wasn't willing to fund the film, and it died in development. But Snake Plissken is not the kind of character who can be killed so easily. The DOA pronouncement could still be premature.
"You never know," Carpenter says. "I learned never to say never in the business. I don't think so, but I don't know."
To be sure, some franchises really are inescapable, with movie studios rushing follow-ups into production while properties are still hot. Others take time. Sixteen years passed between Stanley Kubrick's 2001: A Space Odyssey (1968) and its follow-up, 2010: The Year We Make Contact (1984). It took 39 years for Danny Torrance to recover from The Shining to become the title character in Doctor Sleep. Perhaps most comparable to Escape from New York, is how Mad Max roared back with more force than the original in 2015, exploding from an Australian cult hit to being a post-apocalyptic Oscar winner and box office juggernaut via Mad Max: Fury Road.
Meanwhile Carpenter's own Halloween set new standards on legacy sequels, with Jamie Lee Curtis growing stronger with every reprisal (and with the box office to match) in the recent Carpenter produced, and David Gordon Green directed, follow-ups. Escape from Earth, and Russell's Snake Plissken, could yet follow the same trajectory. Legacy sequels are perennially golden.
One previous attempt at a potential Snake Plissken sequel came in 1996. Carpenter submitted a screenplay for a film called Escape from Mars. Paramount passed, the Snake character was changed to "Desolation Williams," Ice Cube was cast in the lead, and it went out as Ghosts of Mars (2001).
When plans for a third movie fell through, Carpenter, Russell, and Hill pitched the Snake Plissken franchise as a 100-episode TV series. Russell would not be reprising the lead role, however. The networks passed because the project was considered too dark for early 2000s television.
The franchise has also been considered in other mediums. A video game called "Snake Plissken's Escape" was approved, planned, and in the works for PlayStation 2, before it was canceled in 2004. There were plans to bring Escape from New York into comics, and there were rumors Russell would voice Snake in an Anime adaptation of Escape from Earth.
Attempts to reboot Escape from New York passed through such directors Robert Rodriguez in 2017 and Leigh Whannell in 2019.
Escape from Earth isn't the only project Carpenter couldn't get off the ground. After remaking The Thing (1982), based on Howard Hawks and Christian Nyby's The Thing From Another World, for Universal, he was slated to direct a remake of Hawks' Creature from the Black Lagoon. The Thing didn't do as well as the studio expected, and the project was dropped.
Carpenter hasn't directed a film since The Ward (2010), which blended elements from his first feature Assault on Precinct 13 and Escape from New York. While internet rumors about a new production pops up regularly, Escape from Earth appears to be dead. But then, a lot of characters thought Snake Plissken was dead when they first encounter him in the film.
Escape From L.A. is available on 4K Ultra HD.