Features
How James Wan Launched Three Horror Movements in the 21st Century
James Wan changed the face of 21st century horror when we weren't looking. That's a pretty massive legacy right there.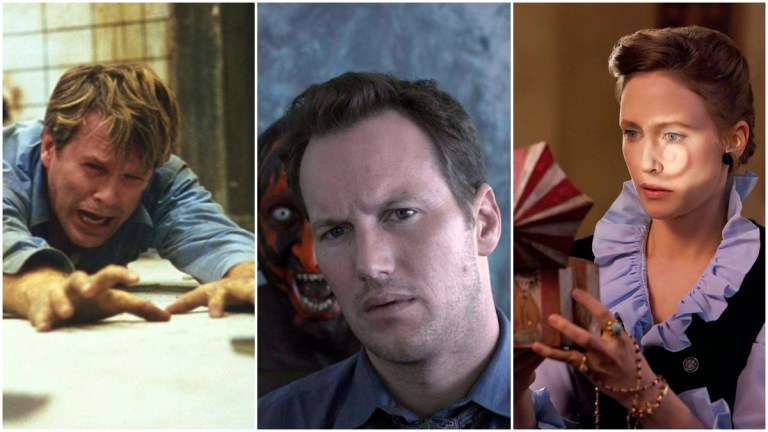 The highly secretive new horror project from James Wan, Malignant, has arrived in cinemas and on HBO Max, and it's quite rightly been met with much anticipation. Because while on paper this looks like another mid-tier chiller with a decent cast and a generic title, with James Wan… well, you just never know.
Though Wan has proved he can play in the big leagues (Furious 7, Aquaman) he has also consistently returned to horror. And in doing so he has quietly – almost insidiously, you might say – managed to launch three distinct movements within the horror genre, and change the trajectory of the scary movie for the modern era.
On face value movies like Saw, Insidious, and The Conjuring might not look like game changers in the way films like Get Out and Hereditary were immediately presented as. But we have no doubt horror history will remember and revere Wan in the same way it does luminaries like Wes Craven and John Carpenter. And with the interesting horror TV show Archive 81 (based on a podcast) in the works, it'll be fascinating to see what Wan does next in that medium. Here's how he changed the horror movie landscape:
Saw (2004) – Torture Porn
Though this 'honor' should be shared with Eli Roth's Hostel, Saw was the movie that really put this early aughts subgenre on the map. Essentially, these are movies which fetishize the kill; the more elaborate, the better. Torture porn movies weren't about racking up a body count, they were more interested in the excruciating detail and in coming up with ever more inventive ways to off someone. As the franchise progressed, it grew more and more convoluted but it should be noted that the original, rather than a cynical bit of nastiness for its own sake, is actually a very smart three-hander which, without the flashbacks, would have worked just as well for the theatre. Though not to everyone's tastes, and kicking off a movement which had its share of detractors, it's also worth pointing out that Saw is a relatively gender-neutral franchise – it is not specifically about torturing women, and sexual assault of any kind just isn't its MO.
It was made for just $1.2 million and grossed over $103 million worldwide, and that's before you get into the incredible staying power – and profits – reaped by the franchise as a whole which extends to nine movies not to mention fairground rides, comics, games and toys. Though Wan only directed the first film, the series ran and ran inspiring many more movies attempting to get in on an audience with a taste for gore, perhaps in reaction to the somewhat gentler and more bloodless post modern teen slashers that had prevailed in the late 90s.
See also: The Collector, Captivity, the Hostel franchise
Insidious (2010) – Low Budget, Big Stars
For his next trick, Wan pivoted completely away from torture and moved into a kind of sincere, genuinely scary and original horror model that Blumhouse would pick up and run with. Insidious was glossy, had actual famous people with a lot of talent in it (Rose Byrne, Patrick Wilson), wasn't part of any existing property (Wan teamed once again with writer Leigh Whannell with whom he co-wrote Saw), and delivered some seriously effective jumps. It was also made for just $1.5 million, and took almost $100 million worldwide (and once again launched its own franchise).
This movie provided the model which Blumhouse relied on for years, taking punts on brand new material if the movie could be made for less than $5 million. Though the sequels offer diminishing returns, the original is a genuinely good film. It also cemented a return to a kind of modern domestic horror – scary movies set in and around the home and featuring grown up married people and often children. While one might argue these films placed an over-reliance on jump scares, they did contribute to a reversal of the trend Wan himself started with Saw, which eschewed jumps in favor of lingering pain.
See also: Mama, Sinister, The Possession, anything in the Blumhouse early mold.
The Conjuring – The Horror Expanded Universe
Though The Conjuring carried on Wan's 'domestic horror' style – and featured a happily married couple at the center, helping out a family with five daughters here – the lasting impact of this movie is how it managed to create an MCU-style shared universe, not something we'd really seen in horror before. The ghost hunters Ed and Lorraine Warren (Patrick Wilson and Vera Farmiga) are at the core of this franchise, which extends to three movies. It's unusual for the 'goodies' to be the recurring characters rather than the baddies, making this more like detective fiction than a traditional horror franchise. Additionally, rather than just being a single, linear series of films like Insidious, The Conjuring universe, like the MCU before it, allows for spinoffs that can play with subgenres, eras, countries, stars and styles.
The main Conjuring films rely on the 'based on a truth story' hook, but the spinoffs don't at all. Take Annabelle Comes Home, for example, which is a 'one wild night' ghost train of a movie which features a werewolf. Spoiler alert: it is not based on a true story. While the horror genre in general doesn't seem to have lept on this tactic – highly successful though it has been – we are starting to see glimpses of it. Most recently the Fear Street movies on Netflix – a trilogy which form one overarching story – has set itself up so that should the powers that be decide they want more, it would be possible to introduce further spinoffs that exist within the same universe.
Fear Street, like the wider Conjuring movies, played with different subgenres. In this case more overtly. While the main Conjuring set, and the first two Annabelle movies as well as The Curse of La Llorona and The Nun all played in a similar sandbox – not too gory, jump scares over out and out nastiness, Fear Street opted to go for a 1990s slasher vibe, a '70s/'80s slasher vibe, and finally a folk horror. There is, however, no reason The Conjuring shouldn't branch out too. Indeed, the most recent instalment in the franchise's mainline series, The Devil Made Me Do It, ventured into true crime territory to middling success. The films in the universe (eight in total) may be of varying quality, but they are all still commercially successful and show no signs of disappearing any time soon. 
See also: Fear Street