Features
In the Heights: You Need to Stay for Post-Credits Scene
In the Heights has one of the best post-credits scenes in recent memory, particularly for Hamilton fans…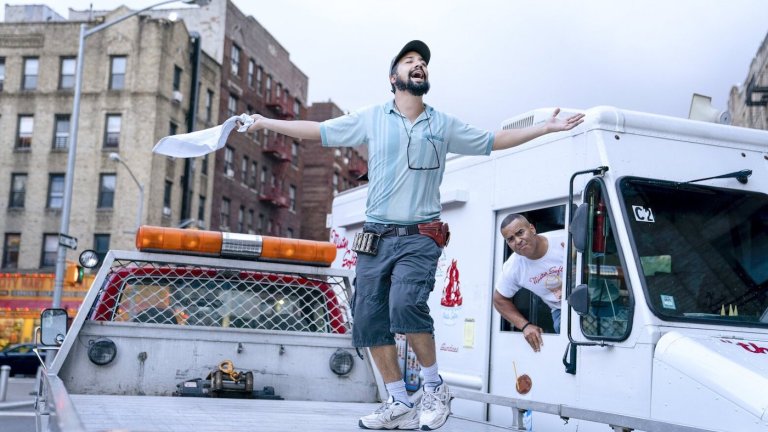 Post-credits scenes have become a dime a dozen in the last decade. Previously a great way for filmmakers to give a wink and a nudge to the most devoted audiences who stuck around to see all the names scroll by, they've now become makeshift trailers in the 21st century—advertisements for some future movie intended to make you forget about what you just watched. In the Heights, though? Here's a movie musical that does post-credits right.
Yes, Jon M. Chu's big screen adaptation of the Lin-Manuel Miranda musical has a post-credits scene, and it's an utterly delightful one. Without spoiling anything (yet), it acts as a fitting exclamation mark to the film's overarching love letter for Washington Heights, and as a nudge-nudge for audiences who just can't get enough of the multi-hyphenated talent that is Miranda. Fans of both the In the Heights stage show and Hamilton will be particularly gratified.
So if you just wanted to know whether you should stick it out for the entire end credits, well you've been tipped off. However, if you want to know what the post-credit scene is, then keep scrolling, dear reader.
From this point on, this article contains In the Heights spoilers.
Long before Hamilton, In the Heights was Lin-Manuel Miranda's calling card. It's the musical which carried him to multiple Tony Awards and his first brush with the Pulitzer Prize as a 2009 finalist for Drama. In other words, it's had its fans in the theatrical community for a while, and I'm sure each and every one of them noticed all the changes made by Chu and company for the big Hollywood version of the musical. Abuela Claudia's big solo was moved later in the narrative (and her death earlier); "The Club" was truncated; and "Siempre" was outright cut.
Yet I imagine what hit hardcore fans the hardest is there appeared to be no reprise of "Piragua," the bemusing melody sung by a hard-working push cart man played by Miranda in the film. Seriously, the guy who wrote the music (and honestly the film's biggest star) gets one of his two songs cut? But wait!
If you stay all the way until the end credits, "Piragua (Reprise)" gets its due. After our main hero Usnavi (played by Anthony Ramos) makes his decision to stay in Washington Heights, the soul of the neighborhood is highlighted by the fact that the guy trucking Caribbean-inspired frozen treats wins out over the bland ice cream truck moving in on his business.
Miranda's Piragua Guy croons:

"It's hotter than the islands are today,

And Mr. Softy's truck has broken down!

And here come all his customers my way,

I told you I run this town!"

– Piragua Guy
Finally, the Piragua Guy catches a break and ends by hiking up the prices of his fruit-flavored desserts while the Mr. Softy employee can only helplessly sit back and watch. And Hamilton fans should be especially amused since the ice cream truck guy is played by… Christopher Jackson! Yep, that means you can finally see Gen. George Washington looking up at his former secretary with envy.
This makes the post-credits scene a mini-Hamilton reunion, especially when you realize Ramos played John Laurens and Philip Hamilton in the original Hamilton cast. Of course, Jackson's cameo has extra meta-textual value since Jackson was also in the original Broadway cast for In the Heights. It's where he and Miranda began their lifelong friendship, with Jackson originally playing Benny opposite Miranda's Usnavi.
It's a cameo Jackson teased to Den of Geek last year when he said about the In the Heights movie, "I may have been on set, I may have done a little cameo, possibly."
And for that to be the ending note of the film—where the humor can stand on its own instead of deflating the narrative momentum of a two-plus hour movie—is a pretty pitch perfect sign-off. Piragua, indeed.