Reviews
Hustle: Adam Sandler's New Basketball Movie Is a Slam Dunk
After Uncut Gems, Adam Sandler continues to prove his best movies revolve around the sport of basketball with the Netflix release of Hustle.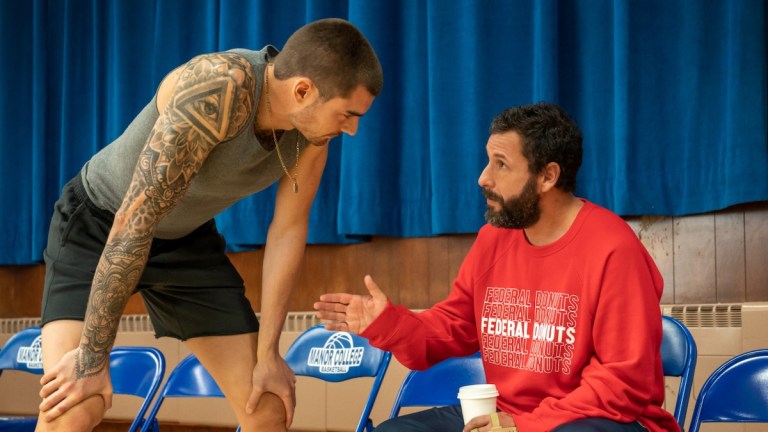 Adam Sandler's real-life love for the game of basketball is on full display in Hustle, an ode to pro basketball featuring a gigantic supporting cast of NBA legends and rising stars. The feel-good sports drama is a straightforward underdog story in essence, but its true strengths lie in how it delves into the psychology of the game, and the front office intrigue that fans seldom get to see.
Viral clips of Sandler pulling up to random public parks and gyms to play pick-up basketball games with awestruck civilians have been circulating online for years, so it seems natural that his obsession with the game would bleed into his onscreen work. It worked brilliantly in Uncut Gems, and Hustle similarly benefits from Sandler's understanding of the game and the culture that surrounds it. Bolstering the movie's authenticity are the real-deal ballers involved—most of them make fleeting appearances, but their involvement alone lends the movie credibility when it comes to how it explains the ins and outs of pro ball.
Sandler plays Stanley Sugerman, a talent scout for the Philadelphia 76ers who is finally promoted to assistant coach by franchise owner and mentor Rex Merrill (Robert Duvall) after years of scouting the globe for young stars. But when Merrill suddenly passes away, his son Vince (Ben Foster) sends Stanley back out on the road seemingly out of spite to find the "missing piece" that will help lead the team to a championship.
Stanley finds that missing piece in Spanish streetballer Bo Cruz (Juancho Hernangomez), who he believes has the potential to be a top ten player in the league. Bo is pushed over the edge physically, mentally, and emotionally in his training to earn a spot on the Sixers, and Stanley tries his best to keep the young prospect's mind in the game as the pressures of playing at the highest level of the sport threaten to crush Bo's spirit.
Hernangomez is a power forward for the Utah Jazz, which makes all of the drills and training montages look as authentic as can be. While he isn't a professional actor, his real-life experience working his way up to the NBA aligns with Bo's story in many ways, obviously. He isn't the most emotive or charismatic guy in the world, but Hernangomez's performance doesn't feel contrived either. He's more than likable enough to root for.
Having a screen vet like Sandler as an onscreen partner helps too. Sandler has always had a knack for grounded dramatic roles and he sticks the landing once again with Stanley, a grumpy but principled basketball guru with a dark past and a deep love for his family.
Queen Latifah is also a natural fit as Stanley's no-nonsense wife Teresa, and the rest of the supporting cast play nicely off of Sandler. NBA On TNT's Kenny Smith is perfectly believable as Stanley's best friend Leon, and the other ballers in the film (Julius "Dr. J" Irving, Boban Marjanović, Shaquille O'Neal…the list goes on forever) all have nice little moments peppered throughout, and none feel shoehorned in, surprisingly enough. The Minnesota Timberwolves' young star Anthony Edwards is particularly impressive, playing Bo's mouthy on-court antagonist. He's never acted before, but you'd never know it. He knows how to get under your skin, an under-appreciated on-court skill that the movie highlights as an pivotal aspect of the sport.
There's an inherent power and sense of propulsion to a classic rags-to-riches story that everyone can relate to, and Hustle's narrative simplicity embraces that. We've all seen stories like this before but not messing with the underdog sports movie formula is actually a benefit here in that it helps a more casual viewer with little to no knowledge of basketball or the NBA to follow and connect with the movie emotionally. There are also several nods to Rocky sprinkled throughout, which feel almost obligatory considering the backdrop of Philly.
Lebron James didn't exactly set the world on fire with the missed layup that was Space Jam: A New Legacy. But as a co-producer on this gem of a basketball movie, he seems to be back in the game. Hustle is an easy watch, enjoyable from front to back, and with enough basketball star cameos to make fans of the sport's heads spin. And for non-sports-heads, Sandler does a great job of keeping the story grounded and easy to invest in.