Features
The Original Hocus Pocus Has the Greatest Halloween Party in Movie History
There has never been a Halloween party as cool as the one where Bette Midler sang "I Put a Spell on You." And what's really crazy is it wasn't even supposed to be in Hocus Pocus!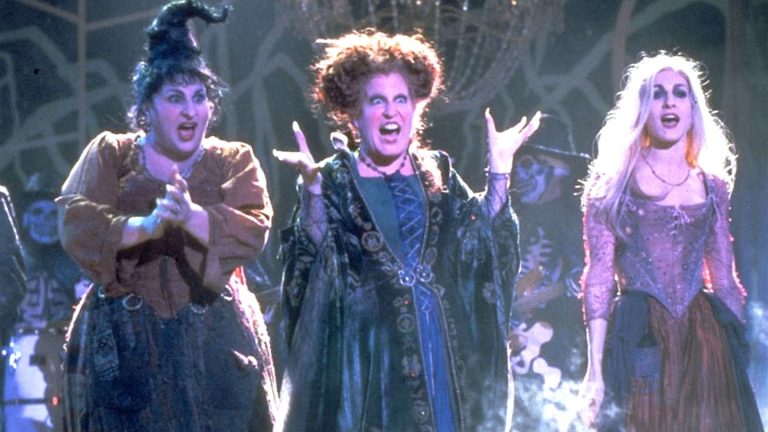 With Hocus Pocus 2 hitting Disney+, a whole new generation will be introduced to the wicked Sanderson Sisters running amok in Salem, Massachusetts this Halloween. And one of the most iconic scenes in the Halloween staple is that dance sequence. You know the one: When Winifred Sanderson, played by the formidable Bette Midler, takes the stage at the town's Halloween party in city hall and performs a version of Screamin' Jay Hawkins' "I Put A Spell on You," leaving the majority of the adult residents in a state of hypnosis whereby they are set to dance until they die.
Despite clocking in at under five minutes long, the scene is so memorable that Hocus Pocus 2 will attempt to recreate the magic of the original, this time with Midler's Winifred Sanderson performing a rendition of Blondie's "One Way Or Another." But can it live up to what came before? Because the scene in the original Hocus Pocus is the greatest Halloween party in movie history…
"I Put a Spell on You" Almost Didn't Happen
What is it about this scene in particular that is so utterly unforgettable? Intriguingly, the scene wasn't even originally part of the script. Writer and producer David Kirschner wasn't a fan of the idea when Walt Disney Studios chairman Jeffrey Katzenberg told him there was going to be a musical number in the middle of the film.
"When Jeffrey said they were going to do a musical in the center, put a big song for Bette Midler in the middle of this, I said you can't do that, this is an adventure story, every minute means something and here they're going to just burst into song? And he said, 'No, we are going to come up with something that makes the song a device that is part of the story,'" Kirschner admitted to the Disney Coast to Coast podcast.
"And I was trying to even comprehend what that meant, but Kenny and he – and I feel pretty strongly it was Kenny's idea – and it's everybody's favorite moment in the film, and I look at it now and I love it but I was sure it ruined the film. I was positive it ruined the film, and I just could not see why you would just stop a movie and break into song and dance when there's so much at stake. And of course, the reason for it – It's a spell."
Bette Stole the Show
The moment that Winifred takes the stage at the adult's Halloween party, utilizing the opportunity to cast a spell on a majority of the town and getting the adults out of the way,, is nothing short of brilliant.
"Thank you Max, for that marvelous introduction…" Winifred kicks off with, as she bursts into song. She quickly wins over the party crowd when she is, of course, met with laughter. Nobody could possibly believe this woman is a 300 year old witch.
While the familiar song is a cover of the 1953 Screamin' Jay Hawkins tune—a staple for any Halloween party in the last 70 years—this particular version was arranged specifically for Midler. Award-winning composer, and Broadway talent, Marc Shaiman, created the arrangement exclusively for the film. It also helps that he'd previously worked with Midler on Beaches and would go on to win Tonys for Best Musical and Best Original Score thanks to his work on the stage version of Hairspray.
Speaking to Bustle, Shaiman said he was inspired by Midler's live performances, knowing that Midler began her career on the off-off-Broadway circuit before making a name for herself as a Grammy Award winning solo artist. He even worked with her back in those days, as well as her back-up group, the Harlettes. It's what informed the arrangement and how Sarah Jessica Parker and Kathy Najimy, who play the other Sanderson Sisters, are used in the film.
"Since I worked with Bette AND her back-up group The Harlettes so often," Shaiman said, "it was natural to give Kathy and SJP the 'Harlette' style back-up part that they sing [and dance to] in the movie."
It also was such a compelling arrangement and sequence that it won over the movie's skeptical producer.
"Look, people love Bette for a reason," Kirschner said. "She's got a great voice, she's a great personality. She's a presence, and [director Kenny Ortega] just saw that and harnessed that into this Screamin' Jay Hawkins song of 'I Put A Spell on You.' And the backup singers, the idea of the sisters—it's hysterical."
Kirschner went on to note that everything Midler brought to it, the cackle, the buck-toothed glee of a witch unhinged, is so beloved that Midler still incorporates that performance of "I Put a Spell on You" in her live shows, Winifred costume and all.
It Could Have Been Even More Iconic
According to Doug Jones, who expertly portrayed Winifred's zombified ex-boyfriend Billy Butcherson, he performed and filmed a dance routine that was supposed to be shown after the kids run out of the dance hall. Speaking to Bustle, Jones explained that as a zombie, he was immune to the spell. Following Winifred's act, he took to the stage to soak up the limelight.
"I pulled out my best goofy leg kicks, some loose-jointed elbow and head bobbing, and my signature move where I go to the floor in a half split and end up bouncing like a crab off my hands and feet," Jones said. "Kenny told me to finish by blowing kisses to the rabid crowd, like I was having trouble leaving all this attention."
However, the scene was tragically chopped from the final cut of the film. What a shame, as it could only have added to the sheer brilliance of everybody's favorite Hocus Pocus moment.
The Party Scene Is Aspirational
Another reason the scene is memorable is the sheer fact that it is so aspirational. It's the best Halloween party you've never attended. Not one person came without bringing their costume A game—and of course they didn't, because they all had a costume designer! Duh!
From the sexy crooning skeleton frontman and his band to the mummy Sarah is caught kissing, the dancing Elvis, a dinosaur, pirates, and medieval princes and princesses galore, the costumes are incredible. And yet, they maintain that homemade look (and many are sneaky homages to other Disney movies) throughout the sequence. This was and wasn't intentional. Costume designer Mary Vogt had blown most of the budget on the Sanderson's costumes, so she had very little money to play with when it came to dressing an entire party worth of people—so she had to be creative.
Consider Max and Dani's mom, Jennifer, who is dressed as Blonde Ambition era Madonna complete with a cone bra made of funnels. "It was supposed to look slightly homemade," Vogt told Bustle. "I look at that now and I'm embarrassed, it looks so cheesy." But Stephanie Faracy loved the 'fit, admitting she was tempted to steal it.
On top of the costumes, every song played is a certified Halloween banger, and Winifred's musical number isn't just gratuitous silly fun—it is actually warranted and progresses the storyline, not to mention it not being out of character for the witches to sing their spells. Sarah Sanderson's siren songs do, after all, bewitch and beckon Salem's children to come to their lair. It also gives a logical reason as to why all of the kids' parents don't get home until after dawn!
The whole film encapsulates Halloween night, but no scene does so with quite so much fun and spooky spirit than the dance at Salem town hall. May we all forever be trying to recreate such a party.