News
Hercules Live-Action Remake Set by Disney, Russo Brothers Producing
Disney is developing a live-action version of its 1997 animated movie, Hercules, produced by Joe and Anthony Russo.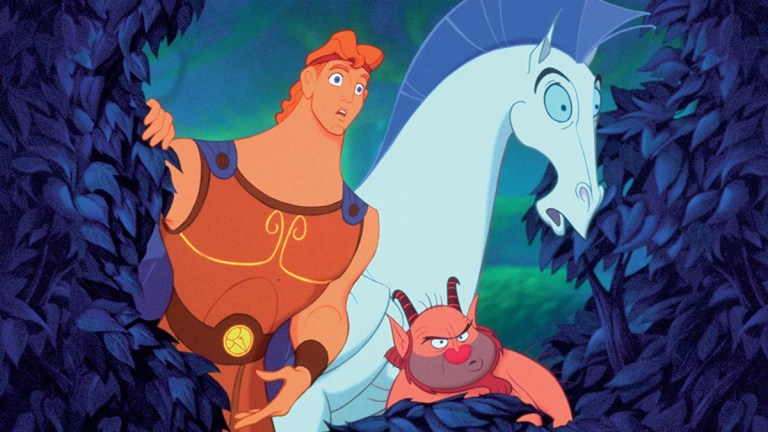 Hercules will go the distance as Disney's next signature animated movie planned for a live-action redux.
Disney is in early development for a Hercules adaptation movie, according to THR, and it's tapping notable resident talent from its corporate tentpole in Joe and Anthony Russo. The famed filmmaker siblings are set to produce the picture via their AGBO shingle. While reportedly not directing the film, the Russos, of course, bring gravitas as the go-to directors of some Disney's most successful and/or acclaimed Marvel movies, notably 2019's Avengers: Endgame, which happens to be the highest-grossing film of all-time at $2.8 billion worldwide.
Dave Callaham will pen the Hercules script, which represents the latest in a string of high-profile gigs, notably Marvel movie Shang-Chi and the Legend of the Ten Rings, which recently delayed production in the wake of the COVID-19 pandemic, now rescheduled to arrive on May 7, 2021. Yet Callaham already has quite the backlog assembled, having been tapped to write Sony's sequel to animated hit Spider-Man: Into the Spider-Verse, and his work will next be experienced with Warner's recently release-delayed sequel, Wonder Woman 1984, which he co-wrote. Notably, he also co-wrote 2010's The Expendables—alongside Sylvester Stallone himself—and retained character-creator credits on the sequels, including the fourth film, which is now in development.
The Hercules animated film on which this project is based—directed by Ron Clements & John Muster, who were also among 16 credited writers—was a similarly late entry in a Disney initiative, in this case to cultivate more classic tales for its successful stable of animated features after 1992's Aladdin steered the company to more ancient source material—in this case, the Greek myth, which has been (and continues to be) adapted in myriad iterations by the entertainment industry. After a long development process, the film premiered on June 13, 1997 to general acclaim, thanks to its inspirational story and voice performances by Tate Donovan as Hercules, Danny DeVito as satyr trainer Philoctetes, Susan Egan as Megara (a love interest worthy of sacrificing godhood), and a particularly loquacious villain performance by James Woods as Hades.
Off an $85 million budget, the 1997 film went on to gross $252,712,101 worldwide; a successful take by most standards, but well below the $346,079,773 earned by immediate predecessor Pocahontas (1995), and nearly half the business of its developmental catalyst, Aladdin, which earned $504,050,219. Likewise, Hercules would not match the Academy Awards and Golden Globes accolades of those predecessors, although it did earn composers Alan Menken and David Zippel matching Oscar and Golden Globe nods for their song, "Go the Distance," which also had a single-promoted pop version sung by Michael Bolton in the closing credits. Moreover, despite under-performing, Hercules was followed-up—in true Disney fashion—on the small screen with 1998's short-lived Disney's Hercules: The Animated Series.
While there's no confirmed casting for Disney's Hercules live-action remake, rumors are already swirling about Ariana Grande being a prime candidate to play Megara (typically shortened as Meg,) on the big screen; a notion stoked by Grande's recent performance of—Meg's song from the movie—"I Won't Say I'm in Love" on The Disney Family Singalong. The casting prospect seemed to delight Disney player Josh Gad, who recently said to Variety, "She would be amazing as Meg, she would be perfect, I would love to see that happen."
In the meantime, it will be interesting to see where Hercules ultimately falls on Disney's backlog, which, of course, has seen some telluric shifts over coronavirus concerns, the most notable of which was Mulan, which was moved to July 24 after it was originally scheduled for March 27.