Features
Gunpowder Milkshake Continues Lena Headey's Career of Badass Mothers
From Game of Thrones to The Sarah Connor Chronicles, and now Gunpowder Milkshake, Lena Headey is the ultimate morally complicated action mom.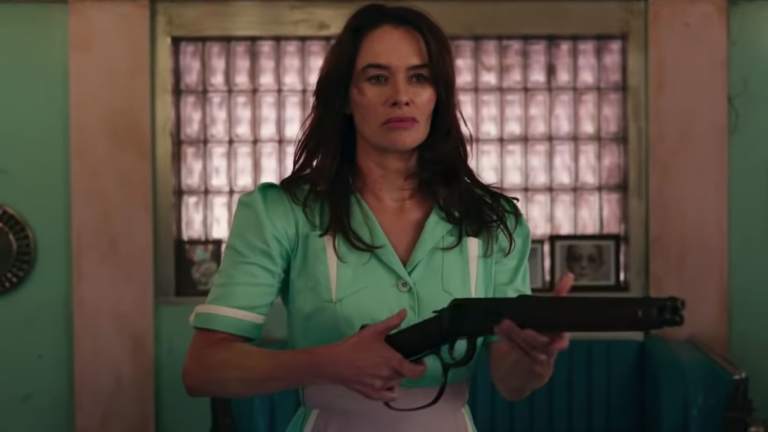 This article contains some spoilers for Gunpowder Milkshake. You can read our spoiler-free review here.
As with all Lena Headey projects, Gunpowder Milkshake gets even better when the actress shows back up. Headey's assassin single mom Scarlet features in the Netflix's film opening flashback, which sees Scarlet meeting her teen daughter (played by The Witcher's Freya Allan in flashback, and Karen Gillan for the bulk of the film) for a milkshake before escaping into the night for the next 15 years. She claims she did this for her daughter's "own protection."
We don't see Headey's Scarlet again for a bit, as we follow the all-grown-up Sam on the night her career as a professional killer takes a turn for the complicated. When we do catch back up with Scarlet, Headey has a big job to do. It's not easy to sell the viewer, who is aligned with Sam, on this parent who left her daughter in a diner without explanation. But this isn't Headey's first time playing a thorny parental figure. From The Sarah Connor Chronicles to Game of Thrones, the British actress has stretched her sizable acting muscles to add complexity and nuance to multiple morally complicated mom characters.
"It's not intentional," says Headey when asked if she seeks out these action mom roles. "I just think these women happen to be moms … Obviously, this was really a fun one, and I had Scarlet in my mind as a slightly repressed, emotionally Mary Poppins-like character with a love of violence. That's her emotional outlet, more than anything else."
Headey's success in playing characters like Scarlet no doubt comes at least partially from her understanding of the character. In Gunpowder Milkshake, she sees Scarlet's motivations in leaving her teen daughter as layered, noting, "She abandoned Sam thinking she did the right thing but also selfishly too. And so when she comes back into Sam's life, there's a sort of shame to all of it."
Unlike a character like Sarah Connor, who is American, or Cersei Lannister, who hails from the Seven Kingdoms, Scarlet is what Headey describes as "very British, in that she couldn't quite express herself." Instead Scarlet uses the movie's language of violence to express her emotions, including perhaps her affection for Sam. In a climactic scene shown in the trailer, Scarlet blazes into the scene in a slow-motion jump of fury, guns firing. It's the most emotive Scarlet gets in the film and she does it in service of her daughter.
"I think you always imagine it being cooler than it is," says Headey of what it was actually like to film the action hero shot like the entrance above. "I'm always up for trying every stunt that they will let me do." Headey explained the process: First, stunt double Jade-Eleena Dregorious would do it a few times, making it look easy. Then, Headey would give it a try. "I did that thing as an actor when you're like, 'I can do that.' And then I got up there and it was not easy and [Jade] made it beautiful. I looked like a sort of dead frog for the first try. I was just like, 'How do you even make that look cool?' So it took a few goes to figure out my balance and coordination… and also editing."
In addition to other Hollywood greats like Angela Bassett, Paul Giamatti, and Carla Gugino, Headey has action movie professional Michelle Yeoh as a Gunpowder Milkshake co-star. Headey claims she "totally fangirled" when Yeoh showed up on set.
"I really was a total nerd," says Headey. "And they showed her the choreography for the final diner scene. They just put a gun in her hand, and she picks it up in four seconds, and it was so balletic and brilliant. We were all kind of like: the queen has arrived."
You can check out Headey's action movie hero entrance and Yeoh's balletic diner dance in Gunpowder Milkshake, which is now on Netflix in the U.S., Canada, and Nordic countries, and in theaters internationally.