News
New Batmobile Revealed for The Batman Movie
The Batman director Matt Reeves has unveiled the new Batmobile that will be driven by Robert Pattinson's Caped Crusader.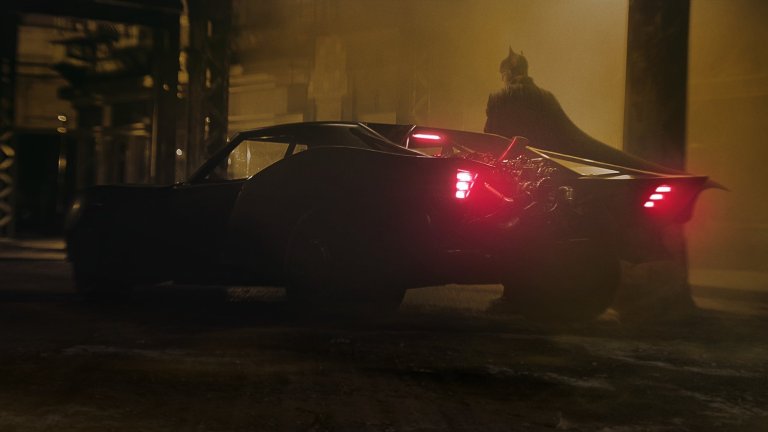 As Jim Gordon famously declared in Batman Begins upon seeing a certain customized car abruptly emerge, "I've gotta get me one of those."
The brand-new Batmobile has been revealed in all its horse-powered glory! In the latest tease from The Batman director Matt Reeves, a prominent first glimpse has arrived showcasing his upcoming movie's take on what is, perhaps, the most iconic car in pop culture history. What's immediately clear is that this is a conceptual reinvention of the vehicle, seemingly rooted in the theme of the film's setting during the early era of the Caped Crusader, who will be played here by Robert Pattinson.
The Batman's version of the Batmobile appears to be the most down-to-Earth onscreen version of the vehicle yet, seemingly returning to the idea of the iconic car being… well, an actual car, rather than the (nevertheless impressive) tumbler tank driven by Christian Bale's Batman in director Christopher Nolan's The Dark Knight Trilogy; a concept that was mostly carried over for – this Batman's immediate cinematic predecessor – Ben Affleck in director Zack Snyder's Batman v. Superman: Dawn of Justice and Justice League.
Additionally, the new Batmobile also eschews the overdone "giant tail fin" aesthetics of the 1990s as displayed in director Joel Schumacher's two takes in Batman Forever and Batman & Robin, as well as the streamlined (and nevertheless beloved) version of Michael Keaton's from director Tim Burton's 1989 Batman and follow-up Batman Returns. Yet, it's also more practical in a utilitarian sense than the open-top ride of Adam West in the 1960s Batman television series, which was a modified 1955 Lincoln Futura.
Indeed, the newly reimagined ride manifests as a spectacularly souped-up muscle car that could easily find a place in the Fast and Furious film franchise with Vin Diesel behind the wheel. Yet, its real-world attributes are still belied by a subtle design choice in the tail area that resembles bat wings, clearly identifying its cape-and-cowl-covered owner. Of course, the photos' inclusion of Pattinson's Batman certainly helps drive that notion home, also providing us with the best official glimpses yet of the new cinematic Batsuit.
In addition to Pattinson, The Batman also stars Zoe Kravitz as Selina Kyle/Catwoman, Colin Farrell as The Penguin, Paul Dano as The Riddler, John Turturro as Carmine Falcone, along with Andy Serkis as Alfred Pennyworth, Jeffrey Wright as James Gordon and Peter Sarsgaard as Gil Coulson.
The Batman is scheduled to rappel into theaters on June 25, 2021.