Features
Golden Globes: Bill Murray Knows EXACTLY How Seriously to Take These Awards
Bill Murray celebrated his Golden Globes nomination in a Hawaiian shirt and with a martini. Clearly he knows what kind of show he's at.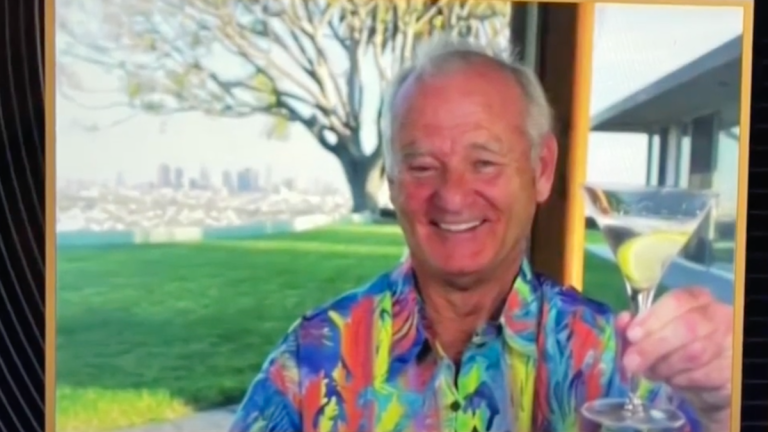 There were some remarkable moments during last night's 78th annual Golden Globes awards. How could one not smile when Chloé Zhao won the Globe for Best Director due to her sterling work on Nomadland? Similarly, I doubt there was a dry eye in your living room when Chadwick Boseman's wife Taylor Simone Ledward accepted her late husband's award for Best Actor in a Drama. Still, if one moment captured the zeitgeist of the evening, it was probably Bill Murray showing up in a Hawaiian shirt—holding a martini.
Just one in a slew of familiar faces Zooming in to 2021's first major awards show, the Lost in Translation star appeared as a nominee for his work in On the Rocks, his latest collaboration with writer-director Sofia Coppola. Throughout the evening, including before and after Murray's brief appearance, filmmakers, actors, and actresses were Zooming in from their homes and hotel rooms, often dressed to the nines in tuxedos and gowns. It was already a surreal oddity that will likely be looked back on with curiosity: glamorous Hollywood's concessions to a pandemic still raging on.
Yet Murray took a different route. The Caddyshack alum showed up looking as if he'd just gotten off the golf course, or perhaps was sneaking in an award appearance before returning to hit the back nine. Relaxed and disheveled, the performer was one of the few competitors who looked entirely unfazed by how his category would go (he lost to Daniel Kaluuya for Judas and the Black Messiah, by the by). And why should he be? It appears Murray knows exactly what kind of awards show the Golden Globes are.
Indeed, the often rowdy and ratings popular Golden Globes ceremony likes to bill itself on NBC as Hollywood's biggest party. And with its placement on the calendar being about one month before the Academy of Motion Picture Arts and Sciences' more prestigious Oscars, the Globes ceremony has cultivated its reputation as a loose tie event among the stars. Yet as a recent, stunning exposé in The Los Angeles Times reminded us last week, the actual reputation of the Hollywood Foreign Press Association, who votes on the Globes, remains checkered for a reason.
As an organization of 90-ish people (the full number is not reported), the HFPA is one of the smallest voting blocs in the entire Hollywood awards season ecosystem. Even so, for decades it remains one of the most notorious. In 1982, CBS stopped airing the Golden Globes after it was discovered HFPA members were flown to Las Vegas by Meshulam Riklis, a casino owner whose wife the HFPA would shortly afterward award the now defunct "Best New Star" prize for the critically derided Butterfly. HFPA members similarly had to return 82 Coach watches valued at $400 each in 1999 after it was publicized that they'd received the pricy gifts from USA Films, who was lobbying to garner a nomination for Sharon Stone in the TV movie The Muse.
More recently in 2011, the HFPA's former publicist Michael Russell sued the organization, alleging its members accepted money, vacations, gifts, and a host of perks from studios and producers. After the HFPA filed a countersuit, they settled out of court.
But the true extent of The LA Times' explosive new report makes previous rumors and scandals appear minor. With extensive reporting based on seeing HFPA financial reports, the Los Angeles newspaper paints a damning portrait of an organization at war with itself and an alleged misuse of resources.
"It's a beautiful idea to take the money from NBC and give it to good causes like tuition and to restore films," one HFPA member is anonymously quoted as saying to The Times. "But there is a spirit now to milk the organization and take the money. It's outrageous."
According to the report, despite the HFPA officially being a nonprofit organization, and thereby exempt from taxation, the HFPA differs from the Academy and other awards organizations by paying its members for each committee and job title they may hold. For instance, according to The Times' obtained documents, each of the two dozen HFPA members in the foreign film viewing committee earned nearly $3,500 in the month of January for watching foreign films; former HFPA presidents are paid $1,000 a month for serving on the history committee; three members earned $8,000 each for planning the annual grants dinner last year, even though the "dinner" was held virtually in 2020 due to the pandemic; and five board officers made between $63,000 and $136,000 in their tax filings in 2019 while the board directors earned between $23,000 and $78,000.
The Academy, by contrast, does not pay its officers or its Board of Governors, although it has a full-time professional staff.
All of this has created a cynical and crude image of potential self-dealing and alleged corruption. It's an image that the HFPA was clearly reeling from on Sunday night. Throughout the evening, there were comments about the justified need to increase diversity, with there being no Black members of the HFPA. Even Golden Globes hosts Tina Fey and Amy Poehler took multiple swipes at that.
However, one might wonder if turning the focus on a lack of diversity is taking attention away from the more systemic issues apparently undermining the second most popular awards show in the industry—at least in terms of television ratings.
"I think the Globes are honestly the most important moment leading up to the Oscars," said one unidentified film publicist to The LA Times. "And when you think that such a small group makes those decisions, it's kind of horrifying. The real problem is the studios need them."
Bill Murray apparently gets it.