News
Godzilla vs. Kong Trailer Promises Epic Final Battle, Hints at Larger History
Get your first look at the true clash of the titans in this colossal first trailer for Godzilla vs. Kong, which hints that WB's Monsterverse is even older than we thought.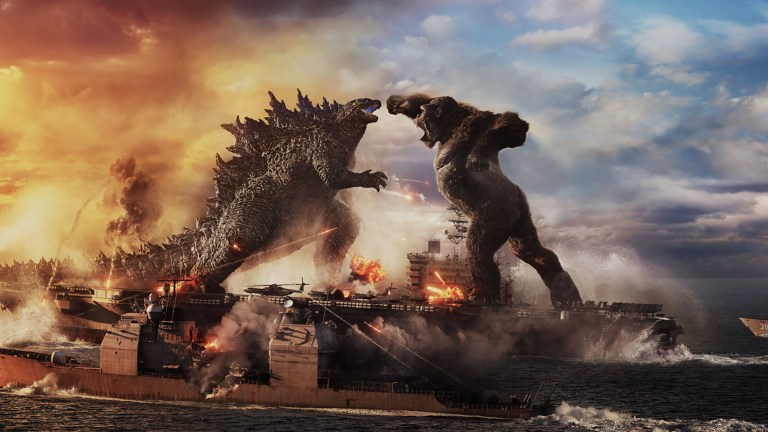 It's the championship bout that we've all been waiting for…and apparently it's happened before.
No, we're not talking about 1962's Toho classic King Kong vs. Godzilla, which brought the big ape from Skull Island and the nuclear-powered dinosaur from the Sea of Japan into conflict for the first time onscreen. But as we find out in the first trailer for Godzilla vs. Kong — the fourth entry in the modern-day series of films known as the "Monsterverse" — these two gigantic icons of monster mythology have possibly met before…in the distant past.
"The myths are real," says Rebecca Hall, one of the stars of the new movie. "There was a war, and they're the last ones standing."
Maybe not the last ones, but surely the most powerful ones. When we last saw Godzilla in 2019's Godzilla: King of the Monsters, he had defeated the three-headed King Ghidorah and all the other revived monsters of the world — known as "Titans" — were bowing to their king, who had reached a sort of détente as well with the puny human race he had just saved.
But as Kyle Chandler (returning from the previous film, along with Stranger Things star Millie Bobby Brown as his daughter and fellow monster tracker) tells us in the trailer, "Godzilla's out there and he's hurting people and we don't know why," with Brown adding, "There's something provoking him that we're not seeing here."
See for yourself…
Whatever is causing Godzilla to go on his rampage and deep-fry countless numbers of humans, it apparently is going to take only one giant monster to stop him: Kong, last seen fighting alongside humans in 2017's Kong: Skull Island. "We need Kong…the world needs him, to stop what's coming," says biologist Nathan Lind, played by Alexander Skarsgard (The Stand).
As the trailer opens, Kong is already on board an aircraft carrier on his way to finding his "true home," lured there apparently by Lind, Hall as Ilene Andrews and an orphaned little girl named Jia who has some sort of protective connection with the big gorilla: "I knew they had a bond," says Hall. "She had nowhere to go, so I made a promise to protect her, and I think that, in some way, Kong did the same."
It seems Godzilla is eager to get into the fight, attacking the carrier and literally going toe-to-toe with Kong in one jaw-dropping shot where the big ape lands a solid right hook on the fire-breathing lizard. It's one of several shots in the trailer — including a climactic stunner in which Kong repels Godzilla's atomic breath with some sort of weapon as they leap toward each other amidst a neon sea of skyscrapers — that portends how huge this showdown is gonna be.
But as we hinted earlier, there may be more going on here than two 400-foot (yes, Kong has apparently grown since we last saw him) juggernauts bashing each other around like prize fighters. Kong himself might have memories of fighting the war that Hall mentions, and one scene might even show Kong fighting several winged creatures back in the distant past.
The trailer doesn't spell it out directly, but it appears evident that Kong and Godzilla have fought this battle before, eons ago, and that there may be more to uncover about the history of these creatures on Earth. And while both Kong and Godzilla have managed to survive since then, it also seems clear that only one of them will walk away this time. "Who bows to who?" an offscreen voice inquires, to which Hall replies, "Kong bows to no one."
Will this be the final battle of the Titans, or will their mysterious past and destructive present collide and point the way to an even more monster-filled future? The movie's press materials hint at "unseen forces" setting Kong and Godzilla against each other, along with a "mystery that lies deep within the core of the Earth." And it may have been down there since the dawn of time itself.
Directed by Adam Wingard (You're Next), the film also stars Brian Tyree Henry (Atlanta), Eiza Gonzalez (Baby Driver), Demian Bichir (The Midnight Sky), Jessica Henwick (Iron Fist), and more.
Godzilla vs. Kong opens in theaters and premieres on HBO Max on March 26.