News
Ghostbusters: Afterlife Box Office Beats Expectations, Scares Up $44 Million
Despite some general skepticism toward Ghostbusters: Afterlife, it's beaten expectations… while still opening lower than the 2016 remake.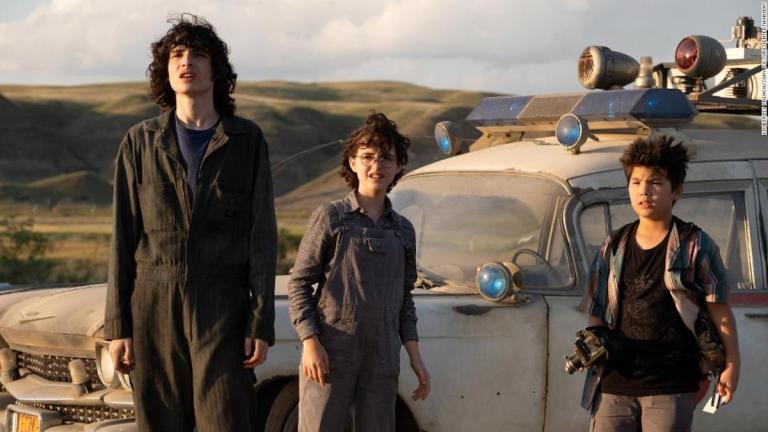 Someone at Sony today could quite possibly be ringing a bell and shouting, "We got one!" because Ghostbusters: Afterlife's opening weekend suggests there's life in the old franchise yet. Indeed, the fourth movie about ghosts and the people who catch them, and third picture set in the original 1984 movie's continuity, has beaten both Sony and competitors' expectations, and looks poised to open at a respectable $44 million.
That estimated number comes in well above Sony's lowball projections for the weekend, with the studio forecasting their pseudo-reboot of a reboot to open between $27 million and $28 million. It also exceeds what third party prognosticators pegged the film's prospects at, with general projections landing around $30 to $35 million. And despite opening perhaps less forcefully than the studio might've hoped when the film was originally greenlit before the pandemic—Ghostbusters: Afterlife was initially supposed to release in summer 2020—the unexpectedly high number can be counted as a win for a theatrical release of a somewhat diminished brand during these volatile times for the industry.
A large influence on the film's success appears to be better than anticipated word-of-mouth among fans and the civilians uninterested in online film discourse. This might be a surprise to some critics since the film received an ultimately mixed reception among reviewers. The movie's current score on Rotten Tomatoes rests around an only faintly positive 61 percent. While some went along with writer-director Jason Reitman's overly earnest reverence for his father's original film, others found the movie's naked nostalgia-baiting to be desperate and off-putting. However, audiences disagreed with the latter summation, as the film posted a quite positive "A-" rating from the industry pollsters at CinemaScore.
Additionally, the film is apparently over-performing during matinees screenings this weekend, which is being attributed as a key reason for the film beating projections. According to CinemaScore, about one-third of attendees were parents with children under the age of 12, who were seeing the film after being won over by marketing focused on the picture's wholesome "kids on an adventure" setup. It should be noted this strategy echoes Steven Spielberg and Amblin '80s films as much as the original Ghostbusters movies (perhaps the casting of Stranger Things' Finn Wolfhard didn't hurt in this regard). Meanwhile the movie is also bringing middle-aged audiences who have nostalgia for the original film. And on Rotten Tomatoes, the unscientific "Audience Score" puts the movie at 95 percent positive.
When these elements are combined, it suggests Sony Pictures can rebuild positivity around the Ghostbusters brand… even though Ghostbusters: Afterlife opened smaller than the 2016 Ghostbusters remake starring Kristen Wiig and Melissa McCarthy, and which was directed by Paul Feig. That movie premiered amidst a cacophony of toxic and frankly misogynistic vitriol five years ago, with the all-women cast being derided to venomous proportions on social media. Still, it opened at $46 million in its first three days.
The difference of perceptions in their level of success, however, has as much to do with the expectations each film had going into opening weekend, as well as the budget supporting them. Ghostbusters '16 was intended to be a much splashier summer blockbuster released at the height of July and off the back of a massive $144 million budget, as well as a vast marketing campaign. Ghostbusters: Afterlife was budgeted at nearly half that cost, with a much more modest $75 million price tag. Anecdotally, its marketing and publicity costs appear to also be less expansive.
And for better or worse, audiences are responding more positively to the 2021 film, with the "A-" CinemaScore beating out the not-great (although not a disaster) "B+" score assigned to the 2016 film. Of course the true test might be how Afterlife holds up in the coming weeks. Given its broader appeal to families, the film looks well positioned as the biggest blockbuster entertainment for the long Thanksgiving weekend.
Assuming Afterlife can maintain a small box office drop over the next weekend and continue to perform at healthy levels, the film may be looked at as a successful rebranding, and one that could make an interesting comparison with the year's other franchise reset that came after a contentious 2016 film: The Suicide Squad.
Be that as it may, it seems Reitman's hope to at the very least continue the (more cost effective) adventures of his young cast of characters is on the table after this weekend. A jolly holiday, indeed, for Sony.