Features
Ghostbusters: Afterlife 2 Goes Back to NYC Instead of Trying Something New
A Ghostbusters: Afterlife sequel will hit theaters in December 2023. But is going back to the firehouse the right move?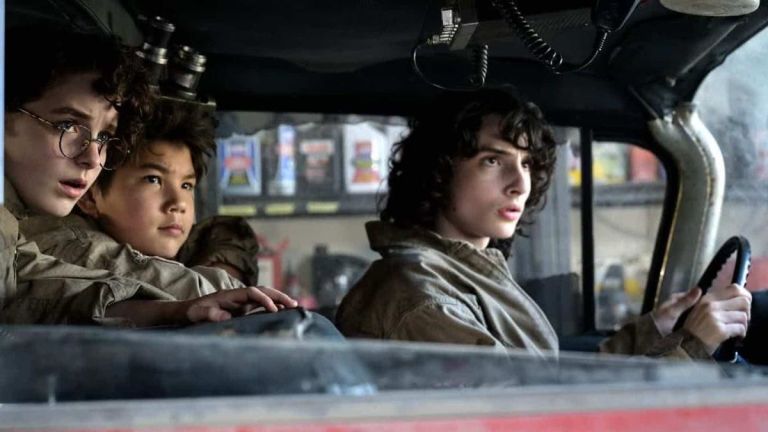 I did not hate Ghostbusters: Afterlife. It feels weird having to write that qualification down for a movie that received mixed-to-positive reviews (it's at 63 percent on Rotten Tomatoes as of press time), a glowing "A" CinemaScore from opening weekend audiences, and which had a healthy, extended run at the November box office last year. Yet given the cacophony of disdain for the movie in the echo chambers of social media, it feels necessary to contextualize a movie like Afterlife before addressing news of its sequel.
Because, yes, Sony Pictures is unsurprisingly moving forward with a direct follow-up of Jason Reitman's Ghostbusters legacy sequel, with the fourth canonical Ghostbusters movie (but fifth when you count the 2016 remake starring four women) now slated for a Dec. 20, 2023 release date. That's obviously five days before Christmas (fitting for another movie starring a young family, no?) and one week following Timothée Chalamet's Willy Wonka reboot (another bid for nostalgia-pleasing, that). Perhaps more surprising though is that Sony also revealed the Afterlife sequel, which is presumably a continuation of the characters and plot threads from the 2021 movie, is returning for a sequel set in New York City and at the firehouse of the original 1984 and 1989 Ghostbusters movies.
The fact that Sony would eventually return to the firehouse is a foregone conclusion after Ghostbusters: Afterlife's post-credits sequence revealed that Winston Zeddemore (Ernie Hudson) had purchased the Tribeca landmark once he became a wealthy tycoon in the last 30 years. Seemingly, the franchise was setting up what both director Jason Reitman and his father Ivan, the director of the original two Ghostbusters films and producer of the 2021 movie, had long teased: they want to build a shared Ghostbusters universe, presumably with Winston as something akin to the MCU's Tony Stark and/or Nick Fury.
Nonetheless, it's a bit of a surprise that this thread of the Ghostbusters universe, with Winston bringing the business back to NYC, has become the direct follow-up to Afterlife's storyline. Because that film was, at least initially, divorced from New York and all the rest of that '80s movie iconography. Refreshingly so.
The most damning and fair critiques of Ghostbusters: Afterlife largely revolve around the film's third act, where it turn into a blatant remake of story beats from the '84 movie, just with a lot less edge and far more treacly sentimentality. This is compounded by the disquieting choice to end the movie by using another actor whose face is digitally altered to resemble the deceased Harold Ramis, all so the ghost of Ramis' Egon Spengler can come back to pass the torch (which post-Mandalorian, The Book of Boba Fett, and The Rise of Skywalker might be called the Lucasfilm special). Indeed, the final third of Afterlife plays quite a bit like The Rise of Skywalker wherein a once innovative and bold concept from the Hollywood of the 1970s/'80s has at last meekly settled for playing the hits.
Hence a fair bit of loathing in critical circles for both movies. And yet, I feel somewhat kinder toward Afterlife. This is in large part due to how distinctly different the first two-thirds of the movie is from the '84 flick and our general understanding of what a "Ghostbusters" story can be. While the film is still heavily influenced by other '80s touchstones—specifically Steven Spielberg and Amblin-produced pictures like E.T. and The Goonies—much of Afterlife is chasing its own ghosts, with Reitman favoring the more grounded and understated humor inherent in his character dramedies from over 10 or more years ago, such as Juno, as opposed to his father's more adult but free-wheeling style of snarkiness.
At least in its outset, Ghostbusters: Afterlife was about a quirky family with multi-generational hangups, all of which was anchored by a surprisingly charismatic performance from a pint-sized Mckenna Grace, whose deadpan was drier than anything in the '84 movie but made for a compelling heroine in a family movie. Alas, then, that at a certain point Afterlife opted to stop being a family movie and instead became, well, the '84 movie writ small.
Which brings me back to my current skepticism toward hearing that Afterlife 2 is returning to the firehouse, NYC vibe that the '21 picture did so well to escape and subvert. Now that the ghost of Egon Spengler has both literally and metaphorically been put to rest—and the general notion is we've seen the last of the villainous Gozer and (probably) Bill Murray's Peter Venkman—this is the moment to completely break away from nostalgia and easter eggs. If Ghostbusters must continue, and continue through the adventures of Egon's still largely estranged daughter (Carrie Coon) and her children, why not let them carve their own identity in a different city and with a different style?
Going back to the firehouse seems likely to guarantee more callbacks, more easter eggs, and more of the stuff we saw 40 years ago. Shouldn't an "afterlife" be about moving on to the next stage and discovering another plane of existence?