News
Frank Miller Sued by Producer for $25M Over Hard Boiled and Sin City Rights
Cursed co-creator Frank Miller has been hit with a hefty lawsuit by Stephen L'Heureux, a producer from Sin City: A Dame to Kill For.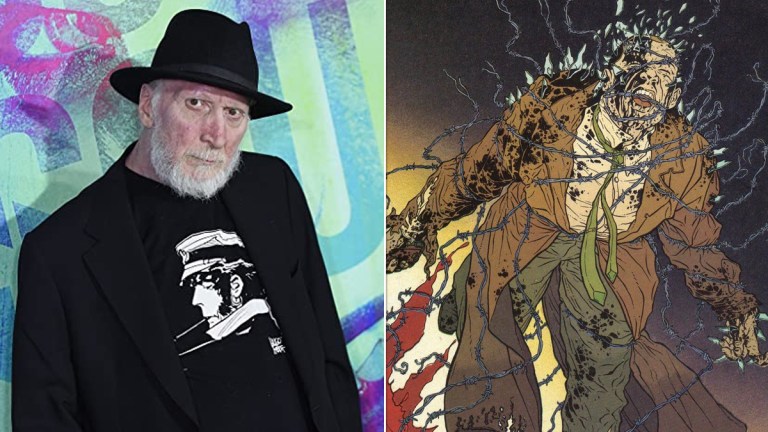 Frank Miller, creative comic book legend and co-creator of recent Netflix series Cursed, is certainly no stranger to controversy. Thus, he now finds himself hit by a lawsuit from a former co-producer, who's seeking damages estimated as high as $25 million.
Stephen L'Heureux, a producer from 2014 sequel film Sin City: A Dame to Kill For—which Miller co-wrote and co-directed with Robert Rodriguez—is claiming economic interference and defamation in a suit against Miller and co-defendant Silenn Thomas, an associate producer on that picture, who was named CEO of Frank Miller Inc. this past August. However, this particular set of grievances centers on the alleged obstruction of would-be adaptation projects of Miller's Dark Horse Comics-published titles, specifically a movie for 1990-1992 future-dystopian cyber-noir crime comic Hard Boiled (pictured in the title image), and a Sin City television series, both of which L'Heureux claims to have paid total ownership for the developmental rights.
The jury-seeking complaint, filed late on July 26 in LA Superior Court by San Francisco firm Pillsbury Winthrop Shaw Pittman LLP, consists of five claims, which (via Deadline), seeks compensatory damages for "lost revenue, loss of future revenue, damage to reputation, loss of good will, and emotional distress." The first two (and most crucial) claims allege that Miller and Thomas "individually, collectively, and through their representatives, have engaged in a systematic campaign to defame L'Heureux, to damage his reputation, and to deliberately and wrongfully interfere with his contractual agreements and his prospective economic gain from the production of the Sin City and/or Hard Boiled projects which he intended to produce pursuant to the rights he obtained from Miller."
As Miller's attorney, Allen B. Grodsky of Grodsky, Olecki & Puritsky LLP, responds to Deadline regarding the complaint:
"The claims asserted in Mr. L'Heureux's lawsuit are baseless, and we will be aggressively defending this lawsuit."
L'Heureux, who claims to have owned the rights to the two Miller properties since 2008, describes in his complaint that Miller and Thomas have maliciously impeded his efforts to procure major studios MGM and David Ellison's Skydance Media for said properties. He also specifies that CEO Thomas in particular repeatedly made "false, misleading and defamatory statements" over the authenticity of his rights ownership of Hard Boiled and Sin City, essentially sabotaging his efforts to move forward with the respective film and television projects. Additionally, he claims that the duo similarly soured efforts with various personnel like "A List" directors Louis Leterrier and Zack Snyder, CAA's Bruce Vinokour (L'Heaureux's agent), Hard Boiled artist Geof Darrow and more.
While the prospective Sin City television series—to which L'Heaureux was attached as producer alongside the sued Thomas—gained recent traction, the other project in focus, Hard Boiled, has had a long journey in its pursuit of a production company. Indeed, the proverbial hot potato of a television pitch was mooted by the controversy-closed doors of The Weinstein Company, before being handed to Legendary, after which it headed to Skydance before falling through the cracks. In fact, there is a further claim that Leterrier was attached to direct Hard Boiled at one point in 2009; an event that allegedly resulted in $250,000 being wired to Miller, split with comic artist Geoff Darrow, but eventually paid back after the project failed to come to fruition after being set up at Warner Bros. and subsequently MGM.
Nevertheless, the proverbial gauntlet has been thrown down with this suit, and it will be interesting to see how it plays out. It occurs as the latest Miller project, the Netflix television series (co-created with Tom Wheeler), Cursed, just premiered on July 17. The series—for which co-defendant Silenn Thomas was a key component in the pre-production phase and serves as co-executive producer—adapts the duo's recent graphic novel of the same name, which puts a protagonist spin on conventional Arthurian adaptations, focused on the trials and tribulations of Nimue, a.k.a. The Lady of the Lake, played by headliner Katherine Langford.