Features
Fear Of Rain Was 'Eye-Opening' Experience For Star Madison Iseman
Fear of Rain stars Madison Iseman and Israel Broussard explain how they prepared for their challenging roles in this new thriller.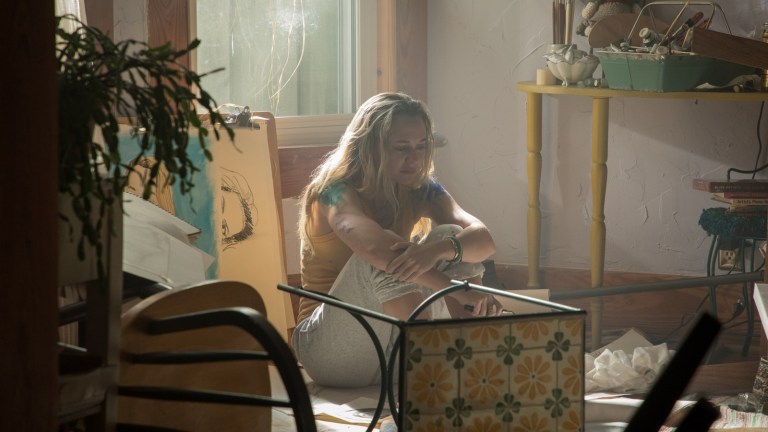 In Fear of Rain, Madison Iseman (Annabelle Comes Home) plays Rain Burroughs, a young woman attempting to lead a stable life while she struggles with a diagnosis of schizophrenia. Despite her best efforts, and that of her loving parents (Katherine Heigl and Harry Connick Jr.), Rain is often not sure what is real and what is a hallucination — including Caleb (Israel Broussard), a fellow at school who takes an interest in her even as she wonders whether he's real.
But when Rain becomes convinced that the seemingly normal teacher living next door (Eugenie Bondurant) is hiding a terrible secret in her attic, Rain goes against her parents' advice and decides to prove she's right, enlisting Caleb to help her even if she's not even sure she can trust her own senses.
Written and directed by Castille Landon (Albion: The Enchanted Stallion), Fear of Rain is not just a psychological thriller following in the tradition of both films like Rear Window and The Sixth Sense, but a compassionate look at the nature of mental illness and how it can affect one's perceptions.
That is what Iseman found the most compelling about taking the part, as she tells Den of Geek in our video interview.
"There was a lot of research that came into it and just a lot of getting ready for it, just to carry on such a load of a character," explains the actress, who's also starred in the last two Jumanji movies. "I sort of just fell in love with Rain's heart from the beginning, when I first read the script, her strength and her courage, and just how she perseveres through no one really believing her. I just felt really connected with her, and was jumping at the opportunity to get to play her."
Broussard — best known to audiences for his work in the two Happy Death Day movies — explains the angle he took with the character of Caleb.
"I really liked how endearing Caleb was and I liked how he was willing to support Rain throughout all this — and at the same time, keep who he was," he says. "As far as preparing, I just had to go over my lines and talk, not as fast as I could, but he's kind of an intellectual character so I wanted to tap into that a little bit. So I rehearsed everything on my own just to make sure that everything was flowing smoothly out of my mouth, as far as my lines."
Iseman says that one of the biggest surprises for her in making the film was realizing just how little she knew about the nature of schizophrenia — an illness that is often confused with dissociative personality disorder (maintaining multiple separate personalities) but in reality is quite different.
"The whole entire experience was completely eye-opening as far as how little I knew before this project, which was interesting," says Iseman. "So the entire thing has just been a complete learning experience. For me, I watched so many videos and just anything I could get my hands on, but my Bible throughout everything was a memoir by Elyn Saks called The Center Cannot Hold. Which for me, I think was the greatest outlet, just because it explained her experience, being a woman with schizophrenia, from a young child up into adulthood."
She continues, "It was hard to find resources from young women, children specifically, and really what that looks like, so I carried that book with me on set. And Castille was the one who actually… I think everything was sort of inspired by Elyn Saks in a whole. So that was my Bible just through and through this entire experience."
Although the character of Rain deals with great obstacles in her everyday life and tragic events in her past that she's still coming to terms with, Iseman says she wasn't necessarily looking for a darker role than what she's done so far in her career.
"I really just love amazing stories," she explains. "I remember I read it for the first time and it just completely moved me. I knew I really wanted to be a part of it. I didn't know if I could do it — it was such an incredible opportunity. But I think I surprised myself and it was a very accepting challenge to take on."
One test that the cast, director and crew of Fear of Rain did not have to deal with during the making of the movie was the COVID-19 pandemic. The movie was shot in late 2019, months before the coronavirus swept the world and shut down film and TV production for the better part of a year.
Israel Broussard says that seeing the movie now — a window into a time not too long ago when we didn't have masks and social distancing to deal with — is a strange experience.
"Honestly, I've thought about that quite a bit," he admits. "Not necessarily watching it and not seeing the masks, but more so, how would this have worked had we been in the middle of the pandemic? But I don't know, I think it's interesting, and I think it is nice to see people's faces and get a break from all the masks. So hopefully it's something that's refreshing for everybody."
He adds, "It's definitely changed the industry as a whole in the past year. I mean, even now we're doing this on Zoom and it takes some adjusting. It takes some getting used to, but I'm happy that we're still able to tackle all these challenges."
Fear of Rain is out now in theaters, on digital, on demand and on Blu-ray/DVD.