News
Exclusive: Teenage Mutant Ninja Turtles: Mutant Mayhem Soundtrack Celebrates Hip-Hop Legends
Exclusive reveal: The Teenage Mutant Ninja Turtles: Mutant Mayhem soundtrack is the ultimate celebration of '90s hip-hop!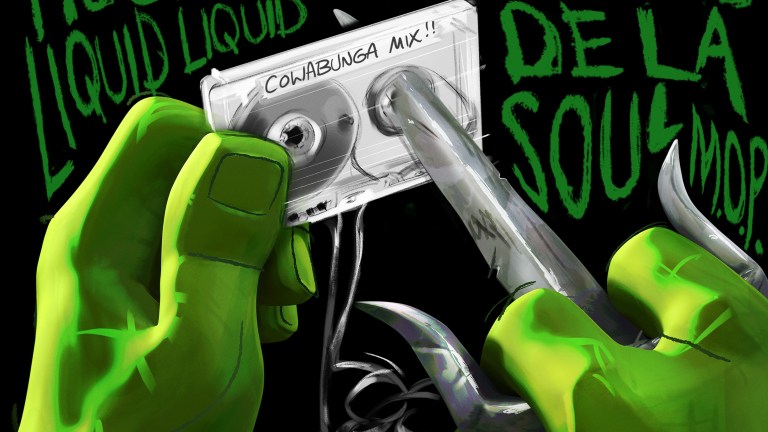 The Teenage Mutant Ninja Turtles and music go together like the Ninja Turtles and pizza; the two are intrinsically linked. From the iconic theme song of the 1987 animated series, to Vanilla Ice's tie-in "Ninja Rap" for 1991's Teenage Mutant Ninja Turtles II: The Secret of the Ooze, and even their semi-forgotten 1990 stage rock and roll musical Coming Out of Their Shells, no matter the genre, these green teens are always rocking big tunes.
With music playing such a big role in the Turtles' history, director Jeff Rowe and executive producer Seth Rogen had to be extra thoughtful when selecting the songs for the soundtrack of the Turtles' latest film, Teenage Mutant Ninja Turtles: Mutant Mayhem. With its distinctive animation style, the feature film finds our pizza-loving Turtles escaping their sheltered existence in the sewers as they seek to be accepted as normal teenagers through acts of heroism.
What would normal teenagers in New York City be bumping through their speakers? Classic East Coast hip-hop, of course! The official playlist for Mutant Mayhem features legendary New York emcees like DMX, Ol' Dirty Bastard, Big Pun, Busta Rhymes, and more. From horrorcore originators Gravediggaz to alternative rap pioneers De La Soul, the soundtrack leans into a '90s influence. Big hits like A Tribe Called Quests' "Can I Kick It?" and Blackstreet's "No Diggity" sit alongside more eclectic cuts like the hypnotic grooves of Liquid's "Cavern" and the rhythmic jazz of trumpeter Hugh Maskela's "Riot." Even Vanilla Ice's "Ninja Rap" gets some shine in a nod to the Turtles' past.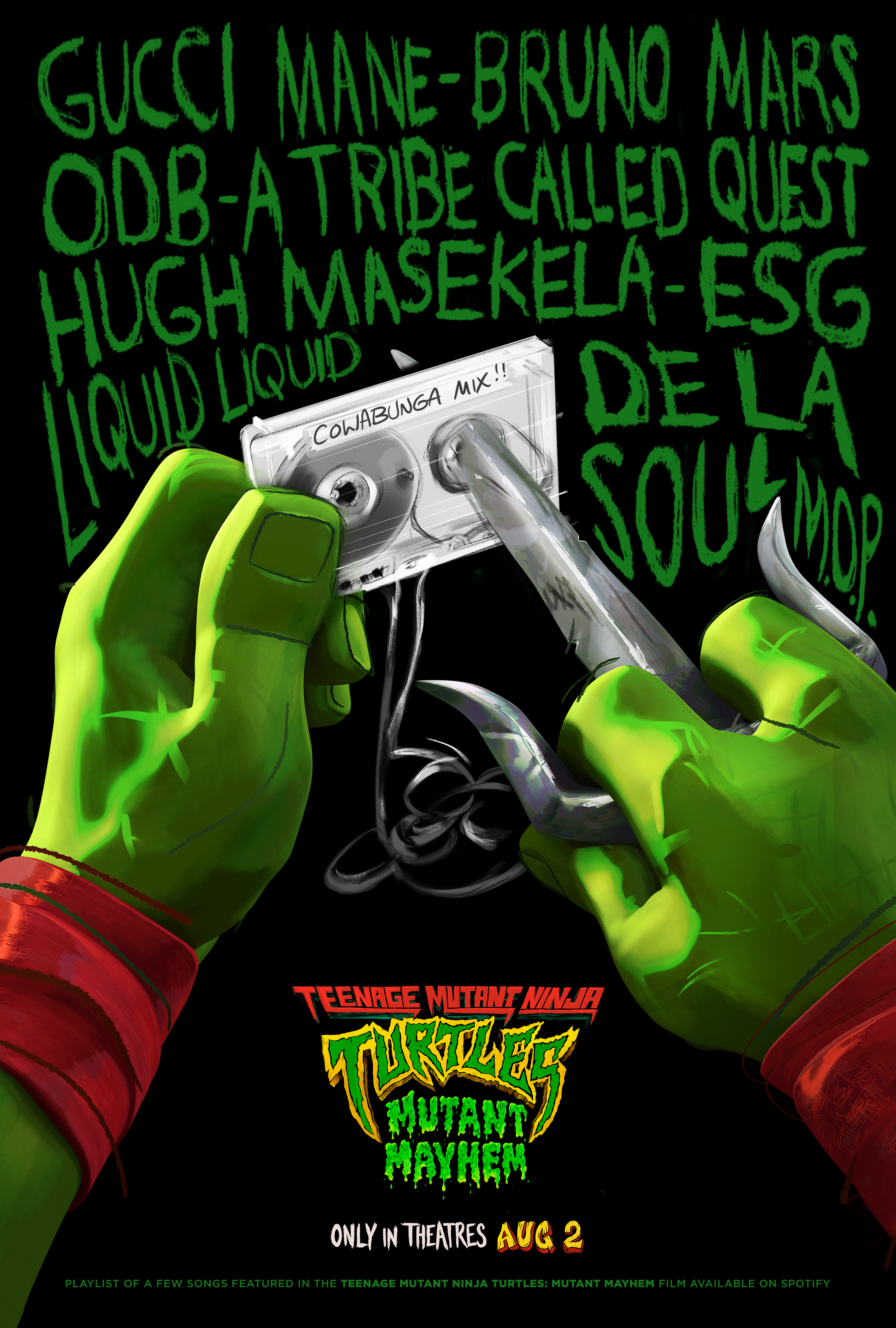 If the raw energy, classic boom bap beats, and inspired picks remind viewers of a certain late-'90s video game soundtrack, that's completely intentional. Speaking to Tony Hawk on his Hawk vs. Wolf podcast, Rogen compared the soundtrack to Tony Hawk's Pro Skater.
"They do skate, actually," Rogen said of the new Turtles. "What's funny is we were having a call with the music supervisor because we were pretty far along on and there's a lot of music in it and they're like 'The music doesn't go together…It goes together but in a weird way like how would you describe it?' And our director [Rowe] was like 'I kind of describe it as what you would kind of hear playing Tony Hawk's Pro Skater.' It's like a random assortment of music, kind of, but it all fits together perfectly, it kind of has that same energy and spirit. But it really it actually it's like very similar and there are literally some songs that are from like the original Tony Hawk's Pro Skater."
The rebelliousness of youth mixes with iconic east coast music legends in the official Teenage Mutant Ninja Turtles: Mutant Mayhem soundtrack and you'll be feeling like a hero in a half shell marching down Park Avenue with these beats in your ear. Listen to the complete list of songs below or head over to Spotify to start listening now.
Teenage Mutant Ninja Turtles: Mutant Mayhem Playlist
"Ante Up (Robin Hoodz Theory)" – M.O.P.
"Eye Know" – De La Soul, Otis Redding
"Ninja Rap" – Vanilla Ice
"Riot" – Hugh Masekela
"Cavern" – Liquid Liquid
"Dance" – ESG
"No Diggity" – Blackstreet, Dr. Dre, Queen Pen
"Wake Up in the Sky" – Gucci Mane, Bruno Mars, Kodak Black
"Shimmy Shimmy Ya" – Ol' Dirty Bastard
"Can I Kick It?" – A Tribe Called Quest
"Feel Me Flow" – Naughty By Nature
"Still Not a Player (feat. Joe)" – Big Pun
"Sweet Premium Wine" – KMD, MF DOOM
"Party Up" – DMX
"Woo Hah! Got You All in Check" – Busta Rhymes
"Everything is Everything" – Ms. Lauryn Hill
"Work" – Gang Starr
"Brooklyn Zoo" – Ol' Dirty Bastard
"2 Cups of Blood" – Gravediggaz
Be sure to catch Teenage Mutant Ninja Turtles: Mutant Mayhem only in theaters on August 2.