Features
Emily the Criminal and The White Lotus Unlock Aubrey Plaza's True Range
Aubrey Plaza's having an amazing 2022, thanks crucially to two roles in Emily the Criminal and The White Lotus that get closer to how the star sees herself... and wants to be seen on the screen.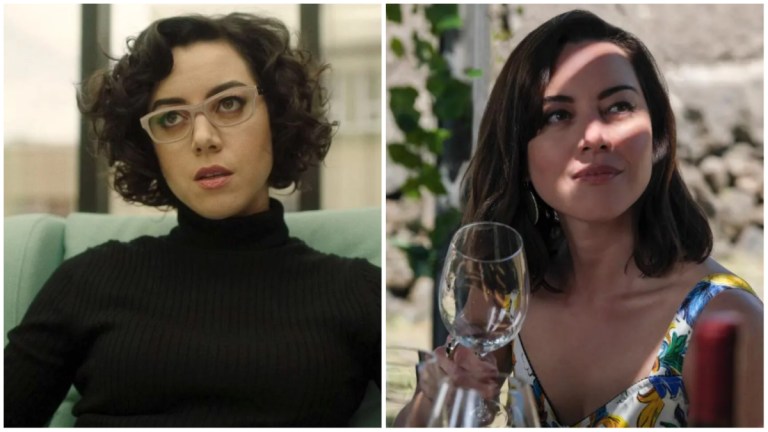 The tailend of 2022 has been tough for many of us. Twitter users, English football fans, and folks hoping to avoid yet another COVID-19 holiday spike are just a few groups who have much to grumble about. But do you know who's been crushing it in Q4 of 2022? Aubrey Plaza.
The Parks and Recreation breakout star is having a banner year thanks to a role in the much-discussed, just-wrapped The White Lotus Season 2 as well as the titular role in the indie thriller Emily the Criminal, which has been quietly building traction on Netflix. Both roles showcase a more vulnerable side to the actress, albeit in dramatically different ways, and point toward serious dramatic potential for a performer who has more typically been thought of as a comedic presence. 
Ever since Plaza earned fame with her deadpan, chaotic portrayal of April Ludgate on NBC's Parks and Rec, the actor has been savvy about moving away from playing similar characters to avoid typecasting. She brought broad, sexpot energy to her roles in Dirty Grandpa and Mike and Dave Need Wedding Dates, turned the chaotic dial up to 11 in FX's Legion, and started exploring more complex roles in black comedies such as Ingrid Goes West and Black Bear. That said, Emily the Criminal and her appearance in White Lotus feel like mainstream reintroductions to Plaza before audiences see her in Guy Ritchie's next film and Francis Ford Coppola's long-gestating Megalopolis.
On The White Lotus, Plaza plays Harper, an uptight lawyer on vacation with her newly wealthy husband Ethan (Will Sharpe), accompanied by his college buddy, the cocky and obnoxious Cameron (Theo James), and Cameron's bubbly wife Daphne (Meghann Fahy). Harper is bothered by the waning intimacy in her marriage to Ethan, emphasized by witnessing the flirtatious, handsy relationship of Cameron and Daphne. Combine marital strife with witnessing Cameron and Daphne's money-fueled obliviousness, and Harper is basically trapped in a swanky vacation from hell. To make matters worse, Cameron is poking and prodding Harper, not-so-subtly suggesting he's looking to know her in a non-platonic way.
As Harper, Plaza does a lot of internal, pursed lip work. She keeps her obvious frustration buttoned up tight throughout cocktail hours and dinners, only slightly letting her guard down behind closed doors with Ethan, but even there she's still not speaking her mind about why Cameron bothers her so much, or the physicality she's missing from their relationship.
Harper spends a lot of time internally interrogating why Cameron and Daphne bother her so much and wondering whether their relationship can possibly be as strong as it appears. She also cannot understand why she's so easily flustered by Cameron, not acknowledging that his lustful looks are exactly what she'd like instead of her husband's indifference. She's guarded and skeptical but putting up a tough exterior to deal with her suspicions.
In a recent interview with GQ, Plaza confirmed that Harper is the closest she's ever related to a character that she has played.
"This character is me," she told the magazine. "It's probably the first project that I've ever done that I'm like, 'Whoa, this is really close to home.' I've been with my husband for 12 years. I relate to being in a relationship that has peaks and valleys, and going through a rough patch and comparing yourself to another couple that seems perfect."
The White Lotus creator Mike White confirmed this, indicating that he wrote the part specifically for Plaza.
"Obviously, Aubrey plays deadpan, she plays to the humorous aspects of her dark side," he said. "But the more you know her, you realize she's very big-hearted and, in a way, insecure. The classic somebody who is projecting strength, but the vulnerability is so palpably there. I just felt like it would be fun to capture some of that, something that I haven't seen her do."
In Emily the Criminal, Plaza is also projecting strength to mask vulnerability, but instead of clamming up and putting on a brave face, desperation causes her character to unleash all the rage and ferocity that has been built up inside of her.
Emily the Criminal is about a woman named Emily who is saddled with massive student debt after a felony conviction forces her to drop out of college early. That conviction also prevents Emily from landing a job with a decent wage, leading her to Youcef (Theo Rossi), a man operating a credit card fraud ring. As Emily's involvement with Youcef increases, she is put in increasingly dangerous situations. However, instead of wilting and waiting for a break in a conventional job, Emily doubles down, fighting both literally and figuratively to hold on to the money that she's made.
Whereas Harper keeps things internal, Emily wears her desperation on her sleeve and she sometimes cannot contain her anger. In one illuminating scene, Emily attends a job interview, and the interviewer asks her about past convictions. Emily lies about her criminal history before the interviewer reveals that he has her complete criminal record with him already, and that he's reviewed it. Emily immediately berates the man for lying and abruptly leaves the interview, not wanting to hear another word after being reminded of her past mistakes.
Talking to Vanity Fair, Plaza highlights that while Harper is close to her reality, Emily's lack of filter in some ways is aspirational to both her and audiences.
"It's kind of cathartic for the audience in some way, I think, cause Emily kind of says all the stuff that you don't say in those situations, but you want to say," she told Vanity Fair.
The film contains other, more violent instances of Emily's desperation causing outbursts, showing whereas Harper is easily flustered and used to bottling everything up, Emily no longer has the patience or luxury to shrink away from confrontation. It's a physically demanding, emotionally visceral role that will make viewers forget all about quirky comedic performances of the past.
With a successful production company providing her with interesting, smaller roles and more visibility stemming from gigs like White Lotus, Plaza is sure to be a major presence in 2023 and beyond. She's even venturing into the MCU with a role in Agatha: Coven of Chaos on Disney+, meaning an appearance in a big screen superhero project isn't out of the question. After what she's showcased in 2022, we're convinced there's nothing that Plaza can't do.