News
Elvis from Outer Space Trailer Clones the King of Rock 'n' Roll for Interstellar Jam
This isn't just another impersonator contest. It's all on the line for Elvis from Outer Space.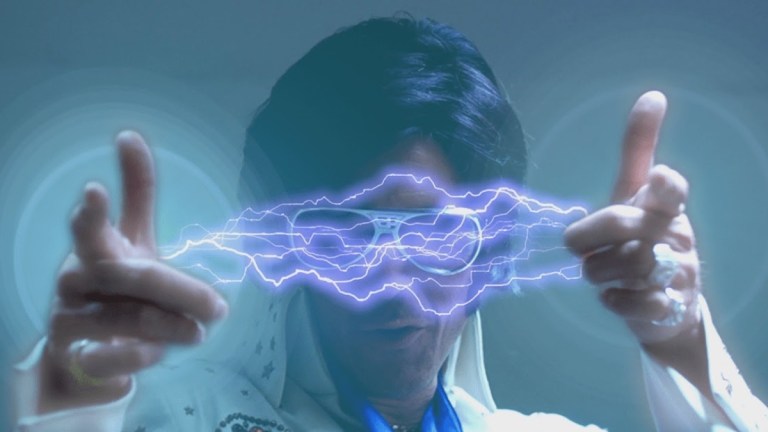 Elvis Presley made 31 films as an actor. He played rebels and jailbirds, G.I.s and boxers, roustabouts and rodeo stars. But he never played in a science fiction movie, nor did he get to show off his martial arts chops. The new trailer for Elvis from Outer Space promises to fix all that while delivering B-movie cult fun for the summer. Giant Pictures and Joba Entertainment set up the camp for a digital rollout next month.
"Ladies and Gentlemen, the King of Rock N' Roll From Outer Space has blasted into Vegas from the far side of the Universe to compete in an Elvis impersonation contest with the best in town," reads the official synopsis. "But just as he is on the verge of victory, he mysteriously vanishes. Who's behind the disappearance? The mafia? The CIA? Or the aliens he left behind?"
You can watch the Elvis from Outer Space trailer here:
The trailer doesn't give much away as far as plot, but it makes up for it in atmosphere. Presley may not be able to throw down his moves, but his clone gets down to business. Elvis from Outer Space was co-directed by M. Z. Silverman and Tracy Wuischpard. There doesn't appear to be any Elvis songs in the film. The soundtrack songs are written by Neil Silverman. The cast includes George Thomas, David Heavener, Barry Ratcliffe, Diane Yang, Robert Miano, Frank Cavestani, Lauren Elaine and Sonny West.
Presley is so much of a rock and roll icon that his impersonators are part of pop culture iconography, aiding and abetting the careers of stars from Andy Kaufman to Nicholas Cage. Already a legend before his death in 1977, even the rumors he was still alive became legendary. Elvis has been resurrected as a vampire in the Charmaine Harris' Southern Vampire Mysteries books which led to the HBO's True Blood series, and recently on an episode of What We Do in the Shadows.
When Elvis starred in a film, it became an Elvis Movie, a genre of its own. From Love Me Tender, through King Creole, Blue Hawaii, Kid Galahad, Viva Las Vegas, and G.I. Blues, he could swivel his hips into any situation and make it his own. His music is the soundtrack for many people's lives. Elvis has left the building, but his clone is ready to rock.
Elvis from Outer Space hits digital retailers on July 7.