News
Dwayne Johnson Reveals Black Adam on Den of Geek Magazine Cover
The most electrifying issue of Den of Geek in history is coming on July 21, featuring an in-depth, exclusive look at Black Adam starring Dwayne Johnson. Our biggest cover story EVER features exclusive interviews from the most anticipated DC superhero movie of the year!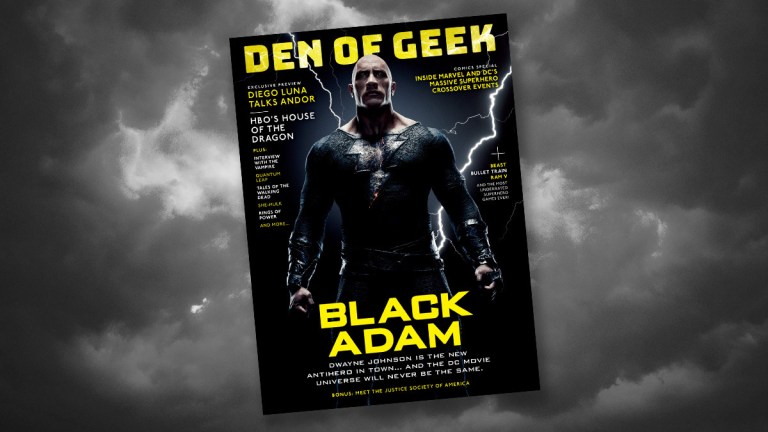 SUbscribe to Den of Geek Magazine here!
Den of Geek, the leading entertainment media company, is proud to announce its return to San Diego with a seismic footprint at the epicenter of pop culture fandom, Comic-Con International, and the reveal of the brand's highest-profile magazine cover star to date: Dwayne Johnson. The star of Black Adam, produced by New Line Cinema, DC Films, Seven Bucks Productions, and FlynnPictureCo, and set for distribution by Warner Bros. Pictures, revealed the magazine cover to his social media followers on Thursday, marking an exciting kick-off to the Den of Geek Comic-Con activations for 2022.
"Situated perfectly on the calendar and the map to make even the crushingly long hours and hard work that go into it feel like part of summer vacation, SDCC is more than just the biggest, most storied, and most beautiful of fan events, it's the one that reminds me of the best fandom can be and why I do this for a living," says Den of Geek Editor-in-Chief Mike Cecchini. "Needless to say, this is a big, important issue for us, especially since it's tied to the biggest, most important event in pop culture of the last two years. This is why it was so important that we bring you our biggest cover story ever. Dwayne Johnson is the hardest working man in showbiz and one of the biggest stars in the galaxy."
Den of Geek will have its largest presence ever on the ground in San Diego from July 20-July 24, with an interview studio, invite-only magazine release party, fan event, and their brand ambassador team distributing free copies of the latest quarterly issue of Den of Geek Magazine, which fittingly features Dwayne Johnson as Black Adam on the cover. The feature includes a comprehensive Black Adam preview written by Rosie Knight, with exclusive interviews with star/producer Johnson and the entire cast who portray DC's iconic Justice Society: Aldis Hodge (Hawkman), Noah Centineo (Atom Smasher), Quintessa Swindell (Cyclone), and Pierce Brosnan (Dr. Fate), plus interviews with director Jaume Collet-Serra and producers Beau Flynn and Hiram Garcia.
For fans who are unable to attend San Diego Comic-Con but wish to secure a copy of the latest issue featuring Johnson and the cast of Black Adam can subscribe here.
During Comic-Con weekend, Den of Geek Studio will host interviews and photo portraits at the Hilton Bayfront with the biggest stars attending the convention with a full editorial, social media, and video production team on hand to capture coverage of Comic-Con from every angle.
See below for the full list of Den of Geek panels at Comic-Con International 2022.
Den of Geek Moderated Comic-Con Panels
The Universal Cinematic Influence of Jack Kirby
From Star Wars to the MCU, Jack Kirby is everywhere. His inspiration is seen in blockbuster movies, television, and comics here in the States and globally. Tracy Kirby (Kirby's granddaughter), Rand Hoppe (Jack Kirby Museum) and Mike Cecchini (Den of Geek and Kirby Museum) are joined by screenwriter Ashley Miller (Thor, X-Men: First Class) to celebrate Kirby's influence in Hollywood and beyond throughout the decades. They'll share a prerecorded message about Jack Kirby from Star Wars legend Mark Hamill and other surprises. Thursday, July 21 12:30 – 1:30 Room 4
From Den of Geek and SuperheroIRL: Heroes and Villains . . . You Choose!
Societal villains are magnetic onscreen—and all-too-real in real life. How does pop culture reflect the present while leading us into the future? The villains in media are all-too-similar to the supervillains in our 24-hour news cycle. Celebs and experts discuss the key onscreen villains we love to hate and how the pop culture community can be heroes IRL. Moderated by Chris Cummins (Den of Geek, Sci-Fi Explosion) and featuring Dr. Janina Scarlet (Superhero Therapy), Sabrina Cartan (Fandom Forward co-president), Dr. Elisabetta DiMinico, and Chase Masterson (Star Trek: DS9, SuperheroIRL founder). Friday, July 22, 2022. 11:30 – 12:30. Room 5AB
Introducing TRANSFORMERS: EARTHSPARK!
Autobots, Roll Out! Meet the next generation of heroes in the new original animated series, Transformers: EarthSpark. From Nickelodeon and Entertainment One, the all-new Paramount+ Original Series will showcase an insider event that celebrates a new take on the iconic global franchise with a behind-the-scenes look at art, casting and never-before-seen clips and a first time look at the Hasbro toyline inspired by the series. Featured panelists include all new-series voice talent– Danny Pudi (Bumblebee), Kat Khavari (Twitch) and Zeno Robinson (Thrash)–along with co-executive producer Dale Malinowski and executive producer Ant Ward. Moderated by Mike Cecchini, Editor-in-Chief, Den of Geek. Friday, July 22, 2022, 2:15 – 3:15 PM, PT, Room 6A
Visualizing The Batman
For Warner Bros. Pictures' The Batman, Halon Entertainment (a NEP Virtual Studios Company) created dynamic previsualization action sequences, grounded in the real world to help define Matt Reeves's bold new vision of Gotham City. Halon's Casey Pyke (previsualization supervisor), Jess Marley (virtual art department supervisor), and Kristin Turnipseed (lead visualization artist) take a closer look at how virtual production served the VFX to help create these dark and thrilling sequences. Featuring exclusive never-before-seen material. Moderated by Mike Cecchini, Editor-in-Chief, Den of Geek. Saturday, July 23, 2022, 5:30 – 6:30. Room 6DE.