Features
Don't Breathe 2: The Inside Story of the Blind Man
Rodo Sayagues and Stephen Lang tell us all about the Blind Man's journey in Don't Breathe 2.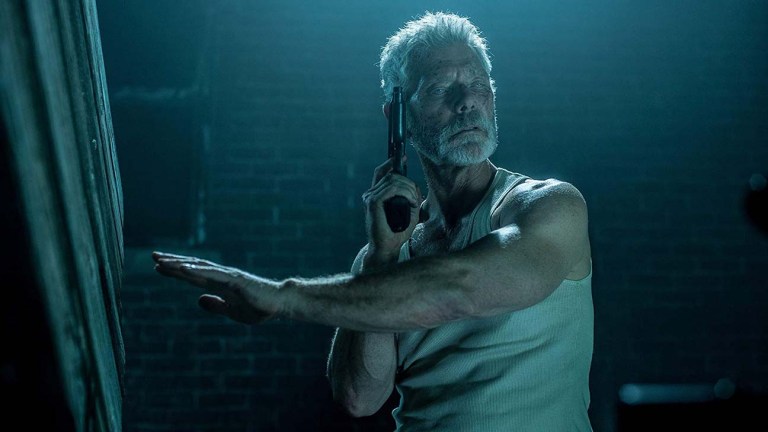 This article contains Don't Breathe 2 spoilers.
In 2016, Don't Breathe introduced the world to the terrifying world of the Blind Man. Played by Stephen Lang, the violent vet turned his murderous survival instincts on a trio of burglars after they broke into his house in the hope of finding the money they needed to escape their depressing lives. As if his near-supernatural strength and ability to destroy flesh and bone weren't enough, the final act of the movie revealed a grotesque secret. 
The Blind Man (who we now know is named Norman Nordstrom) was keeping a young pregnant woman prisoner in his basement. Not only that but she was his captive because he blamed her for the death of his daughter and as a punishment he had impregnated her to birth him another child to replace the one he lost. Yes, It's as bleak as it sounds. When that prisoner dies, he takes one of the burglars, Rocky (Jane Levy), and attempts to do the same to her. Luckily, she eventually managed to escape and lived to see another (non-forcibly impregnated) day.
While fans might have expected Rocky would be the lead to any Don't Breathe sequel, the second film centers solely on The Blind Man and his new life as a surrogate father to a young girl named Phoenix (Madelyn Grace). It's a controversial choice and one that has gotten fans talking as the movie features a redemption arc for the rapist and murderer who terrorized Rocky and her friends in the first movie. Speaking to Den of Geek, Lang shared his thoughts on the sequel, agreeing that "redemption is a big theme."
Despite the fact that many viewers were stunned when the trailer revealed that Don't Breathe 2 would center on Norman, Lang wasn't surprised by the new film's take on his character.
"I was very delighted with the direction that this script took," Lang says. "I do think that in so many ways that [director and co-writer] Rodo [Sayagues], [co-writer] Fede [Álvarez], and myself are on the same page in terms of the possibilities and the depth. But they're the ones who realize it. I thought they did a great job and they left a lot of room for me to shape and manipulate and play."
Alongside his freedom to shape the role is Lang's powerful physicality. It's what made Norman so terrifying in the first film and it continues over to Don't Breathe 2. Bringing that to the screen was no easy feat.
"My preparation was rigorous," Lang explains. "I worked out on a daily basis. I was striving for a certain type of look, which I always call 'old man strong.' I wanted him to be sinewy and gristly. I wanted him to be as pure muscle and sinew as he could be, but never look bodybuilder strong or anything like that."
Lang felt like it was even more important in the action-packed but bleak world of the sequel to bring this specific kind of physical presentation of Norman. 
"More so than in the first one, his weakness and vulnerability physically, was every bit as important as his strength," Lang says. "That's a product of not only age but also that he's suffered more damage along the way. It's thematically cool that the weaker he gets, the more powerful his instinct and need to survive becomes."
For Sayagues, early on in the process of conceiving a sequel with Fede Álvarez it became obvious to the pair that there was more to explore with Norman.
"Right after the first movie came out, we saw that there was an opportunity to continue exploring the world of Don't Breathe, especially Norman's story," Sayagues explains. "There was no closure there. This is a criminal, a psychopath that got away with several crimes. Justice wasn't served, right? So we decided that it would be an interesting idea to follow the story of that."
So what was it that seemed so interesting about Norman's story? Well, there were lots of unanswered questions they wanted to explore according to Sayagues.
"Is he ever going to pay for the crimes we witnessed him committing? Will he ever feel any remorse for those crimes? Is justice ever going to catch up to him? And more importantly for us, is he ever going to come to accept his true nature and come to terms with the monster inside of him?"
To incite this change, the team created Phoenix. It's her arrival which sets Norman on his new path, and for Lang it's an almost cosmic intervention for the horrifying villain.
"Phoenix really kind of washes up on the shores of his life, you know what I mean?" Lang says. "How can that not be interpreted as having some kind of a divine cause? I think that's very compelling. It presents this weight and responsibility that causes a huge change in him."
It's a change that builds on a line of dialogue the character delivered in the first Don't Breathe.
"If you think back on the first movie, the most articulate he ever gets is when he says, 'Once you realize there is no God, then a man is capable of anything,'" Lang says. "Well, what's being indicated to him here is there's something greater at play. And that's pretty mind blowing for him. He's had some years to digest this to operate within this new realization. So there's been a process of some kind of internal reconciliation for his own self."
Coming back from that crisis of faith was something that Sayagues agreed was key to Norman's journey in Don't Breathe 2. "What's this man's relationship with God at this point in his life?" Sayagues ponders.
The director sees Norman receiving Phoenix as a second chance to raise the daughter that he lost, and a gift that recontextualizes his relationship with his faith. "We thought that when that happened he probably looked up to the skies and said, 'Now we're even.' It's a lot of fun to see how this character relates to a higher power."
While audiences will likely be divided on the Blind Man's arc in this film, Sayagues drew on something personal to craft the film's final moments. Norman confesses to Phoenix and tells her the truth about the horrible things he's done. In return she chooses to go by the name he gave her.
"It's all about your relationship with your parents," Sayagues says. "We all go through that: accusing them of having done this and that, of having failed you. But there's always something that they gave you that was good, starting with your own life. There's always a better perspective. You can focus on the 99% of shitty things that they did to you, but there's always a little bit and I'm pretty sure it's more than you think. There's always that little bit that is good and that you should be grateful for."
Don't Breathe 2 is in theaters now.