News
Disney+ Completes Marvel Streaming Infinity Gauntlet With Sony Spider-Man Deal
Disney has come to a complicated agreement with Sony to host Spider-Man and many other films on its streaming services and linear channels.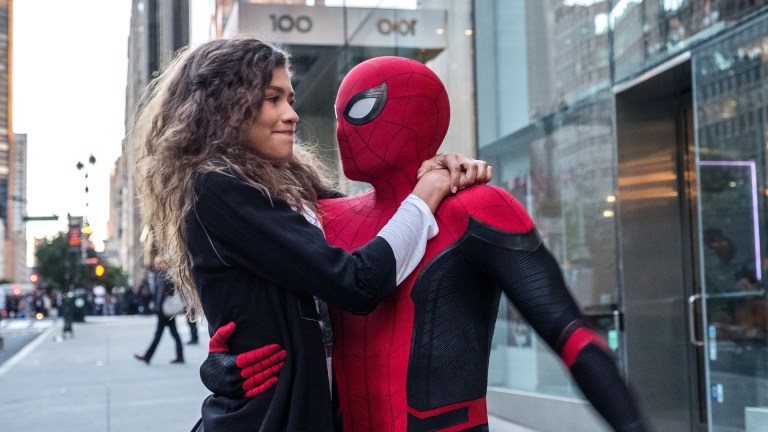 And just like that, Disney has finally assembled its full Avengers team on Disney+ with the addition of Spider-Man… sort of.
Disney announced Wednesday that it has cut a content licensing agreement with Sony Pictures, the steward of the cinematic version of Spider-Man (Tom Holland's Peter Parker, Shameik Moore's Miles Morales, and all other Spider-Men going back to Tobey Maguire), to host the "Post Pay 1 Window" of all of Sony's theatrical releases from 2022 to 2026 on Disney streaming services (Disney+ and Hulu), and Disney linear entertainment networks like ABC, Freeform, and FX. The deal includes a special addendum for the inclusion of other significant Sony franchises like Jumanji, Hotel Transylvania, and yes, the coveted Spider-Man. Also included are "Sony Pictures' Universe of Marvel Characters," which would mean franchises like Venom, Morbius, and whatever it is Olivia Wilde is working on.
If the details of all this sound confusing, that's understandable since Disney claims the deal is unprecedented in nature. Entertainment business jargon like "Pay 1 Window" and "Post Pay 1 Window" rarely trickles all the way down to the consumers and superhero movie fans. But given the massive franchise implications of the transaction, and the amount of money involved (Disney did not disclose any financial terms but Variety notes that Sony is likely to have received hundreds of millions of dollars), it's worth trying to parse out all the details.
Sony previously reached an agreement with Netflix to receive its films in the Pay 1 Window after their theatrical release. This window occurs nine or so months after a theatrical release. Sometime after the Pay 1 Window, however, films are able to cut a deal to air on linear television as well. That is essentially the deal that Disney has reached with Sony here, with the added ability to host films on Disney+ and Hulu in addition to linear television airings. Think of the traditional theater-to-home media-to-cable model with Disney swooping in to snag the last portion from Sony. 
The long and short of all this corporate speak is that Sony's entire 2022 to 2026 slate of films, plus some other notable franchises (including Spidey) will eventually make their way to Disney+, Hulu, and Disney television channels after their time on Netflix. Ultimately, that is likely pleasant news for consumers with access to Disney+ and Hulu, and unpleasant news for Netflix, which only gets to retain its remaining big Sony titles for a limited period of time. It's also unpleasant news for international subscribers as both Sony's Netflix deal and Disney+/Hulu deal are for U.S. subscriptions only.
When will consumers get to see the streaming fruits of this deal? Well, it will likely take quite a bit of time before the majority of Sony's films make it to Disney streaming properties. Even the earliest 2022 Sony release might not make its way to Disney+ or Hulu until 2023. Tucked into Disney's announcement, however, is the news that "a significant number of library titles" will be available to stream on Hulu as soon as early as this June. Unfortunately, Spider-Man: Homecoming and Spider-Man: Far From Home are unlikely to be among that early batch for Hulu as they are almost certainly destined for Disney+.
The goal of Disney+ (in addition to making oodles upon oodles of money) was to consolidate all of the entertainment conglomerate's big properties onto one convenient streaming service so that interested viewers would never have to leave Disney's streaming confines. To that end, Disney+ has been a major success bringing together all Star Wars, Pixar, and classic Disney titles to one place. Disney+ has also been the home to all of its Marvel Cinematic Universe films with only a couple of exceptions.
Neither The Incredible Hulk (owned by NBCUniversal) and the two Tom Holland Spider-Man films (owned by Sony) are a part of Disney+'s Marvel offerings. With the canonical nature of the Edward Norton-starring Hulk film dubious at best, the inclusion of Spider-Man would effectively complete Disney+'s Marvel movie Infinity Gauntlet. When exactly that Gauntlet will be completed remains to be seen. But for now Disney+ is one stop closer to its goal of complete Marvel consolidation.