News
GroupWatch: Disney+ Subscribers Can Now Synchronously Stream With Each Other
Up to seven Disney+ accounts can now synchronously stream something together on the subscription service. Here's everything you need to know...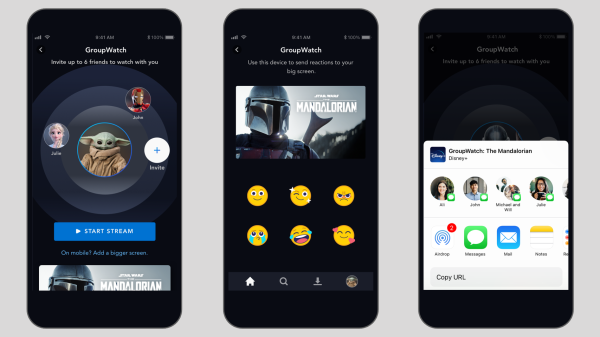 Disney is rolling out a brand new feature for Disney+ subscribers: GroupWatch. The "watch party" function is not the first of its kind across the market, but it is the first of its kind specifically for Disney+. The new function will allow Disney+ subscribers to synchronously stream with up to six other accounts. According to Jerrell Jimerson, SVP of product management for Disney Streaming Services (via Variety), the feature has long been part of Disney's rollout plan for Disney+, but the pandemic has moved up the timeline for its implementation. Disney+ launched a test version of GroupWatch earlier this month in Canada, Australia, and New Zealand, and has plans to launch GroupWatch in Europe later this fall.
GroupWatch is already available across all titles in the Disney+ library, and is available via the GroupWatch icon on the title "Details" page through both mobile and web browsers. Once you are in the GroupWatch room, select the "invite" button to get an invite link. Then, you can share it with up to six people with whom you would like to sync your streams. They must either already have a Disney+ account or be willing to sign up for a Disney+ account to participate. While invitations can only be sent from mobile or web, GroupWatch sessions can be accessed from a connected TV device or smart TV. All participants have the ability to pause, rewind, or fast forward the stream. Each account is limited to four simultaneous streams, and kids' profiles cannot be invited into a GroupWatch. You can find out more about the service here.
Unlike other "watch party" experiences, GroupWatch will not allow for text chatting during the streaming of the movie, though users can share "real-time reactions" using six different emojis: "like," "funny," "sad," "angry," "scared," and "surprised." The emoji-driven reaction function can be accessed through the Disney Plus app. Viewers using the GroupWatch feature on TV screens cannot share emoji reactions.
GroupWatch is the latest subscriber recruitment strategy for Disney+, which had more than 60.5 million subscribers as of the first week of August, according to Deadline. With the premiere of The Mandalorian Season 2 coming up at the end of October, it could be yet another successful streamer strategy for the media conglomerate, as friend-groups look to watch the Star Wars series together, bringing new subscribers to the service.