News
DC Fandome: What Trailer Drops Can We Expect?
DC Fandome is going to give us our first looks at some DC movie and TV projects...we hope. Here are the DC trailers we know are coming, and the ones we HOPE to see.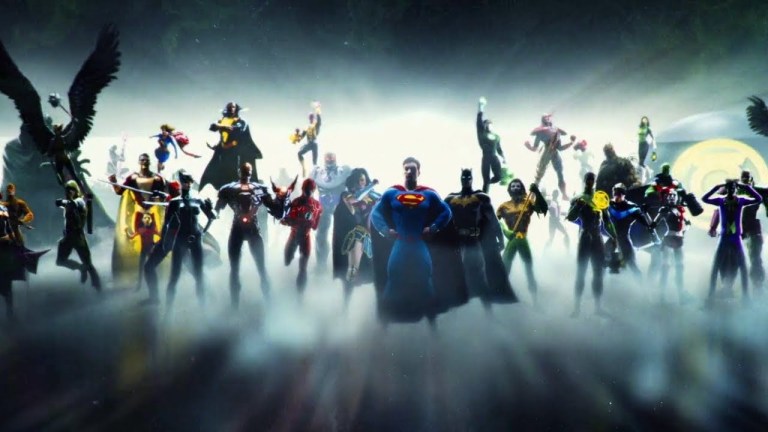 DC Fandome kicks off on Saturday, August 22 with a schedule that spends a lot of time focusing on future DCEU movies and DC TV shows. Which naturally leads us to ask…what DC movie and TV trailers should we be on the lookout for? Well, we're glad you asked!
At the moment there are only two trailers that we can say for absolute certain are going to drop on the first day of DC Fandome.
The Snyder Cut of Justice League Trailer
The first, and biggest, of course, is for "The Snyder Cut." There will be lots of details revealed about Zack Snyder's Justice League during a panel devoted to exactly that. Here's the official synopsis for the panel…
"Zack Snyder fields questions from fans and a few surprise guests as he discusses his eagerly awaited upcoming cut of the 2017 feature film and the movement that made it happen."
So while that synopsis doesn't officially say the trailer is coming, Snyder himself as confirmed it multiple times on social media, most recently with a teaser revealing a few seconds of never-before-seen footage from Justice League. Get a taste of what's to come right here…
Here's another tease for you too…
The Snyder Cut of Justice League panel takes place at 5:30 pm EDT at DC Fandome.
The Flash Season 7 Trailer
The next one we KNOW we'll be getting is some kind of look at The Flash Season 7. How do we know this? Because the official synopsis tells us so!
"Executive producer Eric Wallace joins cast members Grant Gustin, Candice Patton, Danielle Panabaker, Carlos Valdes, Danielle Nicolet, Kayla Compton and Brandon McKnight to discuss all things Flash with Entertainment Weekly's Chancellor Agard. Team Flash will break down both parts of season six and look ahead at what is to come with an exclusive trailer for season seven. Fans will also get a look at the exclusive black-and-white noir episode "Kiss Kiss Breach Breach," available on the Season 6 Blu-ray and DVD."
But wait…how can there be a trailer for The Flash season 7 when they haven't started filming yet? Well, that's easy enough. In previous years, often at San Diego Comic-Con, early preview trailers would be cut using special effects and even whatever few minutes of filming had already been done. But for this upcoming season of The Flash, they've got a little something extra in the tank.
Since The Flash season 6 was forced to shut down its production early and episode count cut down because of the Covid-19 pandemic, there was footage filmed that was intended for later episodes in the season. That footage will likely now become part of season 7 in some form.
The Flash TV panel will take place at 5:54 EDT on Saturday.
Wonder Woman 1984 Trailer
Sure, we've already seen some trailers for the long delayed (thanks for nothin' covid!) Wonder Woman 1984, but don't you want another one? The official synopsis for the panel seems to indicate that more footage might just be on the way…
"Wonder Woman 1984 stars Gal Gadot, Chris Pine, Kristen Wiig and Pedro Pascal, and director/co-writer/producer Patty Jenkins join forces with Brazilian hosts Érico Borgo and Aline Diniz to celebrate the fans in a big way. They will answer questions from fans from all over the world, talk fan art and cosplay, and reveal an all-new sneak peek at the upcoming film — plus a few more surprises!"
And director Patty Jenkins has confirmed it with a new poster!
The Wonder Woman 1984 panel takes place at 1:00 pm EDT on Saturday.
And then there are the ones that we're not quite sure will release trailers, but we sure can speculate…
Suicide Squad 2
Will we get footage from James Gunn's not-a-reboot The Suicide Squad? God, we hope so. The official synopsis for the panel doesn't seem to indicate that we will, but bear with us…
"What else would you expect from The Suicide Squad but the ultimate elimination game? First up, writer/director James Gunn takes on fan questions, then brings out Task Force X for a fast-paced, no-holds-barred Squad Showdown that tests every team member's Squad knowledge — and survival skills!"
OK, no…that doesn't sound like a trailer. But c'mon! They finished principal photography on this movie well before the pandemic shut everything down, so surely there's enough footage out there to give fans a look at this new and improved Suicide Squad, right? And maybe an exploding head or two? Pretty please?
The Suicide Squad panel kicks off at 2:55 pm EDT.
The Batman
Matt Reeves' The Batman starring Robert Pattinson was one of the most high profile productions shut down early during the Covid-19 pandemic. Filming is finally about to resume on that in the immediate future, so that's good news. But they had already been filming for about a month when the shutdown hit, so there's certainly enough in the can for a teaser.
Here's that official synopsis…
"The Batman filmmaker Matt Reeves joins host and self-professed fangirl Aisha Tyler for a discussion of the upcoming film…with a surprise (or two) for the fans!"
Maybe that "surprise" is a teaser of some kind. We'd certainly love to see it.
Of course there are other DC movie panels on the schedule for DC Fandome, such as Black Adam and Shazam, but none of those have begun filming, which is why we've singled these out as the most likely panels to show us something.
The Batman panel is gonna take you to Gotham City at 8:30 pm EDT.
What are you most looking forward to seeing at DC Fandome? Let us know in the comments!