Reviews
Creed II Review
Michael B. Jordan and Sylvester Stallone return for a Creed 2 that plays more like a hybrid of Rocky II and IV.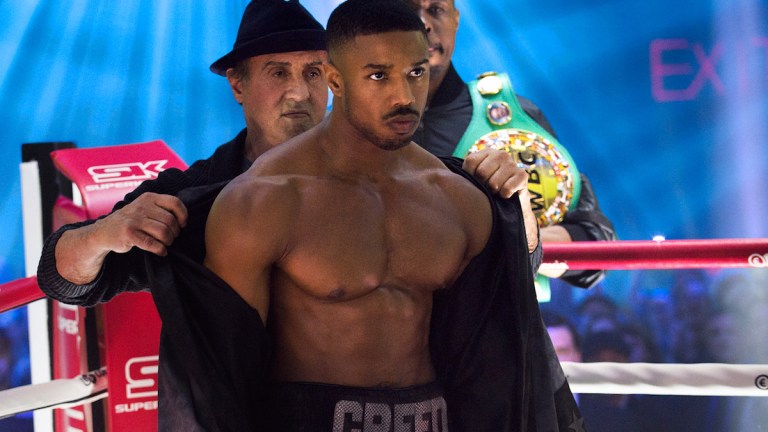 Just when it seemed as if the Rocky boxing franchise had finally come to a close in 2006 with the earnest and decently received Rocky Balboa, the long-running series pivoted in 2015 with the stunning Creed. Shifting the focus to Adonis "Donnie" Creed (Michael B. Jordan), the son of late champ Apollo Creed, while relegating Rocky (Sylvester Stallone) to a supporting role as the younger Creed's reluctant trainer, the Ryan Coogler-directed melodrama was a surprise crowdpleaser, charting a natural evolution for Rocky, establishing Jordan as a compelling leading man, and infusing the whole picture with a gritty, streetwise sensibility that attracted both old and new fans.
Creed ended in such a good place–with Adonis embracing his heritage as Apollo's son, forging his own destiny as a fighter, and finding friendship and love with Rocky and a musician named Bianca (Tessa Thompson)–that a sequel, while inevitable after the movie proved a hit, seemed like a bad idea from the get-go. Remember all those average-to-poor Rocky sequels? And Creed II, it seemed, would be a semi-sequel to one of the least impressive Rocky movies, the Cold War-inspired Rocky IV.
The good news is that Creed II won't be sandwiched among the lesser Rocky sequels by any stretch; although it misses the confident, propulsive direction of Coogler (who helmed Black Panther and is now prepping its sequel), new director Steven Caple Jr. moves the story along in efficient if unremarkable fashion, aided tremendously by his empathetic and engaging cast. The biggest issue is that the movie's narrative seems perfunctory and Adonis Creed's motivations fuzzy; Creed just skirts the line of being kind of a brooding, self-absorbed jerk, but is yanked back from the brink by Jordan's natural likability.
As Creed II opens, Adonis has plowed through six lesser fighters as his career continues to thrive and finally gets a shot at the light heavyweight title again, this time winning it. But no sooner is the belt around his waist than he is challenged for it by Russian contender Viktor Drago (Florian Monteanu), a gigantic slab of meat who is built like the Hulk and can barely grunt out a sentence. Drago, of course, is the son of Ivan Drago (Dolph Lundgren), who killed Creed's father in the ring 33 years ago in Rocky IV before being in turn pummeled by Rocky. He thereafter became a disgrace in his own country as a result.
The younger Drago's taunting proves impossible for Adonis to ignore, even as Bianca and Rocky–who has his own tense sitdown with Ivan–warn him against taking the fight. "You think I'll lose," says Adonis to Rocky, who elects not to train his protégé for this one. "Who are you fighting for?" asks Rocky, who is afraid that history will repeat itself and he'll end up burying another Creed once the fight is finished.
Whether it's revenge or some sort of ill-defined validation he's after, as the champ's got everything he could want at this point, Adonis trains with Tony "Little Duke" Evers (Wood Harris) and enters the ring with Viktor, only for things to go decidedly south. While Creed retains his heavyweight crown, the bout takes a heavy toll both physically and psychologically, and it's only a short amount of time before a rematch appears all but certain. But can he survive the wrath of Drago a second time?
The screenplay by Stallone and Juel Taylor (from a story by Sascha Penn and Cheo Hodari Coker) follows the beats set down by previous Rocky pictures (and Creed itself) so slavishly that one could count them out on a metronome. Everything that happens feels pre-ordained and a bit rushed, with very little that will surprise Rocky fans or anyone familiar with the basic mechanics of storytelling. It's also loaded with plots and subplots, involving everything from Rocky's relationship with his own estranged son to the (rather rapid) birth of a baby for Adonis and the ever-patient Bianca, whose budding musical career gets tabled as soon as the pregnancy test comes back positive.
The relationships between fathers and sons are examined from three or four different angles. And somewhat refreshingly, the Dragos are not portrayed as cartoon villains; the dynamic between an understated and effective Lundgren and the perpetually scowling Monteanu conveys an abyss of genuine shame and emotional longing that neither man seems able to bridge. It's almost more difficult to sympathize with Adonis Creed himself, who has a loving partner, a baby on the way, a spectacular new crib in downtown Los Angeles, and plenty of money and fame, yet still seems perpetually unhappy.
As a result, the showdowns and triumphs in the ring simply don't feel as earned as those in Creed, missing the sense of destiny and jubilation we experienced watching Adonis finally embrace his father's legacy while stepping out from his shadow. That leaves us with our basic affection for the characters, which is intact. The now-elderly but still strong Rocky is as endearing as ever, and Jordan of course has charisma to spare. Thompson is again appealing, and we also get another sharp turn from Phylicia Rashad as Mary Anne Creed. The palpable warmth we feel toward these folks, even the ones we just met one film ago, goes a long way toward making Creed II feel less mechanical than it actually is.
Even if the breath of fresh air that the first Creed provided isn't there anymore, viewers may just relax and let themselves go the distance this time around even if they can't help but feel like the bout is more or less fixed. Thankfully more Rocky II than Rocky IV (or Rocky V, heaven forbid), Creed II is serviceable and enjoyable even if one can see the punches coming from a mile away.
Creed II is out in theaters next Wednesday, Nov. 21.
Don Kaye is a Los Angeles-based entertainment journalist and associate editor of Den of Geek. Other current and past outlets include Syfy, United Stations Radio Networks, Fandango, MSN, RollingStone.com and many more. Read more of his work here. Follow him on Twitter @donkaye