News
Knives Out 2 Confirmed, Will Shoot Soon
Lionsgate confirms what Rian Johnson previously teased: Knives Out 2 is being written with an eye for a fast turn around.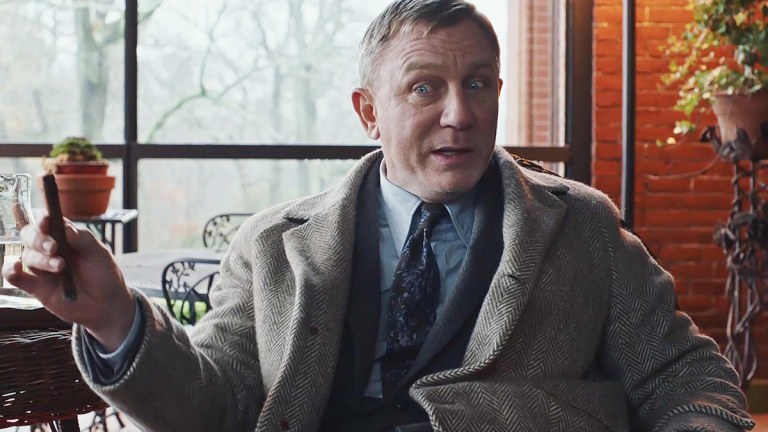 My oh my, there is a donut hole inside of our donut hole, and that hole looks like a Knives Out sequel! Could you think of anything more delicious? Yeppers, Lionsgate confirmed the news themselves Thursday evening when CEO Jon Feltheimer and Motion Picture Group Chairman Joe Drake confirmed as much during a conference call with Wall Street analysts, as per Variety.
The news of a follow-up is hardly a shocker. Writer-director Rian Johnson and star Daniel Craig have teased for months that they'd be game for another Benoit Blanc mystery. Johnson even told us back in November that he's as excited about that as doing another Star Wars, and he was just waiting to see if audiences respond to Knives Out. Almost $300 million and counting later, and Knives Out was the sleeper hit of the holiday season. It even netted Johnson his first Oscar nomination, in the Best Original Screenplay cateogry. Hence Johnson and Lionsgate being off to the races.
Johnson previously confirmed, unofficially, he'd already begun writing the film. Speaking with The Hollywood Reporter last month during the Golden Globes weekend—where Knives Out was nominated for Best Picture and Craig and Ana de Armas were up for acting awards—Johnson revealed he's already begun writing the Knives Out sequel and that production is going to be swift, with the movie potentially shooting as early as later in 2020.
While the trade did not quote Johnson directly, it revealed that during a pre-Globes party, the writer-director said he is "developing a sequel centered Daniel Craig's Southern Benoit Blanc investigating a new case." Further he apparently said he would ideally like to begin shooting the film "in the next year."
This is a swift turnaround for Johnson, Craig, and whoever else might come back. In direct contrast to Johnson's continued involvement with Lucasfilm, his own personal franchise has the momentum and independence to fire away as soon as possible. And as a filmmaker who's an obvious fan of whodunit mysteries, as well as the Alfred Hitchcock styled suspense he blended into the classic tropes, it is not surprising he'd already have another idea for a Benoit Blanc case in mind. It's unclear though if de Armas would return after playing the other central character in Knives Out. But if Benoit is meant to be a 21st century reimagining of the Hercule Poirot archetype, it is true to form that the cast of characters (and potential killers) changes while the detective stays the same. Then again, Benoit did call de Armas' Marta his "Watson."
This is also a major win for Lionsgate who has been searching for a new franchise darling for years after The Hunger Games' conclusion. While the Divergent movies produced three installments, their box office was anemic enough to be dropped before getting to the actual ending. Power Rangers and others have proven even less alluring to moviegoers. Knives Out, however, attracted audiences of all ages, even the elusive adult demographic alleged to not go to movies anymore, making it a true Thanksgiving and Christmas delight for dysfunctional families everywhere.
Hence Feltheimer saying in the aforementioned conference call that Knives Out "serves as further proof that franchises can emerge from any of our content verticals."
read more: Knives Out and the Villainy of Privilege
The potential of having a Benoit Blanc mystery in theaters every two or three holiday seasons likely has a lot of appeal at Lionsgate, and it clearly has at least initial appeal to Johnson, who seems to have quite a bit of time to build his own universe, even though Disney previously tapped him to develop a whole new trilogy of Star Wars films. It would be fair to wonder if Johnson, who noticeably did not attend The Rise of Skywalker premiere, is done with the Star Wars universe. If so he's moving from strength to strength, having made what we believe to be the best Star Wars movie of the last decade, and then evading the problems that plagued the new film while making what many consider the most entertaining movie of 2019. We're among them.
So let's spend more time with Johnson's house, rules, and coffee, please.
David Crow is the Film Section Editor at Den of Geek. He's also a member of both the Critics Choice Association and the Online Film Critics Society. Read more of his work here. You can follow him on Twitter @DCrowsNest.