Features
Cannabis Vapes and Movie Pairings to Elevate Your Experience
Interested in recreational cannabis for SDCC? Check out these nostalgic movie and cannabis combinations for your trip!
This article is brought to you by Torrey Holistics.
San Diego Comic-Con brings a multitude of travelers here for nerdvana, but once here they discover the other fantastic amenities the city has to offer; beautiful beaches, amusement parks, Sea World, a world class zoo, not to mention all the amazing restaurants and craft beers.
However, the new option that may not be available in your country or state is recreational cannabis, aka "marijuana" aka "Super Nerd Enhancer 5000." San Diego boasts California's first legal, licensed recreational cannabis dispensary, Torrey Holistics. If you are over 21 with a valid photo ID, you're invited to come and try out the vast selection of cannabis products while getting your geek on in sunny San Diego!
Cannabis, like fine wine or craft beer, is a very personal product and the options are vast (like programing a Sherlock Holmes holodeck simulation). Much like the infinite timelines of Rick Sanchez, an individual's journey of conscious consumption with Torrey Holistics cannabis options can be eye opening and the experiences you can have are infinite.
To help the visiting geek in town for Comic Con, we teamed with RAD! Vapes and Dr. Beth Garretson, Torrey Holistics cannabis science specialist, to pair up some strains with classic movies to help you find the right experience!
It is always important to be aware of some basic guidelines while consuming cannabis, especially if you are from a state that does not have access to legal cannabis dispensaries. Always talk to your cannabis consultant behind the counter and let them know what you are looking for. It's also a good idea to let them know if you're a youngling or Jedi Master level consumer. 
read more: Everything You Need to Know About SDCC 2019
As this is the 50th SDCC, you can expect to see a higher volume of crowds and cosplayers wandering around Downtown San Diego's Gaslamp Quarter. So start slow! Using cannabis can be a great way to help keep you calm from the mass of geek bodies all excited to gather and peruse the latest pop culture trends from TV, movies, video games, and publishing (or just help you kill time as you line up for the next day's Hall H panel). But be warned; Comic-Con is a marathon not a sprint, and you do not want to consume too much and become overwhelmed from the excitement and novelty of recreational cannabis.
Tetrahydrocannabinol (THC) the psychoactive component of cannabis, can have a positive or negative effect on anxiety depending on the dose. While there are many complex mechanisms at play with the neurological effect of cannabis, it's always important to start slow. Try keeping some Cannabidiol (CBD) around in case you feel like you've taken too much. CBD helps modulate THC binding in your brain to help remove the intense negative effects of THC. It will not make you "un-stoned," but it will help make your experience a calmer one. Side bonus: CBD is an anti-inflammatory, which can help ease your sore back and feet from walking all over downtown. 
Now to help guide you to the right strain, here are the best 80's geek movies paired with RAD! vapes to help decipher the cannabis treasure map like One Eyed Willy's Skull Key.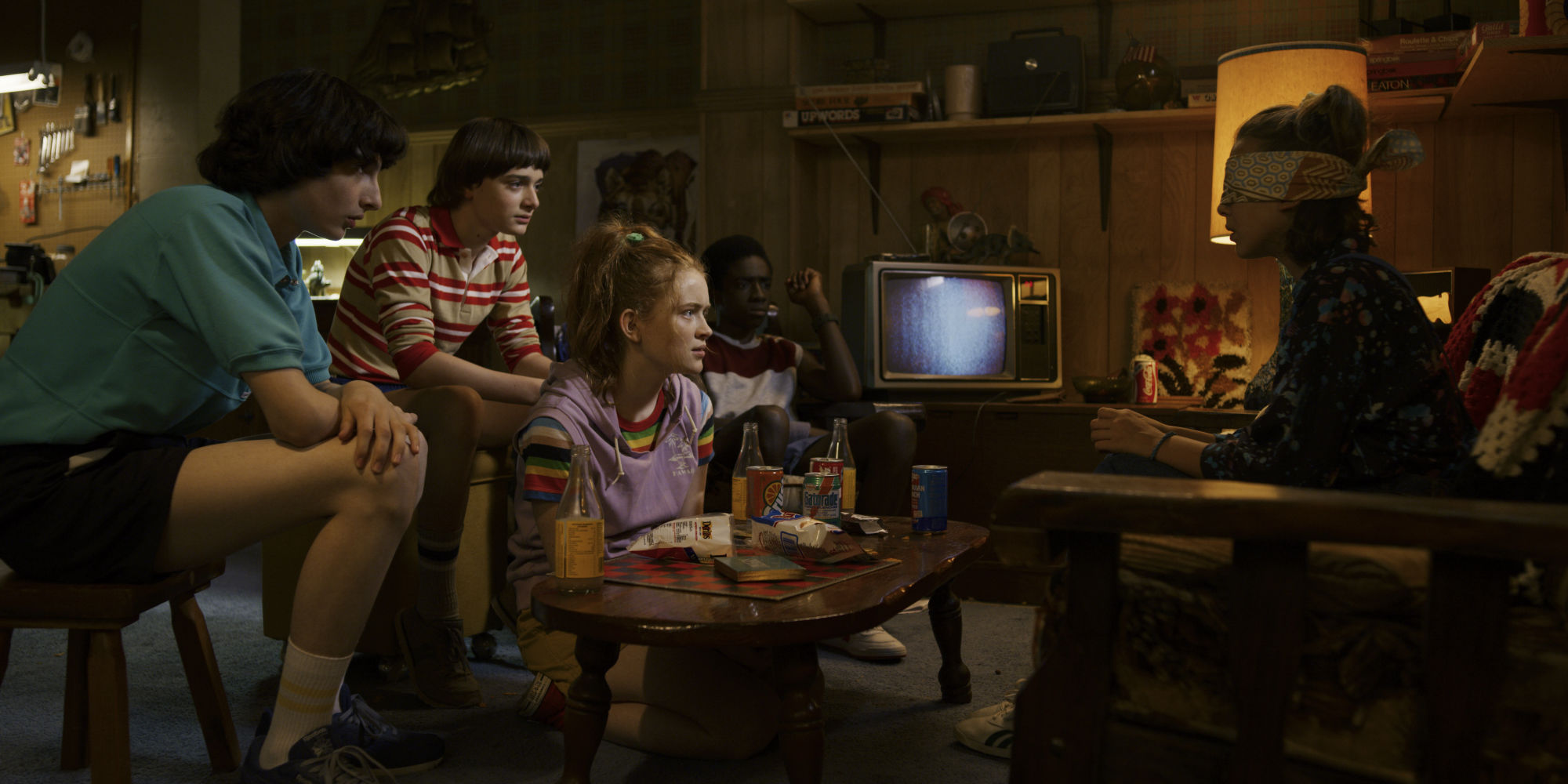 Neon Dream and Stranger Things
Neon Dream by RAD! Vapes is a perfect pairing for binge watching Stranger Things Season 3. Neon Dream is an uplifting sativa cross between Super Silver Haze and Purple Punch which gives an energizing cerebral head high that prepares you for the nostalgic, dark '80s adventure. Limonene and β-Caryophyllene dominant terpenes produce a sweet fruity taste without a pungent aroma, leaving you focused and excited to power though all eight episodes. The smooth-down transition as Neon Dream wears off lacks a lethargic, sleepy feeling, giving you the motivation to stay up and watch just one more episode.
read more: Will Stranger Things Season 4 Happen?
Neon dream is a great strain to use as you are transitioning from a long day of walking at SDCC to a night out in downtown San Diego. The euphoria is exciting without twitchiness, energizing everyone for the next show, party, or podcast taping. 
Other movies that pair well with Neon Dream are classic '80s sci-fi action movies inspiring warm nostalgia such as TRON, The Last Starfighter, Explorers, or The Goonies.
Lemon Lazer and The Dark Crystal 
Lemon Lazer by RAD! Vapes is the ideal combination for winding down after a day at the Con when you want to put your feet up prior to dinner and a show. No Skeksis genetics here; Lemon Lazer is a cross between the Lemon Skunk and Cheese strains, a mellow hybrid which relaxes and helps generate playful laughs at the mystic puppetry that scarred your childhood with the vulture-like appearance of the Skeksis.
Limonene and Terpinolene terpenes bring back aromas of fresh baked sugar cookies, transporting you back to the planet Thra and Jen's heroic journey to reunite a shard with the mystical Dark Crystal. Relaxing with Lemon Laser throughout the movie gives a tranquil sensation that aids your recovery from the long day of walking. Soon you'll be gearing up to grab dinner as Lemon Lazer transitions you to a motivating body high to go grab a beer and be ready to conquer the Con's next day!
read more: Everything We Know About The Dark Crystal: Age of Resistance
Other Lemon Lazer movie pairings are magical fantasies with a heroic figure: Willow, Labyrinth, The Never Ending Story, or Legend.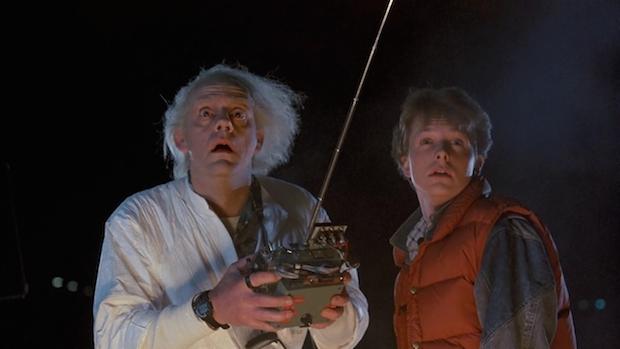 Banana Pancakes and Back To The Future
Banana Pancakes by RAD! Vapes is a heavy indica strain that is perfect for movies in bed at the end of the night. Banana Pancakes is an indica cross of OG Kush and Banana strains which provides an enjoyably classic body high. The relaxing sensation hits before the hazy head high, so start small as this strain can creep up on you. A classic end of the night RAD! vape, Banana Pancakes has a high myrcene content. Myrcene will relax the body and mind, unwinding you from a long day of jostling crowds and waiting in line to see about the line that gets you into the line to Hall H. It's a perfect pairing with Back to the Future, so be sure to smoke every time Doc Brown mentions 88mph or 1.21 gigawatts!