News
Candyman Remake Trailer, Release Date, Cast and Details
Classic 1990s horror franchise Candyman is about to sharpen its legacy with a reboot from producer Jordan Peele and director Nia DaCosta.
It's been over 20 years since Hollywood evoked the vengeance-fueled specter of horror franchise Candyman, but the hiatus is coming to an end. With Hollywood's reboot/remake epoch showing no signs of slowing down, and the buzz surrounding Blumhouse's recent Halloween sequel/reboot, it appears that the Candyman's cinematic rebirth is nigh.
Jordan Peele and his Monkeypaw Productions have conjured a new Candyman manifestation. Nia DaCosta (Little Woods) directed the film off a screenplay by Peele and Win Rosenfeld. The film is a "spiritual sequel" that "returns to the neighborhood where the legend began: the now-gentrified section of Chicago where the Cabrini-Green housing projects once stood."
The project arose after the rights—originally held by the now-defunct PolyGram Filmed Entertainment and distributed by Tri-Star—recently became available. MGM will produce with Monkeypaw, with Universal Pictures set to distribute.
Candyman Remake Release Date
Candyman is now set to unleash wanton vengeance on October 16.
The date represents yet another pandemic-caused shift, this time from September 25, which itself was a 3-month coronavirus-dealt delay from a scheduled June 12 premiere.
Candyman Remake Trailer
Check out the latest trailer for Candyman, which teases the titular vengeance-seeking hook-handed haunter as an omnipresent threat that, in an ever-timely scenario, has been fueled by ongoing injustices perpetrated on African-Americans in its Chicago setting.
You can also check out the debut teaser trailer, which director Nia DaCosta dropped back on June 17.
Candyman Remake Cast
Yahya Abdul-Mateen II headlines the film, as first reported by Variety. His character is named Anthony McCoy. The momentum-riding New Orleans-born actor recently made a (literal) splash on the big screen as signature comic book villain Black Manta in hit DC movie Aquaman (with sequel prospects glistening), and co-starred in Black Mirror's much-discussed "Striking Vipers" episode. He also played a prominent role on HBO's acclaimed Watchmen sequel television series. Interestingly, his casting in this Jordan Peele-produced Candyman project will be a quick reunion, since he's already banked an appearance in Peele's second horror movie, Us.
Tony Todd reprises his role as the titular tragic supernatural stalker, Daniel Robitaille, a.k.a. Candyman. However, the early teasers and various ephemera seem to indicate that the role—despite being central to the story—won't be as prominent as it was in the franchise's past iterations.
Teyonah Parris co-stars as Brianna Cartwright. Parris has recently broken out with a memorable role in Barry Jenkins' If Beale Street Could Talk. She also is set to appear in Marvel's WandaVision.
Also in the main cast are Nathan Stewart-Jarrett (Misfits, Dracula) and Colman Domingo (Fear the Walking Dead, Euphoria, If Beale Street Could Talk). Vanessa Williams, Nathan Stewart-Jarrett, Carl Clemons-Hopkins and Miriam Moss also field roles.
Interestingly, the Chicago-based film tapped a bevy of local talent for supporting roles, as The Chicago Sun-Times reported. They consist of the following:
Brian King (The Chi, Widows), Kyle Kaminsky (DriverX, One Night in Hollywood), Carl Clemons-Hopkins (The Chi, Canal Street) and Cedric Mays (Chicago Med, The Chicago Code).
The film also cast local celebrated stage actors Rebecca Spence (Rivendell Theatre Ensemble's "How the World Began" and Steppenwolf's "Mary Page Marlowe") and Christiana Clark ("The Winter's Tale" at the Goodman). The film will feature the presence of some non-actor Second City talent, with local news broadcasters Nancy Pender (formerly of WFLD-Channel 32) and Pam Jones (WGN-AM 720), who won't stray too far from their skill set, since they'll be playing television reporters in the film.
Candyman Remake Details
Nia DaCosta directs her second feature film here after having fielded the searing 2018 drama, Little Woods, which starred Tessa Thompson and Lily James.
Candyman is yet another horror/suspense project for Peele, who has parlayed success from horror thriller Get Out (which earned three Oscar nods and a Best Original Screenplay win,) into a genre run (amongst several other projects,) that continued with Us, and the television reboot of The Twilight Zone. Peele produced the project, which he co-wrote alongside Win Rosenfield.
The project is Peele's first offering in the traditional slasher genre of horror films. The original 1992 movie—written and directed by Bernard Rose, based on Clive Barker's short story from his Books of Blood collection, "The Forbidden"—starred Tony Todd as the titular hook-handed undead urban legend boogeyman who spits out swarms of bees and haunts a housing project in Chicago.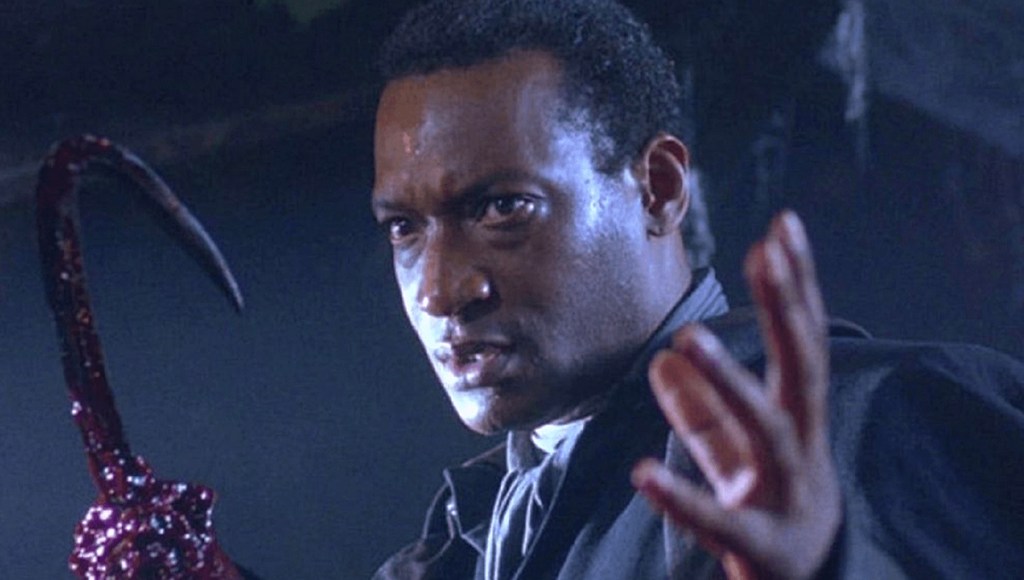 The movie's twist on Barker's white-and-blonde boogeyman added a socio-political layer by reinventing the killer as a black man—lynched back in 1890, suffering a severed hand before being smothered with honey and stung to death by bees—who modernly manifests in the Second City as the Candyman, a vengeful spirit that, in urban legend fashion, can be summoned by saying his name five times in front of a mirror. Virginia Madsen starred in the first film as Helen Lyle, a graduate student researching urban legends whose curiosity becomes consequential.
Candyman was not a runaway box office success and yielded about $25.8 million in its domestic-only release. However, it was successful enough to justify a theatrically-released sequel in 1995's Candyman: Farewell to the Flesh, which only grossed $13.9 million, leading to its final entry, the 1999 straight-to-video sequel, Candyman: Day of the Dead. Tony Todd played the spectral serial killer in all three films.
We'll keep you updated on the Candyman reboot movie as things develop!