Features
Black Widow: Studio Reveals Unprecedented Disney+ Numbers with Box Office
Disney was unusually candid about its Disney+ Premier Access numbers this weekend, alongside Black Widow's post-pandemic record at the box office.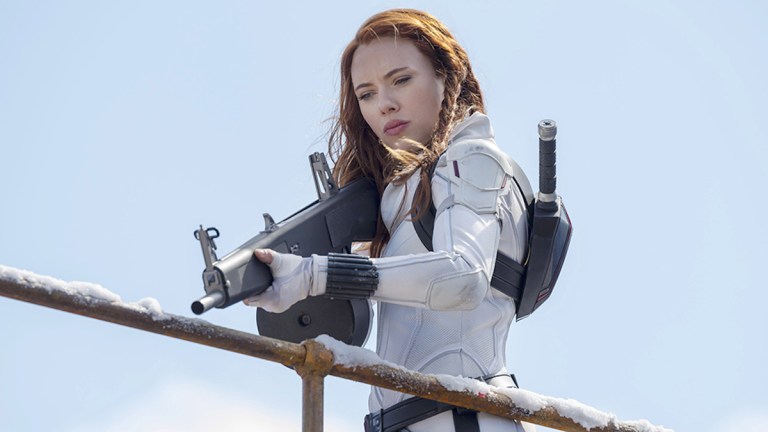 Black Widow posted record-breaking numbers at the domestic box office this past weekend. Despite being available to stream at home (if with a hefty surcharge), the first Marvel Studios film to enter theaters in two years grossed an estimated $80 million. While a far cry from Avengers: Endgame numbers, it's a box office cume that has much of the industry breathing a sigh of relief. Two weeks after F9 earned $70 million, becoming only the third or so bonafide theatrical hit in our "post-pandemic" era, Black Widow toppled that number and grossed the highest opening since the COVID-19 pandemic began.
Generally, these happy industry tidings would be the headline and takeaway from movie theaters' very good weekend… and yet, in addition to confirming the $80 million domestic haul and an international gross of about $78 million, Disney's most interesting revelation is that Black Widow earned $60 million in purchases via Disney+'s Premier Access paywall.
Studios and streaming services have traditionally been secretive about the number of viewers their content attracts online, particularly in a new release's early days. Consider that despite WarnerMedia appearing to change the game last year by announcing their entire 2021 film slate would premiere simultaneously in theaters and on HBO Max, the actual viewership numbers of those films have been primarily left for third party analysts to speculate upon. Meanwhile Disney, a studio which has also experimented in day-and-date release strategies, albeit with the added caveat of a $30 surcharge, has similarly crowed about the success of the Disney+ Premier Access model while keeping exact numbers shrouded in ambiguity.
Yet with the bold move of putting Black Widow—the studio's first major superhero movie since Avengers: Endgame opened over two years ago—on Disney+, it became clear the times are changing. And the unprecedented peek behind the curtain at Black Widow's apparently robust opening weekend on Disney+ suggests the studio is growing more bullish in its Premier Access strategy—or at least is prepared to defend it from skeptics on Wall Street and in Hollywood.
Indeed, the biggest challenge for releasing a film like Black Widow (or Cruella and Raya and the Last Dragon before it) on Disney+ is earning a total in subscriptions and/or surcharges that is comparable to the amount of money lost from a theatrical release. There is also the added challenge of maintaining Disney's signature ability in the last decade to turn so many of their theatrical releases into "events" that dominate the pop culture and social media landscape. When a movie drops on a streaming service, can it really be an event?
In the case of Black Widow, at least, that appears to be the case. The film earned at the domestic box office in the neighborhood of an Ant-Man or Doctor Strange movie, despite many theaters still implementing social distancing. In other words, despite having less seats to fill, it still grossed more than Ant-Man and the Wasp, which earned $75 million its opening weekend, and a little less than Doctor Strange, which totaled $85 million. Even the last Marvel Studios release, the Sony-distributed Spider-Man: Far From Home, grossed a relatively comparable $92 million in its opening weekend. So even without Disney+ numbers, Black Widow is playing in the typical MCU ballpark.
However once you factor in Disney+ numbers, Black Widow's total is closer to $140 million, which seems like the more fitting number for the overdue solo film of a character who was many fans' favorite Avenger almost 10 years ago. In terms of publicity, this confirms to the industry that a Disney+ Premier Access day-and-date strategy can be of comparable success as an old school theatrical "event" release, such as Guardians of the Galaxy Vol. 2 or Thor: Ragnarok, which earned a respective $146.5 million and $122.7 million in their opening weekends.
But when you move past the publicity, this appears to be a significant vindication for a studio that has appeared eager to slowly transition to a direct-to-consumer strategy ever since Disney+ was announced. At the moment, moves like the Premier Access day-and-date releases of everything from Mulan to Jungle Cruise later this month are in reaction to the grim realities of the pandemic. But as the pandemic continues to ebb in daily American life, the question becomes will Disney really want to step away from the Premier Access strategy or continue to explore or even transition to it?
It's worth considering then which of the totals is of greater financial value to the Mouse House: $80 million in movie theaters or $60 million on Disney+? While theatrical is the bigger number and better for the movie industry as we knew it, Disney still has to part with at least 30 percent of that total with theaters—and that's based on an extreme deal they've made with some exhibitors which favors Disney more than any other studio in the studio-exhibitor split. Even so that means Disney keeps $56 million at most of Black Widow's theatrical U.S. debut (with the split with some chains likely dropping the number further). By contrast, Disney keeps all $60 million from its Premier Access debut, which is both a higher total than the theatrical bow and more financially lucrative than if that same $60 million had been generated by more tickets sold under normal circumstances.
In other words, if other Disney films besides Marvel movies can bring in comparable earnings to Black Widow's opening weekend—which again we don't really know if that's the case—then Disney may have every incentive to continue pursuing day-and-date release strategies well past this July, or even this pandemic. Needless to say, they want you to know there is little red in this ledger.