News
Black Adam Casts Aldis Hodge as Hawkman
Dwayne Johnson is going toe to toe with Aldis Hodge as DC Comics superhero Hawkman in Black Adam.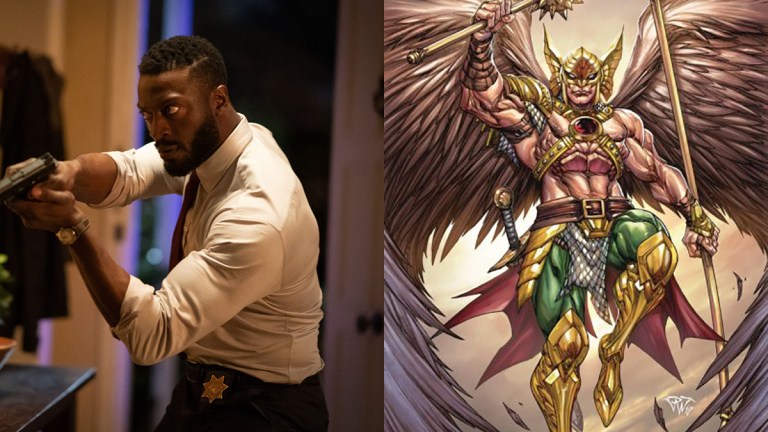 The DC Extended Universe just got a little more extended with the casting of actor Aldis Hodge as Hawkman. A major talent already having a big couple of years between several film and television projects, Hodge is now set to next star opposite Dwayne Johnson in Black Adam, a superhero film connected to 2019's Shazam.
The news, which was announced late Friday evening, further underlines that the Johnson-led Black Adam will be reaching back into the annals of early comic book lore, with Hawkman, alias Carter Hall, being a character who first appeared in 1940 via Flash Comics #1. Additionally, Hawkman will be a member of the Justice Society of America, a multi-generational superhero organization that existed on the page long before either the Justice League or the Avengers.
The casting is the latest in a series of recent successes for Hodge, who starred in Showtime's City on a Hill last year before having a major supporting role in Blumhouse Productions' reimagining of The Invisible Man. More recently Hodge appeared as one of the four leads in Regina King's directorial debut, One Night in Miami. Playing NFL legend Jim Brown, Hodge stood out in a film that after premiering at Venice and the Toronto International Film Festival has piqued early awards circuit chatter.
In Black Adam, Hodge joins Johnson who was famously cast as the titular character even before Shazam's release last year. The Black Adam character was originally created in 1945 as an ancient Egyptian antagonist to the Marvel Family in Fawcett Comics. At this time, the Shazam character was named Captain Marvel, and his Marvel family rebuffed the superpowered Black Adam, who was an entirely villainous presence. Things began to change though when the Marvel Family was incorporated into DC Comics, with its lead hero eventually being renamed Shazam (after the verbal cue the character Billy Batson yells to be engulfed with lightning and powers).
In 21st century comics, Black Adam was reimagined as an anti-hero born in the modern world, but who was corrupted by his powers. Still, he can on occasion drift toward good.
The new movie is clearly pulling from that interpretation, with Jaume Collet-Serra directing. Collet-Serra previously directed Johnson in Disney's Jungle Cruise, which has been delayed due to the coronavirus pandemic. He also directed the recent shark thriller The Shallows and Liam Neeson actioners Run All Night, The Commuter, Non-Stop, and Unknown. Noah Centineo, meanwhile, has been cast as Al Rothstein / Atom Smasher, another member of the Justice Society of America.
Black Adam is currently slated for release on Dec. 22, 2021.