Features
The Troubled Production of The Jewel Of The Nile
When Romancing The Stone hit big, Fox wanted a sequel: quickly. And that, in turn, caused a few problems...
We have a sizeable amount of love and nostalgia for Robert Zemeckis' 1984 caper movie Romancing The Stone. starring Michael Douglas and Kathleen Turner.  In it, Douglas and Turner take on their own Indiana Jones-esque adventure, with crucially a couple at the heart of it that you could really root for.
But whereas Romancing The Stone tends to be well loved, there's a lot less affection for its rushed-out sequel, The Jewel Of The Nile. In fact, if anything, the film is best known for the song that Billy Ocean sings over the end credits, "When The Going Gets Tough, The Tough Get Going" (itself based on a line of dialogue that's spouted a couple of times in the movie).
It's a bit of a mess of a movie, too. The (contractual) return of Danny DeVito's character, for instance, is never fully explained. The plot is a jumble of things that don't really make that much sense, the portrayal of assorted nationalities is uncomfortable, and you're left to rely on the quality interplay between Turner and Douglas as they try and make the whole thing work.
But then, it's almost a miracle that the film made it to the screen in the first place. 20th Century Fox, after all, didn't have particularly high commercial expectations for Romancing The Stone, and they were amongst the many surprised when the $10 million production earned nearly $90 million at the box office (back when that was a lot of money). The story goes, in fact, that after seeing a rough cut of the movie, Zemeckis was given the heave-ho from the-then in gestation Cocoon. Ron Howard would land Cocoon in the end, whilst Zemeckis – in the light of Romancing The Stone's huge success – would get to make Back To The Future as his next movie. It's hard to think of too many losers in that.
Fox, though, was having a tough time back in 1984, so much so that when – following its late March release – Romancing The Stone became its only hit of the year, it decided that not only did it like the movie now, but it wanted a sequel. And it wanted it fast.
It thus exercised a sequel option in the contracts of both Douglas and Turner, who found themselves with little choice but to press ahead with the project. Turner in particular was resistant. She had script approval, and during pre-production of The Jewel Of The Nile, she tried to quit the film. A $25 million lawsuit threat from Fox persuaded her to stay on board. So rife were the stories of unhappiness that Roger Ebert, in his 1985 review of the eventual film, would note that even Douglas wasn't keen to return. And as producer, he was the one effectively in charge too.
One person who certainly wasn't contractually obliged to return was Zemeckis, who vacated the director's chair. Fox wanted its sequel ready for the end of 1985, allowing around 18 months start to finish to get the movie done. It thus hired Lewis Teague, best known for The Lady In Red and Cujo (while also finishing up Cat's Eye) to direct. It was a significantly different project for the director from those he'd tackled before.
Diane Thomas, meanwhile, who wrote the original Romancing The Stone, having thrown her life into coming up with the project in the first place, had subsequently landed a gig writing for Steven Spielberg. She was working away on the script for what would become Always, and thus it fell to Mark Rosenthal and Lawrence Konner (who would go on to work on, amongst many others, Star Trek VI and Superman IV) to quickly put a screenplay together.
Those hurdles negotiated, all concerned hoped for a clearer path once production began. They did not get it.
Douglas, for one, was completing work on his next movie, A Chorus Line, even as preparatory work on The Jewel Of The Nile was being completed. As producer as well as star, he found the new writers for Jewel, and had to make sure that his A Chorus Line commitments were complete before hopping on a plane for Morocco at the end of January 1985. From there, he had to quickly help slide The Jewel Of The Nile into place.
Aiming to match the scale of the original, an ambitious shoot was planned. Filming was set to take place in France, Morocco and the US, with production kicking off in April 1985. But when the cast and crew landed in North Africa, problems quickly hit. The raging temperature for one, as well as the need to pay certain officials what could be generously described as 'bribes' to get basic equipment past local customs.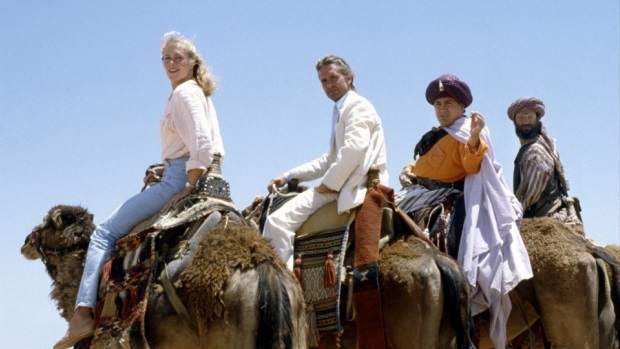 Tragedy hit, too. Weeks before filming was set to begin, production designer Richard Dawking and production manager Brian Coates were both killed in a plane crash while scouting out locations. Douglas and Turner too had a plane scare, when the wing of their private aircraft hit the runway as they landed in Morocco too.
When filming did eventually begin, difficulties continued. Director Lewis Teague, for one, came from smaller physical productions, and the demands of an action-heavy Hollywood blockbuster, being made at speed, were particularly heavy (as they would have been on any director, given the tight deadline). One oft-reported incident saw a complex night scene being put together, that took hours to get into place. But it was only once that work was done that somebody noticed the cameras didn't have any film in. The film stock had to be found, and the whole scene rescheduled for a later night. Douglas was reported to be, er, 'less than pleased'.
The film, facing a hard deadline for that end of 1985 release, made it into the can some three weeks over schedule in the end. Given the sizeable difficulties it'd encountered (Douglas would suggest that elements of it made the filming of Romancing The Stone seem like a breeze), that was something of a result. But there was still one more tragedy ahead: Diane Thomas, who originated the characters in the first place, would never see their second screen adventure complete. She died in a car crash in October of 1985.
The finished film did just about scrape into cinemas before the year was out, and earned decent reviews, primarily for the interplay between Turner and Douglas. Fox won its gamble as well, with the film's box office holding up, even though it ended up going head to head with Douglas' other film, the aforementioned A Chorus Line.
Very few human beings thought The Jewel Of The Nile came particularly close to the original though, and there's more a sense that they just about got away with it, rather than it being a sequel of particular merit. Douglas, Turner and DeVito opted not, in the end, to press ahead with a third chapter, although they did come together for a separate project, The War Of The Roses. That was a Fox film too, albeit presumably with no court threats to ensure everybody stayed on board.
Which leaves The Jewel Of The Nile mostly remembered now for its troubling depiction of different cultures, and a song that – to this day – seems resident on 12% of the compilation albums sold at our local supermarket. It's a film certainly with its moments, but if you've not had the pleasure, Romancing The Stone is the real treasure…