News
Bambi Remake is a Go in 'Live-Action'
What, you didn't think Disney would eventually get around to a Bambi remake? Expect more of The Lion King's photorealistic CGI.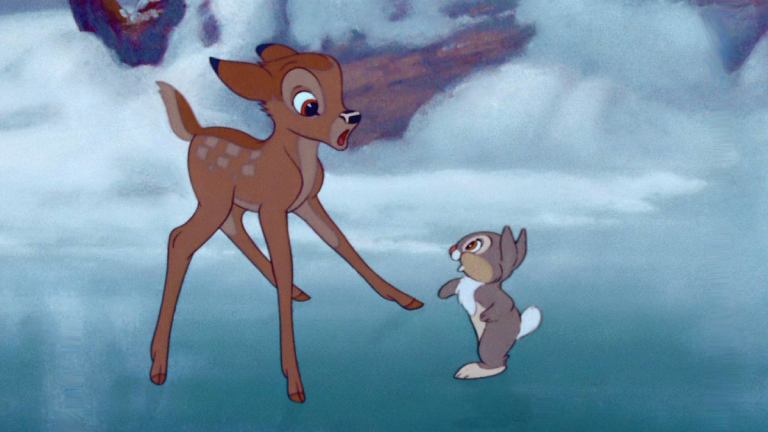 Get ready to hate mankind all over again—or at least hunters—because Bambi is about to have a "live-action" walk through the park. The hardly shocking news confirms that the remake conveyer belt at the Walt Disney Company is alive and well, and that the company's older library is still being mined, as Bambi was among Walt Disney's first five features when it opened in 1942.
The Hollywood Reporter broke the news Friday, reporting that Geneva Robertson-Dowert and Lindsey Beer were hired to pen the remake for the Mouse House. Additionally, the production company Depth of Field will help produce the picture, attaching Chris and Paul Weitz and Andrew Miano to the film as producers.
Robertson-Dowert is becoming a go-to screenwriter for blockbuster films in Hollywood, having previously co-written the scripts for the Tomb Raider remake starring Alicia Vikander and of course Disney's billion-dollar grosser, Captain Marvel. Beer, meanwhile, comes off working on Lionsgate's upcoming Chaos Walking project, which stars Tom Holland and Daisy Ridley, as well as Sierra Burgess Is a Loser.
Disney's remake rolodex eventually rolling over to Bambi is hardly a surprise, however it is interesting Disney is still so gung-ho about remakes of some of the earliest films after Dumbo flopped in 2019. Another remake of a concise World War II-era seminal piece of Disney-animal fluff, the Tim Burton reimagining about flying elephants failed to find the same global audience that Aladdin and The Lion King retreads did in the same year, both of which stemmed from more recent 1990s nostalgia.
However, Disney is apparently banking on the wonder of photorealistic animals created out of digital pixels to sell Bambi. Like The Lion King before it, this is going to be (or mostly be) live-action in name only, as all of the talking animals and their environments will be created in computers. Indeed, THR relayed as background that this is being construed as "a type of companion piece to its remakes The Jungle Book and The Lion King." That both of those movies earned more than $1 billion likely helps with that distinction, even if Bambi's fleet 70 minutes doesn't necessarily lend itself to the modern feature length treatment.
The original Bambi is of course a classic for good reason. A coming of age story told from the perspective of a fawn who becomes a buck, Bambi broke generations of children's hearts long before Mufasa even existed.
Who still doesn't cry when Bambi's mother is hunted down by a human dirt bag with a gun? After idyllic childhood sequences of Bambi frolicking in fields with his best buddy, a rabbit named Thumper, the deer is forced to grow up fast alongside his stoic father while the woods around them burn. Its dramatic stuff—often conveyed via quiet and intimate animated artistry that relies on visuals instead of celebrity voices to incite excitement. Who knows, maybe Walt missed a trick back in '42 when he didn't cast Groucho Marx as Thumper and Billie Holliday as the mother with a radio-ready single?
David Crow is the Film Section Editor at Den of Geek. He's also a member of the Online Film Critics Society. Read more of his work here. You can follow him on Twitter @DCrowsNest.